Sangamon County ILGenWeb © 2000
In keeping with our policy of providing free information on the Internet, data and images may be used by non-commercial entities, as long as this message remains on all copied material. These electronic pages cannot be reproduced in any format for profit or for other presentation without express permission by the contributor(s).
---
PAST AND PRESENT OF THE CITY OF SPRINGFIELD AND SANGAMON COUNTY ILLINOIS
By Joseph Wallace, M. A.
of the Springfield Bar
The S. J. Clarke Publishing Co., Chicago, IL
1904
---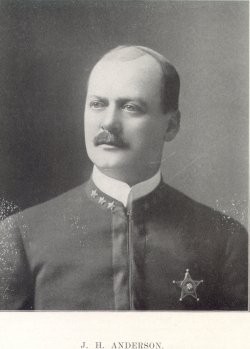 Page 466
JAMES H. ANDERSON, chief of police of Springfield, has spent much of his life in public service, having been connected with the post office and fire departments of Springfield before entering upon his present duties. His advantages in youth were few and promotion has come to him through ability, which has resulted from the utilization of his opportunities. He was born in Adams county, Illinois, March 7, 1866, and is sturdy Scotch ancestry. His great-grandfather was General Anderson, who fired the first gun at Fort Sumter during the Revolutionary war. In 1861 his father, Henry C. Anderson, enlisted in Company D, Thirtieth Illinois Volunteer Infantry, and served until the close of the Civil war. Later he took up railroading and was a conductor on the Wabash Railroad for a great many years, afterward accepting a position on the Rock Island road, with which he remained until his death. He died at Bushnell, Illinois, in 1872, but his wife still survives him and now makes her home at No. 1303 East Jackson street, Springfield. All of their six children are living. One son, Louis, enlisted in Battery K, Third United States Artillery, during the Spanish-American war, and was at the fall of Manila, being one of the first soldiers to enter the town.
Between the ages of six and eleven years James H. Anderson had the privilege of attending school, but at the end of that time he put aside his text books and began to earn his own living by working in a dentist's office at a meager salary. In that way, however, he earned the money which provided him with the necessities of life and later he worked his way through he Springfield Business College by dong janitor work. He attended the night sessions for five years and thus completed a full course, during which time he won several prizes in penmanship. He afterward went upon the road as a traveling salesman, being employed in that way for a few years, but for a considerable period he has been in public service in Springfield. He was in the mail service as a carrier under Grover Cleveland and he served in the fire department as a extra under Mayors Hay, Woodruff and Cramer. He was appointed chief of police for the city by Mayor Harry H. Devereux, the present executive, and since taking the office he has made a number of changes in the department which are proving of practical value and benefit. He keeps a prime and also a duplicate record of all business transacted, one for the city and one for his own use, and also a complete record of expenditures. He works in harmony with the men who serve under him and the police department of the city is indeed a bulwark for law and order and for the safety of Springfield's law abiding population.
Mr. Anderson has always been a Democrat in his political affiliation, active and earnest in support of the party, and was a committeeman at large for a number of years. He has also serve his party as a delegate to county, congressional, senatorial and state conventions, and his efforts in its behalf have been effective, his labor counting as an essential factor in local party successes. He is now a member of the National Association of Chiefs of Police and also a member of the National Bureau of Identification. Socially he is connected with the Eagles Lodge, the Knights of the Maccabees and the Sons of Veterans, all of Springfield, and in these organizations has gained many friends. He was appointed adjutant of the Sons of Veterans of Illinois under Colonel George B. Stadden and was captain of the Drill Corps, which won every prize in contests it entered. He has also served as first lieutenant in the Illinois National Guards. Although in his youth he was deprived of advantages which many deem essential, he has nevertheless worked his way steadily upward, commanding the respect of his fellow men by what he has accomplished and winning public recognition of his inherent talent and acquired ability by appointment to important public office.

---
Return to 1904 Biographies Index
Return to Sangamon County ILGenWeb
---