Sangamon County ILGenWeb © 2000
In keeping with our policy of providing free information on the Internet, data and images may be used by non-commercial entities, as long as this message remains on all copied material. These electronic pages cannot be reproduced in any format for profit or for other presentation without express permission by the contributor(s).
---
PAST AND PRESENT OF THE CITY OF SPRINGFIELD AND SANGAMON COUNTY ILLINOIS
By Joseph Wallace, M. A.
of the Springfield Bar
The S. J. Clarke Publishing Co., Chicago, IL
1904
---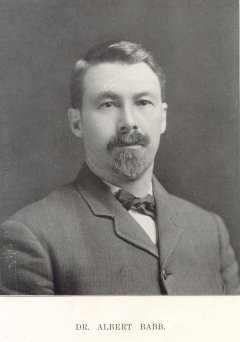 Page 562
ALBERT BABB, M. D. C. - Albert Babb is a representative of one of the pioneer families of Sangamon Count, successfully engaged in the practice of veterinary surgery in Springfield. His ancestry can be traced back to Moses Babb, his great-grandfather, who was a soldier of the Continental army in the Revolutionary War, while his brother, John Babb served with the British troops under General Wolfe. Solomon Babb, the grandfather, was born in Strafford, New Hampshire, and died in Belknap county, that state, in 1844. In early life he was married to Abigail Meader, who was born in Rochester, New Hampshire, in 1799 and passed away in 1896 at the old Babb homestead. They were the parents of four children, of whom Lemuel Babb was the eldest.
Lemuel Babb was born in Belknap county, New Hampshire, December 3, 1828, and was reared upon the home farm, while in the common schools of his native state he acquired his education. He remained a resident of New Hampshire until twenty-six years of age, at which time he was married and with his bride at once came to Illinois, arriving in Sangamon county on the 8th of June, 1855. He settled on section 33, Cotton Hill Township, where he developed a splendid farm and built an elegant and well appointed home. In his business affairs he has met with splendid prosperity and has acquired about fourteen hundred acres of land in Cotton Hill and Pawnee townships. In addition to it he owns five hundred acres in Christian County. He has devoted his entire time and attention to the improvement of his farms and to the development of his now very desirable estate. His wife, who bore the maiden name of Helen Boardman and to whom he was married March 26, 1855, was a daughter of Alfred and Louisa (Aldrich) Boardman. Her father was born in Stratham, New Hampshire, and died in Meredith, that state, while his wife, whose birth occurred in Franconia, New Hampshire, passed away in Cotton Hill Township, Sangamon county. Mrs. Babb was the eldest of seven children, two sons and five daughters, and was born in Meredith, New Hampshire, February 19, 1839. By her marriage she has become the mother of six children, all born in Sangamon County: Abbie L., wife of M. W. Colean, of Sangamon county; Albert, of this review; Arabel, the deceased wife of William T. Baker, of Springfield; Helen A., a practicing physician, with office in the Odd Fellows building in Springfield; and Francena and an infant, both deceased.
Lemuel M. Babb has always taken a deep interest in educational affairs in his township and county and has served as school director for a number of years, putting forth every effort in his power to advance the intellectual development of his community. He has also been deeply interested in the movements to establish good roads, and in this way has done effective service as highway commissioner. He is a man of sound business judgment, of marked enterprise, and stands high in the public regard, not only because of the success he has achieved, but by reason of the excellent use to which he has put his wealth. He is a man of benevolent spirit and the poor and needy find in him a friend. His political allegiance is given to the Republican party and he has for many years been a member of the Masons, belonging to the blue lodge at Pawnee and the chapter at Auburn. He and his wife still reside on the old family homestead and are among the most prominent representatives of the agricultural interests of Sangamon county. He has always devoted much time to stock raising, making a specialty of sheep, and has had as high as two thousand head upon his farm.
Dr. Albert Babb was born on the homestead farm in Sangamon county, February 16, 1859, and attended the district schools of his township until his sixteenth year. He was very studious and manifested special aptitude in his studies. He then entered Lincoln University, where he devoted five years to mastering the branches of the curriculum, and was graduated with the degree of Bachelor of Arts in the class of 1880. He then returned to the home farm and was actively identified with agricultural interests until 1884, when he was married and removed to his own farm in Christian county, comprising two hundred and eighty acres, situated about eight miles from Morrisonville. Later he carried on farming until 1889. He handled and bred considerable stock, including jacks and jennets. His deep interest in live stock and natural predilection for the profession caused him in 1889 to enter the Chicago Veterinary College, in which he pursued a complete course and was graduated with the class of 1893, winning the first prize for anatomy. During 1893 he served as judge of jacks, jennets and mules at the Columbian Exposition in Chicago.
In 1903 he was offered a position as judge of live stock at the Kentucky State Fair Association at a salary of twenty-five dollars per day, but refused this offer on account of pressing professional duties. In 1893 Dr. Babb erected a brick building in Springfield, in which he opened his office and since that time he has been actively engaged by veterinary practice, doing an excellent business by reason of his capability. He still owns his beautiful farm of two hundred and eighty acres in Christian county in addition to two hundred acres of land in St. Louis county, Missouri, near the city limits of St. Louis.
Dr. Babb was united in marriage to Miss Mary M. Nuckolls, a daughter of John W. and Louisa Nuckolls, natives of Sangamon county, now residing in Chicago. The Nuckolls family was established in this county in 1820 among its earliest settlers. Unto Dr. and Mrs. Babb have been born five children and those living are Ethel, who is a high school student in her third year and is now fifteen years of age; and Hazel, a bright little maiden of five summers. Dr. Babb is a member of Springfield Lodge, No. 500, A.F. & A.M., and also belongs to the Illinois State Veterinary Medical Association and the American Veterinary Medical Association. He and his family occupy a well appointed home at No. 527 South Seventh street. He has a wide acquaintance in the county which has been his place of residence throughout his entire life and his genial and pleasing manner as well as his business success has contributed to the popularity which he enjoys.

---
Return to 1904 Biographies Index
Return to Sangamon County ILGenWeb
---