Sangamon County ILGenWeb © 2000
In keeping with our policy of providing free information on the Internet, data and images may be used by non-commercial entities, as long as this message remains on all copied material. These electronic pages cannot be reproduced in any format for profit or for other presentation without express permission by the contributor(s).
---
PAST AND PRESENT OF THE CITY OF SPRINGFIELD AND SANGAMON COUNTY ILLINOIS
By Joseph Wallace, M. A.
of the Springfield Bar
The S. J. Clarke Publishing Co., Chicago, IL
1904
---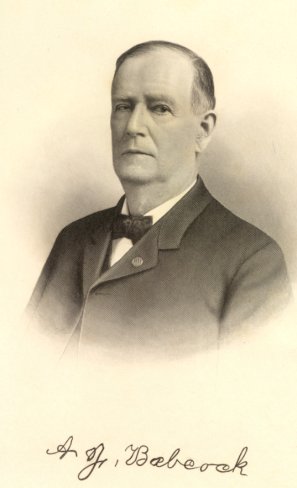 COLONEL ANDREW J. BABCOCK. - Colonel Andrew J. Babcock is occupying the position of office deputy in the office of the United States marshal, and there is no more capable, prompt or efficient officer in the city of Springfield than colonel Babcock, who is ever loyal and true to his duty. He has, moreover, a genial manner and social disposition, which have won him many friends, and he is widely and favorably known in this portion of the state. His birth occurred upon the Atlantic coast, while his natal day was July 12, 1830. He represents one of the oldest families of New England, the Babcocks having come originally from Essex county, England, to the new world in 1636. John Babcock , the paternal grandfather of our subject, was a native of Connecticut, born in North Stonington, and he married Louisa Gilmore, who was born in Keene, new Hampshire. Among their children was Robert Gilmore Babcock, whose birth occurred in Pomfret, Connecticut, February 29, 1792. When he had arrived at years of maturity he married Sally Otis, and a few years after her death wedded Lucy Blackman, who was born June 10, 1803, a daughter of Unite and Jerusha (Glover) Blackman. Robert G. Babcock was a blacksmith, who possessed much natural mechanical ingenuity and became a skilled workman, his fame in this direction being of more than a local character. He made the doors of the Bunker Hill monument, adjusted their hinges and hung them in position. Our subject assisted in this work, being at that time (1843) thirteen years of age.
Andrew J. Babcock, whose name forms the caption of this article, acquired his early education in the common school of Quincy, Massachusetts, and later became a student in the Lenox select school, after which he was apprenticed to learn the coppersmith's trade. Subsequently he went to Boston, where he followed the occupation which he had mastered for a period of four years. At the end of that time he removed to Lowell, Massachusetts, and later went to Concord, New Hampshire, but the west attracted him, for he realized that there were excellent business opportunities to be enjoyed in a district where competition was not so great and yet where the growth of the community indicated good business advantages. In 1856, therefore, mr. Babcock took up his abode in Springfield, Illinois, where for a time he was engaged in business in the line of the trade which he had previously learned. He afterward began the plumbing business on his own account, but when the Civil war was inaugurated he put aside all business cares and personal considerations, feeling that his first duty was to his country.
With patriotic spirit he offered his services in response to President Lincoln's first call for men to aid in preserving the Union and joined the boys in blue of Company I, Seventh Illinois Infantry, under command of Colonel John Cook. Upon the organization of the company, Mr. Babcock was commissioned captain of Company I, and with his command went to the front. On the expiration of their three months' term the regiment re-enlisted for three years, on the 25th of July, 1861, and at this time Mr. Babcock was commissioned lieutenant colonel. The regiment was sent to Missouri, Kentucky and Tennessee successively, and, joining General Grant, the command participated in a number of important engagements. In 1862 another promotion came to Mr. Babcock, who was made colonel fo the regiment in recognition of his gallantry and meritorious service at the battle of Fort Donelson. He participated in a number of important conflicts with the Confederate troops and held the rank of colonel until the close of the war. He was ever a brave and loyal soldier, yet a discriminating officer. He never uselessly exposed his men to danger, yet when duty called gave them an example of fearlessness and loyalty that inspired them to deeds of valor.
After the close of the war colonel Babcock returned to Springfield and again took up the plumbing business, which he followed continuously until 1875. In 1879 he was appointed deputy clerk in the internal revenue service, stationed at Pekin, Illinois, where he remained in that capacity until 1885. He then returned to Springfield, and in January, 1889, he made a trip to his old home in Dorchester, Massachusetts, but returned in the spring and was then appointed deputy United States marshal under Marshal C. P. Hitch. When he had served in that office for four years he was reappointed to fill the position and served in that capacity during different administrations until 1897, at which time he was appointed deputy clerk under C. P. Hitch.
Colonel Babcock was united in marriage to Miss Harriet Ann Palmer, of Concord, New Hampshire, the wedding being celebrated February 25, 1852. The lady is a daughter of Wesley Balch and Harriet Hall (Abbott) Palmer, and unto this union have been born six children; but two died in infancy, those living being Susan, the wife of Z. D. Graham, a resident of St. Paul, Minnesota; Charles A., who is employed in the city hall in Springfield; George S., who is chairman of the Republican city committee of Springfield, and James C., who also resides here.
Politically Colonel Babcock is a Republican, while fraternally he is connected with Central lodge, No. 71, A.F. and A.M., and Springfield chapter, R. A. M., having been made a Mason in 1861. He is also a member of Mendell Post, No. 450, G.A.R., of which he is the present honored commander. In the discharge of the duties of civic office he is as true and faithful as he was when, upon southern battlefields, he led his regiment into the thickest of the fight. During the greater part of the forty-seven years which have elapsed since his arrival in Illinois he has been a resident of Springfield, and the circle of his friends is a very extensive one.

---
Return to 1904 Biographies Index
Return to Sangamon County ILGenWeb
---