Sangamon County ILGenWeb © 2000
In keeping with our policy of providing free information on the Internet, data and images may be used by non-commercial entities, as long as this message remains on all copied material. These electronic pages cannot be reproduced in any format for profit or for other presentation without express permission by the contributor(s).
---
PAST AND PRESENT OF THE CITY OF SPRINGFIELD AND SANGAMON COUNTY ILLINOIS
By Joseph Wallace, M. A.
of the Springfield Bar
The S. J. Clarke Publishing Co., Chicago, IL
1904
---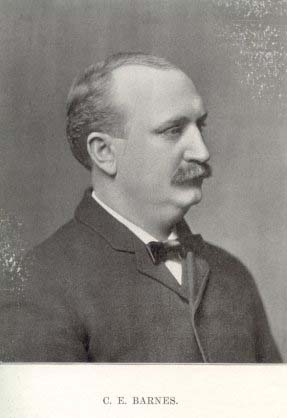 CAREY E. BARNES. - One of the leading law firms of Springfield is that of Connelly & Barnes, of which the subject of this sketch is the junior partner. They have a distinctively representative clientage and the volume and importance of the legal business intrusted to their care is proof of their high standing at the bar. Mr. Barnes is a native of Illinois, his birth having occurred in Litchfield, January 21, 1865, a son of Walter J. and Nancy (Williams) Barnes. The father, who is a farmer by occupation, was born in New York and when quite young became a resident of Illinois, where he was reared to manhood, and after his marriage he located in Litchfield where he remained for a number of years, working in the Big Four car shops as a car dresser. Since 1870 he has engaged in farming at Edinburg, this state.
Carey E. Barnes spent his early boyhood upon the old home farm and during that period pursued his education in the district schools for about three months in the winter season. Later he entered the Northern Indiana Normal School at Valparaiso, where he diligently pursued his studies for three years, when he began teaching school, a profession which he followed in the county schools for four years. He regarded this only as a means to an end, for it was his desire to begin the study of law in Springfield in the offices of the firm of Conkling & Grout. After careful preparation he was admitted to the bar in 1892 and soon afterward he entered into partnership with John S. Schnepp, under the firm name of Schnepp & Barnes, a relation that was maintained until 1898. In the spring of 1899 he was elected city attorney of Springfield, a position which he filled acceptably for two years. In the year when he entered upon his official duties he also formed a partnership with the Hon. James A. Connelly, ex-member of congress, under the firm name of Connelly & Barnes, now one of the leading law firms of the city, enjoying a clientage which has connected them with much of the important litigation tried in the courts within the period of their business association. In the session of 1895 Mr. Barnes served as clerk of the house of representatives, but otherwise has held no office outside of the strict path of his profession.
In 1894 Mr. Barnes was united in marriage to Miss Jennie E. Simpson, of Springfield, a daughter of Mark Simpson, now of Decatur, Illinois, and they have two children, Elsie and Jennie. Mr. Barnes is a member of Sangamon County Lodge, I.O.O.F., and likewise has membership relations with the Improved Order of Red Men and the Modern Woodmen of America and the Court of Honor. He is yet a young man, but has attained success which many an older practitioner might well envy. His laudable ambition to rise in his profession, his close application, his careful preparation of cases and his conformity in the strictest professional ethics have combined to win him advancement in a profession where success depends upon individual merit.

---
Return to 1904 Biographies Index
Return to Sangamon County ILGenWeb
---