Sangamon County ILGenWeb © 2000
In keeping with our policy of providing free information on the Internet, data and images may be used by non-commercial entities, as long as this message remains on all copied material. These electronic pages cannot be reproduced in any format for profit or for other presentation without express permission by the contributor(s).
---
PAST AND PRESENT OF THE CITY OF SPRINGFIELD AND SANGAMON COUNTY ILLINOIS
By Joseph Wallace, M. A.
of the Springfield Bar
The S. J. Clarke Publishing Co., Chicago, IL
1904
---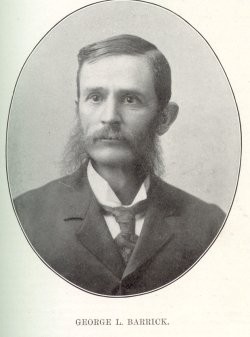 Transcribed by Mary Ann Kaylor
Page 358:
George L. Barrick is a contractor and builder of Springfield, whose residence in the city dates from 1880, and during this period he has carried on extensive business, being accorded a leading place in the ranks of the representatives of his chosen calling. He was born in Macoupin county, Illinois, near Carlinville, January 3, 1846. His father, Ezra Barrick, located there in the early '30's and was a contractor who built the first courthouse in Macoupin county, bringing his men with him from Kentucky for that purpose. He was born in Maryland, but lived in Kentucky for a number of years, making his home at Millville, where he worked at his trade. He also served as a solider in the Mexican war. He married Sarah Small and they became the parents of eight children, of whom one son and a daughter are yet living. Charles F., the eldest, now of Carlinville, where he is engaged in the umber business, served for three years as a soldier in the One Hundred and Twenty-seventh Illinois Infantry. Eliza Otwell resides near the old home farm. George L is the third member of the family. Of the others two died in early childhood, one at the age of twelve years and Mrs. Ellen Brown died near Carlinville when about forty years of age, while Richard died in 1899, at the age of seventy years. He had followed farming. The father of these children was a well educate man who kept informed on all questions of general interest and in business was found to be reliable and enterprising as well as straightforward and energetic. He died at the age of sixty-six years and his wife, surviving him for about ten years, died at the age of seventy-six.
George L. Barrick was educated in the common schools and worked upon his father's farm until seventeen years of age when he apprenticed himself to learn the carpenter's trade with a Mr. Black. Later he worked with a brother and was a contractor and afterward was employed as a journeyman until he came to Springfield in 1880. This city was then enjoying a period of marked growth and furnished an excellent field for a builder. After being employed by others for about twelve years Mr. Barrick began contracting and building on his own account on a small scale and rapidly his efficiency and skill gained for him an extensive patronage and on all sides are found fine structures which indicate him to be one of the leaders in his line. He has erected about three hundred dwellings in Springfield, including the residence of W. W. Schrader, Mrs. Wolcott, C.C. Brown, that of Mr. Fisher on Fourth street and the Enos block of residences. He also erected three stores for J. L. Adams at the corner of Monroe and Eighth streets and has put up many other business houses and plants, including the Springfield Boiler Works and the shops of A. L. Ide. He also did the cabinet work in five steamboats for the government. He employs on an average of twenty men throughout the year and is largely engaged in the erection of dwellings, but, as stated, his efforts have been extended into other lines of building operations. He has erected more residences in the same length of time than any other contractor in Springfield and he has purchased a number of pieces of property here, upon which he has built residences which later he has sold. In the two blocks, which include the one on which he is living, there are not a single improvement at the time he began building there for Mr. Enos. He erected a home at No. 810 North Sixth street where he lived for a time and he has several dwellings which he rents. His present residence was erected in 1891 at No. 814 North Seventh street.
Mr. Barrick was married in Springfield in December, 1881, to Miss Carrie Bourne, a native of Kentucky and a daughter of Squire William H. Bourne. She was educated in her native state and came to Springfield in 1878. She is a granddaughter of Washington Iles, one of the distinguished and honored pioneers of Sangamon county, and is a lady of culture an refinement, whose circle of friends in Springfield is extensive. She belongs to the First Congregational church and Mr. Barrick contributes liberally to its support. He is a charter member of Court Camp, No. 852, M.W.A. A self-made man, he owes his education and his financial success to his own efforts and the force of his character, and his thorough understanding of the buisness in which he embarked has been an important element in winning for him the creditable position which he now occupies in building circles in his adopted city.

---
Return to 1904 Biographies Index
Return to Sangamon County ILGenWeb
---