Sangamon County ILGenWeb © 2000
In keeping with our policy of providing free information on the Internet, data and images may be used by non-commercial entities, as long as this message remains on all copied material. These electronic pages cannot be reproduced in any format for profit or for other presentation without express permission by the contributor(s).
---
PAST AND PRESENT OF THE CITY OF SPRINGFIELD AND SANGAMON COUNTY ILLINOIS
By Joseph Wallace, M. A.
of the Springfield Bar
The S. J. Clarke Publishing Co., Chicago, IL
1904
---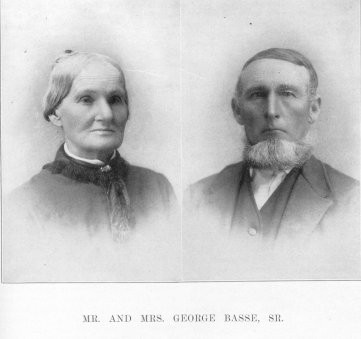 Page 580
GEORGE BASSE, SR., is living on Section 8, Island Grove township, and has now retired from the more active duties of farm life. For forty-six years he carried on business affairs in a manner that indicated marked enterprise, unflagging industry and sterling principles. Nearly five decades have passed since he arrived in this county, and upon life's journey he has advanced almost to the eightieth milestone. He was born in Hesse-Naussau, Germany, September 8, 1824, and there spent the days of his childhood and youth, his education being obtained in the German schools. On putting aside his textbooks he prepared for a business career by learning the stonemason's trade with his father. He was then employed as a stone and brick mason for a number of years, and in 1857 he took passage for the new world upon a vessel which left the port of Hamburg. It was an American ship named the Mary Hyler and sailed for New York. Mr. Basse believed that business opportunities would be greater and that the recompense for labor was much superior to that to be gained in the old world. Accordingly he emigrated to America, and after landing at New York he proceeded westward until he reached Springfield, Illinois. He then purchased five acres of land in that locality, cleared it of the timber and built a log house. Later he added forty acres and still more was purchased as time went on until he is now the owner of one hundred and forty-eight acres, constituting a valuable farm. Of this he cleared forty acres, built a good home and planted an orchard. Modern equipments have been added to his property, progressive farming methods have been followed and today he has an excellent farm, which returns him the capital sufficient to enable him to rest from further labor.
Mr. Basse was married in Germany in 1849 to Miss Elizabeth Smilzer, who was born in Germany and ably assisted him in making his home in Sangamon county. She was to him a faithful companion and helpmate on life's journey for more than a half century, and their mutual love and confidence increased as the years went by, but they were separated by death on the 14th of January, 1903, the wife being called to her final rest. Their marriage had been blessed with six sons and two daughters, but only two are now living: George, who is married and is a farmer of Loami township, owning five hundred acres of land; and Elizabeth, the wife of John L. Horn. The children who have passed away are as follows: Martha was the wife of Henry Brissler; John died when a young man; Jacob, who was married and was the owner of a good farm of one hundred and forty-six acres in Island Grove township, died November 14, 1902, leaving two daughters. He was elected and served for six years as highway commissioner and was also a member of the school board for six years. The next two children died in Germany in infancy. They were named George and Jacob. Willie was born and died in this country.
Mr. Basse came to America a poor man. After reaching Sangamon county he went to Springfield and there worked at his trade, being employed on several of the public buildings of the city, including the present postoffice and the Leland Hotel. In his farming operations, however, his fortune has probably been made, and he has found in the cultivation of the soil a good source of income. He and his wife were reared in the Lutheran faith and both were members of the New Berlin church. Mr. Basse is a stanch Democrat and a man well known for his sterling traits of character and upright life. The hope that led him to come to America has been more than realized, for in its business possibilities he found the opportunity he sought and is now in comfortable circumstances.

---
Return to 1904 Biographies Index
Return to Sangamon County ILGenWeb
---