Sangamon County ILGenWeb © 2000
In keeping with our policy of providing free information on the Internet, data and images may be used by non-commercial entities, as long as this message remains on all copied material. These electronic pages cannot be reproduced in any format for profit or for other presentation without express permission by the contributor(s).
---
PAST AND PRESENT OF THE CITY OF SPRINGFIELD AND SANGAMON COUNTY ILLINOIS
By Joseph Wallace, M. A.
of the Springfield Bar
The S. J. Clarke Publishing Co., Chicago, IL
1904
---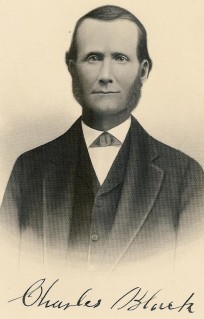 Transcribed by Mary Ann Kaylor
Page 982
CHARLES BLACK - In an active and honorable business career Charles Black attained large success, becoming one of the extensive landowners of Sangamon county. He was born in Pickaway county, Ohio, April 20, 1820, a son of Joseph and Pleasant (Newhouse) Black. His father was a farmer and stock-raiser by occupation.
Charles Black spent the days of his youth on the old homestead farm, was educated in the schools of the day in Ohio and remained a resident of that state until the early '60s, when he came to Sangamon county. Here he resumed agricultural labor and ever kept abreast with the progressive methods of the time. He made judicious investment in farm property and as his financial resources increased added to his land until he was the owner of about nine hundred acres. This constituted a valuable property, for the greater part of the land was very arable and productive. For many years Mr. Black gave his personal supervision and individual effort to the operation of his farm, but in 1890 he put aside active business cares and removed to Mechanicsburg, where he made his home until his death, which occurred on the 9th of January, 1892. He possessed excellent business capacity as demonstrated by the success which attended his efforts and his business integrity stood as an unquestioned fact in his career.
On the 5th of September, 1869, Mr. Black was married to Miss Alice Sprinkel, a native of Washington county, Arkansas, and a daughter of Michael and Catherine (Henry) Sprinkel, the former a native of Maryland and the latter of Pennsylvania. Her father is now deceased but her mother resides in Edinburg. Unto Mr. and Mrs. Black were born three children: Catherine, who died in infancy; Charles A.; and Olive, who resides with her mother. Charles was killed by lightning at the age of fifteen when returning from school. He and his sister were riding the same horse when a lightening bolt killed him and the horse, but the sister was only stunned.
Mr. Black was a member of the Independent Order of Odd Fellows and took an active part in its work for a number of years. He was also a leading member in the United Brethren church, laboring earnestly for its upbuilding and the extension of its interests. He died January 9, 1892, after a residence of almost thirty years in the county, during which time he had made for himself a warm place in the affection of many friends, while in business circles he had achieved both prosperity and an honored name.

---
Return to 1904 Biographies Index
Return to Sangamon County ILGenWeb
---