Sangamon County ILGenWeb © 2000
In keeping with our policy of providing free information on the Internet, data and images may be used by non-commercial entities, as long as this message remains on all copied material. These electronic pages cannot be reproduced in any format for profit or for other presentation without express permission by the contributor(s).
---
PAST AND PRESENT OF THE CITY OF SPRINGFIELD AND SANGAMON COUNTY ILLINOIS
By Joseph Wallace, M. A.
of the Springfield Bar
The S. J. Clarke Publishing Co., Chicago, IL
1904
---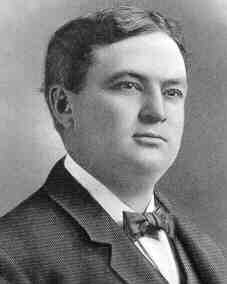 BENJAMIN H. BRAINERD - Benjamin H. Brainerd, whose personal popularity is indicated by the fact that he is the second Republican sheriff ever elected in Sangamon county, has long been recognized as one of the leading and influential citizens of Springfield, and his activity in community affairs has resulted beneficially for the city. He entered upon his business career at the age of fourteen years, winning the advancement that comes through close application and the mastery of the various problems of the business life, and while carefully directing his energies in that direction he also had due regard for the welfare of the city and has championed many measures for the public good.
Mr. Brainerd is a native son of the capital city, born April 18, 1869. His parents were Gideon R. and Elizabeth (Lamb) Brainerd, and the mother belonged to an old family of Sangamon county, mentioned elsewhere in this volume. The father was born near Portsmouth, Miami county, Ohio, and on removing westward settled at Springfield, where he accepted the position of bookkeeper with the Marine Fire Insurance Company, from which has developed the Marine Bank, and he was afterward secretary of the banking company. He withdrew from that position to become the junior partner of the firm of J. L. Lamb & Company, which at that time was carrying on the most extensive pork-packing business in Illinois, and he continued his connection therewith for several years, when, on account of ill health, he withdrew from the partnership and purchased a farm two miles west of Springfield. There he carried on agricultural pursuits for several years. On the expiration of that period he returned to the city and boarded at the Leland Hotel, living a retired life. He afterward bought a nice residence at No. 414 South Second street, where he remained until his death on the 18th of April, 1901. His widow now makes her home at the Leland Hotel.
Benjamin H. Brainerd began his education in the public schools of Springfield, and later attended the Cumberland Presbyterian College at Lincoln, Illinois, but at the age of fourteen years he put aside his textbooks, and returning to Springfield began working for his uncle, John C. Lamb, as timekeeper, and subsequently filled the same position in the foundry of the Springfield Iron Company. He acted in that capacity for a year and a half, after which he went to Concord, New Hampshire, where he acted as bookkeeper for the wholesale grocery firm of Woodworth & Company for a year. Subsequently, in Chicago, he was employed by Reid, Murdock & Company for a short tine, and upon his return to Springfield he accepted the position of collector in the Marine Bank, acting in that capacity for a short time, and was soon made teller, which position he held for ten years, during which time he became widely known in business circles of the city. Turning his attention to the real estate and insurance business, he conducted a profitable business in that field until 1902, when he was called to public office.
In that year Mr. Brainerd was nominated for sheriff. of the county and was elected by a large majority. He has always been a stanch Republican, unfaltering in his allegiance to the party, and he is the second Republican ever elected to the office in Sangamon county-a fact which is certainly indicative of his personal popularity and the confidence reposed in him by many friends. He has now the power of appointment for twenty-three salaried positions, and in office is making a most creditable record, his course being characterized by unfaltering performance of duty in the interests of law and order. He has been very influential in local political circles, was a member of the county central committee for two years and was treasurer of the city central committee for seven years. He was also treasurer of the board of agriculture for six years, and his active interest in many public measures has made him a valued resident of his native city. He is connected with the Modern Woodmen Camp and the Elks Lodge of Springfield.
Mr. Brainerd was married in 1890 to Miss Ella Gehrmann, a native of Springfield and a daughter of C. A. Gehrmann, who is the oldest dry goods merchant of the city still in business here. Mr, and Mrs. Brainerd have two children-Benjamin H. and Charles Gehrmann Brainerd-and the family is prominent in the social circles of the city. In seeking for the causes which have contributed to the success of Mr. Brainerd we find them not so munch in their rarity as in their harmonious union, and they may be briefly summed up by saying he has the tastes of a scholar, the manners of a gentleman and the habits of a man of business-a combination of qualities which is bound to produce good results and which finds made him a natural leader of men and opinions in his native county.

---
Return to 1904 Biographies Index
Return to Sangamon County ILGenWeb
---