Sangamon County ILGenWeb © 2000
In keeping with our policy of providing free information on the Internet, data and images may be used by non-commercial entities, as long as this message remains on all copied material. These electronic pages cannot be reproduced in any format for profit or for other presentation without express permission by the contributor(s).
---
PAST AND PRESENT OF THE CITY OF SPRINGFIELD AND SANGAMON COUNTY ILLINOIS
By Joseph Wallace, M. A.
of the Springfield Bar
The S. J. Clarke Publishing Co., Chicago, IL
1904
---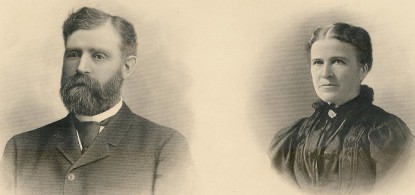 Transcribed by Mary Ann Kaylor
Page 1306
James Presley Brasfield, now deceased, resided on section 26, Chatham township, and was one of the leading and influential farmers of his community. He owned and operated two hundred and forty acres of land and was a native son of Sangamon county, whose successful career was a credit to the community in which he represented. His birth occurred near Sherman, August 13, 1844. His father, Wiley R. Brasfield, was born in Madison county, Kentucky, January 14, 1817, and was a son of James Brasfield, who was born in that state in 1791. The family is of English origin and was established in Madison county, Kentucky, at a very early period in its development. James Brasfield, leaving his native state, came to Sangamon county, where he entered land from the government. His son Wiley also came at that time and also secured land and turned his attention to farming in this then frontier region. He married Letitia I. Ross, a native of Ohio, and developed a farm on Fancy creek, where he owned and operated about four hundred acres of land. There he reared his family and later removed to Springfield, where he was engaged in the grocery business for a number of years. His death occurred in that city, November 23, 1883. His widow is still living, at the age of eighty years, and makes her home with her daughter-in-law, Mrs. M. M. Brasfield.
James Presley Brasfield was reared to manhood on the old homestead in the usual manner of farm lads of the period, and obtained a good education. He was a student in the old college in Springfield at the time of the Civil war, and in 1863 he put aside his textbooks and all personal considerations and joined the Seventh Illinois Infantry, serving with the Companies I and G. He was in the Atlanta campaign under General Sherman and went with him on the celebrated march to the sea, and later marched through the Carolinas, on to Richmond, and thence to Washington, where he participated in the grand review, where thousands of the victorious troops passed before the stand on which stood the president - a glorious army to whom the Union owned its perpetuation. Mr. Brasfield had sustained several slight wounds when defending the old flag, and was ever a patriotic soldier, true to his country and his duty.
Following his return from the army Mr. Brasfield engaged in conducting a general store in Loami for a number of years, during which time he was married. At Springfield, April 30, 1872, he wedded Martha Mason, a daughter of Noah Mason, Sr. The latter was a sailor and had visited most of the leading seaports around the world. The father of Mrs. Brasfield was reared in this county and when he started out in life for himself worked in the Galena lead mines for sixteen dollars per month. At the time of the Black Hawk war he served as a soldier under Abraham Lincoln. He was also a soldier of the Mexican war and his wife afterward received a pension. Before the days of railroads in this part of the state he was engaged in hauling goods by wagon from St. Louis to Springfield. He was married in Sangamon county to Martha Nuckolls, a native of North Carolina, who was brought to this state in her childhood days. Noah Mason was a farmer of this county for many years and afterward lived retired in Springfield until called to his final rest, in February, 1883. His wife died at the age of thirty-seven years.
Mr. and Mrs. Brasfield began their domestic life in Loami. She was reared and educated in Springfield and is a graduate of the high school there, being valedictorian of the class of '71. They remained for several years in Loami and then purchased a part of the old Mason estate, on which they resided until 1877, Mr. Brasfield erecting a large residence and substantial outbuildings upon the farm. He continued to engage in agricultural pursuits until his death, which occurred April 13, 1897, when he was fifty-two years of age. His life was characterized by business activity and energy and his methods were honorable and straightforward. In politics he was a stanch Republican, interested in the success of his party and of everything pertaining to the welfare and progress of his community. He served on the school board for a number of years and co-operated in many measures for public advancement. He belong to the Masonic fraternity, and his wife is now a member of the Eastern Star. His religious faith was that of the Presbyterian church, of which he was serving as an elder of the time of his death.
Unto Mr. and Mrs. Brasfield were born three children. Noah Mason, the eldest, was born March 13, 1873. Edward Mason, born June 11, 1875, and now operating the home farm, is married and has a daughter, Martha Fern, and son, James E.. Nellie Mason is the wife of Oscar Studebaker, who follows farming near Litchfield. Mr. Brasfield left to his family not only a comfortable competence, but also an untarnished name, a memory which can be cherished with pride. He possessed many sterling traits of character, was a man of exemplary habits, and ever used his influence for the permanent good of the community. His widow, a most estimable lady, yet resides upon the home farm and is a member of the Cumberland Presbyterian church of Auburn.

---
Return to 1904 Biographies Index
Return to Sangamon County ILGenWeb
---