Sangamon County ILGenWeb © 2000
In keeping with our policy of providing free information on the Internet, data and images may be used by non-commercial entities, as long as this message remains on all copied material. These electronic pages cannot be reproduced in any format for profit or for other presentation without express permission by the contributor(s).
---
PAST AND PRESENT OF THE CITY OF SPRINGFIELD AND SANGAMON COUNTY ILLINOIS
By Joseph Wallace, M. A.
of the Springfield Bar
The S. J. Clarke Publishing Co., Chicago, IL
1904
---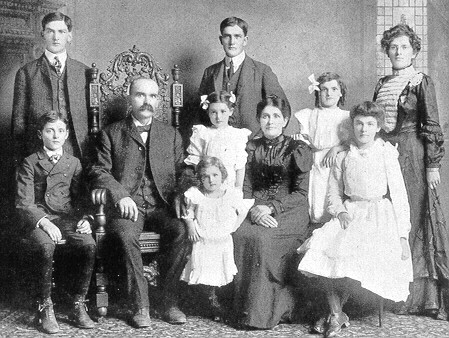 J. E. BRITTIN and FAMILY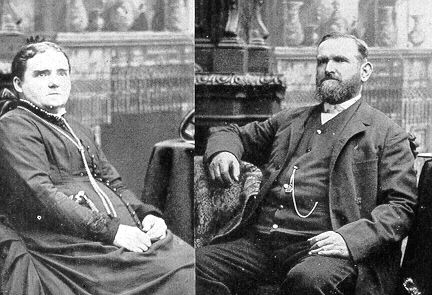 Mr. and Mrs. Henry Brittin



Ancestor of Barbara Ingolia Sylvia Land


JOHN E. BRITTIN- John E. Brittin was born February 4, 1858, on section 15, Fancy Creek township, on the farm which is yet his home. His father, Henry Brittin, was likewise a native of Sangamon county, born on the same farm, his natal day being January 8, 1835. The grandfather, Evan E. Brittin, was born in Bucks county, Pennsylvania, October 28, 1791, and lost his father in childhood. His mother afterward removed to Virginia, and in 1800 became a resident of Ohio, settling in Ross county, where Evan Brittin was reared and married. On the 18th of September, 1810, he wedded Mary J. England, and while they remained in Ohio one child was born unto them. In the spring of 1818 they arrived in Illinois. This was a wild western district. The state had just been admitted to the Union and its settlements were widely scattered and many of the now thriving towns and cities had not yet sprung into existence or were mere hamlets. Evan Brittin made a perman ent location in Fancy Creek township, Sangamon county, on land now occupied by his grandson, John E. Brittin.

It was upon this farm that Henry Brittin was reared, and in course of time he succeeded to the ownership of the old homestead. He was married December 9, 1856, to Nancy D. Mallory, whose birth occurred in Sangamon county on the 9th of May, 1839. Her father, Valentine P. Mallory, was a native of Kentucky, born in Bourbon county, December 16, 1798. He was married June 28, 1821, to Nancy Dawson, who was born in Fairfax county, Virginia, in 1802. On leaving the Blue Grass state Mr. Mallory took up his, abode in Sangamon county, settling in Clear Lake township in 1827. At the time of his marriage Henry Brittin began farming in order to provide for his bride, and in course of time was known as one of the prosperous and substantial agriculturists of Fancy Creek township. Upon his farm he reared his family of seven children and spent his last years.

John E. Brittin was reared on the old home place, which is endeared to him because of the associations of his boyhood and because it is the ancestral home of the family. He obtained his education in the common schools and remained with his father until after he had reached man's estate. He was married in Cantrall, Illinois, on the 23d of January, 1877, to Miss Melissa Canterbury, a sister of J. H. Canterbury. She was born and reared in Menard county, Illinois, representing one of the old families of this state. At the time of his marriage Mr. Brittin rented a tract of land and continued to cultivate leased land for several years until his labors brought to him capital sufficient to enable him to make a purchase. He bought one hundred and twenty acres in Menard county and continued farming there for seven years. After his father's death he bought the interest of the other heirs in the old homestead and returned to Fancy Creek township, where he has since carried on general arming and stock-raising. T he home of Mr. and Mrs. Brittin has been blessed with eight children: Nina, the wife of John W. Klor; Charles H., a teacher Of Menard county; Oliver; Nancy; Harry; Helen; Marie; and Margaret.

Politically Mr. Brittin is a Republican where national questions are involved and he proudly cast his first ballot for president for James A. Garfield. He has never missed a presidential election since that time. At local elections he votes independently and does not consider himself bound by party ties. Both he and his wife are members of the Cantrall Christian church, and they have a wide acquaintance in this portion of the state. Their lives have been in harmony with their religious professions, and Mr. Brittin is widely known as a man whose integrity is above question and whose business affairs have been conducted along lines of honorable and enterprising effort.



---
Return to 1904 Biographies Index
Return to Sangamon County ILGenWeb
---