Sangamon County ILGenWeb © 2000
In keeping with our policy of providing free information on the Internet, data and images may be used by non-commercial entities, as long as this message remains on all copied material. These electronic pages cannot be reproduced in any format for profit or for other presentation without express permission by the contributor(s).
---
PAST AND PRESENT OF THE CITY OF SPRINGFIELD AND SANGAMON COUNTY ILLINOIS
By Joseph Wallace, M. A.
of the Springfield Bar
The S. J. Clarke Publishing Co., Chicago, IL
1904
---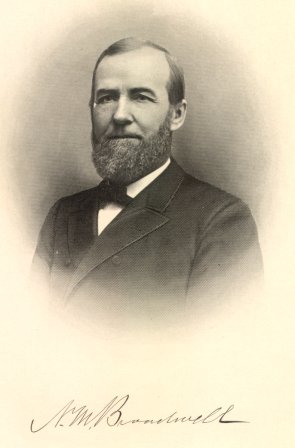 HON. NORMAN M. BROADWELL. - A student of law with Abraham Lincoln as preceptor and an associate in the practice of his profession of Shelby M. Cullom and other distinguished men of Illinois, Norman M. Broadwell ever commanded their respect and enjoyed their friendship, for his strong mind and intellectual energy made him their equal on the mental plane. He, too, might, perhaps, have been more prominent in political circles had not his ambition been in the line of his profession. At the bar, however, he won a place of prominence equaled by few of those whose names figure in the history of jurisprudence in Illinois.
Judge Broadwell was a native son of this state, his birth having occurred in Morgan County, August 1, 1825. His parents, Baxter and Mary (Lindsey) Broadwell, were natives of New Jersey, and on leaving the Atlantic coast they made their way into Ohio, living for several years among the pioneer settlers of the Little Miami valley but again they started westward and arrived in Illinois in 1818, the year of the admission of the state into the Union. The journey was made by keelboat, which was then the popular mode of travel. They were among the early residents of Morgan County, the father securing a tract of land near Morgan City, where he began the work of developing a new farm. He aided in laying the foundation for the upbuilding and progress of his section of the state, but his death occurred at a comparatively early age in 1833. His widow was called to her final rest in 1837. They were the parents of seven children, four of whom have passed away, while those still living are: Louisa, wife of J. V. Swetting, of Wisconsin; Jane, a resident of Springfield; and James M., who at one time was part owner of The Hawkeye, a leading journal of Burlington, Iowa.
Amid the primitive conditions and pioneer surroundings Norman H. Broadwell was reared. He was but eight years of age at the time of his father's death and at the early age of twelve was left an orphan. Throughout the entire period of his boyhood and youth he lived in Morgan and Scott counties and obtained such educational privileges as were enjoyed by attending the common schools, but it is a well known fact that only under the pressure of adversity and the stimulus of opposition is the strongest and best in men brought out and developed, and while deprived of early advantages Mr. Broadwell became possessed of a strong determination to succeed and ever made the best of his opportunities and utilized the means at hand for advancement. He entered upon his business career as a bookseller of Jacksonville, but remained there only a year, as it was his desire to practice law. In 1852 he became student in the law office of the firm of Lincoln & Herndon, of Springfield. Fortunate was he that his early reading was directed by men of such breadth of mind and legal learning, and after years of strenuous study and close application he was admitted to practice and opened an office in Pekin, Tazewell county. Until 1854 he remained in that place and then came to Springfield, remaining in the practice of law here through more than a third of a century. The zeal with which he devoted his energies to his profession, the careful regard evinced for the interests of his clients and an assiduous and unrelaxing attention to all the details of his cases have brought him a large business and made him very successful in its conduct. His arguments elicited warm commendation, not only from his associates at the bar, but also from the bench. He was a very able writer. His briefs always showed wide research, and careful thought and the best and strongest reasons which could be urged for his contention, presented in cogent and logical form and illustrated by a style unusually lucid and clear. During the years of his active practice Judge Broadwell was at different times associated with partners, including some of the most distinguished men who have practiced before the bar of Sangamon county, and for a time he was a partner of Senator Shelby M. Cullom, and for six or eight years was a member of the firm of Broadwell & McClernand, his partner being General McClernand. At the end of that time William M. Springer became a member of the firm, and the relation between him and Mr. Broadwell maintained for five years. During the latter part of his practice he was a partner of Judge Gross. A fact of interest and worthy of note is that in the first case which Judge Broadwell ever tried in a court of record he was an opponent of his former preceptor, Abraham Lincoln, and that in the last case which the martyred president tried in Springfield, Mr. Broadwell served as his assistant. He was never ambitious for office, although he had a statesman's grasp of affairs and was interested in the progress and development of the country along political lines. However, he was elected county judge in 1862 to fill a vacancy caused by the death of Judge Power. Upon the bench his decisions indicated strong mentality, careful analysis, a thorough knowledge of the law and unbiased judgment. The judge on the bench fails more frequently, perhaps, from a deficiency in that broad-mindedness which not only comprehends the details of a situation quickly and that insures a complete self control under the most exasperating conditions than from any other cause; and the judge who makes a success in the discharge of his multitudinous delicate duties is a man of well rounded character, finely balanced mind and of splendid intellectual attainments. That Judge Broadwell was ever regarded as such a jurist is a uniformly accepted fact.
Judge Broadwell gave his political support to the Democracy, and in 1861 he became a member of the lawmaking body of the commonwealth, having in that year been elected to represent the Springfield district in the legislature. In 1867 he was elected mayor of Springfield and his administration was so businesslike, practical and beneficial that again he was chosen for the office in 1869, thus serving for a second term. Aside form his service as mayor, legislator and county judge, Mr. Broadwell was never in public office. His best public service was done as a private citizen - in the practice of law, where he stood as the conservator of human rights and privileges, and in co-operation with other public spirited men of the city when he aided in advancement of measures for the general good.
On the 4th of November, 1858, Judge Broadwell was married to Miss Virginia Iles, daughter of Jonathan and Ann Iles, who were natives of Kentucky and sought a home in Illinois about 1826, locating in the pioneer settlement which then constituted Sangamon county. Major Iles, an uncle of Mrs. Broadwell took up his abode upon the present site of Springfield and became one of its founders. Four children were born unto Judge and Mrs. Broadwell: Annie; Virginia; Louise, wife of Harris Hickox; and Stuart, a druggist of Springfield.
Judge Broadwell died February 28, 1893, at his home in Springfield, and his wife passed away July 2, 1897. He was a member of the Masonic order and its high moral principles and fraternal spirit found exemplification in his life. He drew to himself many friends by reason of his true worth and high character, for his public and private life were alike unassailable. From the time when he became a member of the Springfield bar until he put aside the arduous duties of the profession of his career was marked by steady progress, and he advanced until his name was placed upon the keystone of the legal arch of Illinois.

---
Return to 1904 Biographies Index
Return to Sangamon County ILGenWeb
---