Sangamon County ILGenWeb © 2000
In keeping with our policy of providing free information on the Internet, data and images may be used by non-commercial entities, as long as this message remains on all copied material. These electronic pages cannot be reproduced in any format for profit or for other presentation without express permission by the contributor(s).
---
PAST AND PRESENT OF THE CITY OF SPRINGFIELD AND SANGAMON COUNTY ILLINOIS
By Joseph Wallace, M. A.
of the Springfield Bar
The S. J. Clarke Publishing Co., Chicago, IL
1904
---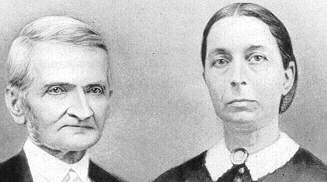 Mr. & Mrs. John T. Burns - Mr. & Mrs. John R. Burns
Ancestor of Earliene Kaelin
JOHN T. BURNS - John T. Burns, who follows farming on section 15, Island Grove township, has a rich and arable tract of land of two hundred and forty acres which is well improved and valuable and he is engaged thereon in general farming and stock raising, and in the dairy business. He thoroughly understands his work in every department and so directs his energies by sound judgment that his efforts are being attended with very creditable success.
Mr. Burns was born in Buffalo Hart township, Sangamon county, January 11, 1854. His father, John R. Burns, was a native of Kentucky, born in 1803, and the grandfather, Thomas Burns, was born in Virginia. The family is of Scotch lineage and was established in the Old Dominion at an early period in the colonization of the world. Thomas Burns removed from Virginia to Kentucky, and resided there for a number of years, after which he brought his family to Illinois, establishing his home in Sangamon county in 1825. He was one of the first settlers within its borders. There was only one store in Springfield at that time, it being a log building in which a very small stock of goods was carried. He bought and entered land from the government and developed a farm of eighty acres. Some of the deeds to his land are signed. by John Quincy Adams, then president of the United States. He took an active and helpful part in the early pioneer development of this portion of the state and he belonged to that class of citizens to whom the present generation owes a debt of gratitude for what they accomplished toward improving this portion of the country and making it habitable.
John R. Burns, the father of our subject, spent his boyhood and youth in Kentucky and in 1825 accompanied his parents to Illinois. Throughout his entire life he carried on agricultural pursuits and his energy and enterprise were important factors in his success. After coming to this county be was married to Miss Lucy Cass, a native of Kentucky and a daughter of Robert and Mary Cass, who came to Illinois from the Blue Grass state in 1826. Mrs. Burns died July 19, 1876, some years prior to the death of her husband, who spent his last years on the home farm, and departed this life July 13, 1895, at the very advanced age of ninety-four years.
John T. Burns is one of a family of five sons and seven daughters, of whom four sons and five daughters realized years of maturity. His boyhood days were passed on the old family homestead and his education was acquired in the district schools of the neighborhood. He worked in the fields through the periods of vacation and early became familiar with the best methods of raising crops and of caring for stock. He remained upon the home farm with his father until he had attained his majority and then he sought a companion and helpmate for life's journey, being married in Kentucky on the 2nd of September, 1875, to Miss Elizabeth Perry a native of Louisville, Kentucky, where she was reared and educated. Her father, Horatio Perry, had become an early settler of this state, but subsequently he returned to Kentucky, where his last day were passed.
After his marriage Mr. Burns located on the old family homestead, where he engaged in farming and in the breeding and raising of fine stock. He makes a specialty of hogs, sheep and poultry and has exhibited his fine stock at many state fairs, where he has won a large number of prizes. At one county fair held in Springfield he gained more than six hundred dollars in premiums. He continued to operate the old home place until 1899, when be purchased the tract of land on section 15, Island Grove township, where he now resides. Here he has since engaged in farming and has further improved the place by adding all modern equipment and accessories. In 1901 he became one of the organizers and stockholders in a creamery company of New Berlin, assisted in building the plant and became president of the creamery association and since that time he has been engaged in the dairy business in connection with his farming interests. All departments of his farm work are carried on in a systematic, methodical and progressive, way and his labors have brought to him the success which should ever crown honorable, persistent effort.
Mr. and Mrs. Burns are the parents of six children, four of whom are living, Lucy, who was married April 14, 1904 to Dr. Thomas W. Priest of Buffalo Hart, who is now serving as a physician; Edgar P., who is a graduate of New Berlin high school and stood at the head of his class; Cora M. and Lee W. , who are in school. They lost two children in infancy. Politically Burns is a stanch democrat where national issues are involved, but at local elections he votes independently, supporting the men whom be thinks best qualified for office regardless of party affiliations. His wife is a member of the Presbyterian church. He has long been a resident of Sangamon county, witnessing much of its growth and progress as the years have gone by and he belongs to that substantial class of citizens who are active in promoting material progress and upholding the intellectual and moral status of the community.
---
Return to 1904 Biographies Index
Return to Sangamon County ILGenWeb
---