Sangamon County ILGenWeb © 2000
In keeping with our policy of providing free information on the Internet, data and images may be used by non-commercial entities, as long as this message remains on all copied material. These electronic pages cannot be reproduced in any format for profit or for other presentation without express permission by the contributor(s).
---
PAST AND PRESENT OF THE CITY OF SPRINGFIELD AND SANGAMON COUNTY ILLINOIS
By Joseph Wallace, M. A.
of the Springfield Bar
The S. J. Clarke Publishing Co., Chicago, IL
1904
---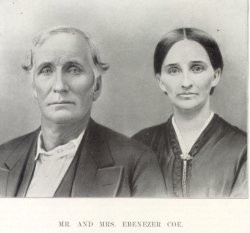 Page 1516
JOSEPH H. COE . The student of history, does not have to carry his investigations far into the annals of Sangamon county before he learns that the Coe family has been active in the work of development and progress here from pioneer times down to the present. One of the old homesteads in Rochester township is that owned by Samuel B. Coe, a brother of our subject. Joseph H. Coe was born upon this farm on the 4th of February, 1862, a son of Ebenezer and Julia A. (Conard) Coe. The duties of the schoolroom and the pleasures of the playground and the work of the fields occupied his attention in youth. He obtained his education in the public schools and at the age of twenty years he entered upon his business career as a farmer, his labors being directed by his father, to whom he was an able assistant through a long period. Upon his father's death he inherited a portion of the old estate and is now the owner of one hundred acres of rich and productive land, adjoining the farm belonging to his brother, S. B. Coe. Business ability is one of the characteristics of the family and Joseph H. Coe has his full share of this desirable quality. His residence is on section 23 and is surrounded by other good building which are substantial and modern in construction. He has a high grade of farm animals upon his place and he devotes his land to the cultivation of the cereals best adapted to the soil and climate. Annually he harvests good crops and these find a ready sale upon the market.
On the 6th of February, 1895, Mr. Coe was united in marriage to Miss Charlotte A. Burrows, who was born in New York City on the 11th of June, 1870. After the death of her parents she made her home with Mr. Coe's uncle in Rochester, and there they were married. They now have two sons: Joseph E., whose birth occurred on the 9th of August, 1901; and W. B., born April 30, 1903. Mrs. Coe is an estimable lady, holding membership with the Methodist Episcopal church.
Mr. Coe exercises his right of franchise in support of the men and measures of the Democracy and he has filled the positions of township collector and township clerk. While there have been no exciting chapters in his life history it is that of a man who has been true to public and private duties and honorable in all life's relations and therefore he well deserves mention in the annals of his native county.

---
Return to 1904 Biographies Index
Return to Sangamon County ILGenWeb
---