Sangamon County ILGenWeb © 2000
In keeping with our policy of providing free information on the Internet, data and images may be used by non-commercial entities, as long as this message remains on all copied material. These electronic pages cannot be reproduced in any format for profit or for other presentation without express permission by the contributor(s).
---
PAST AND PRESENT OF THE CITY OF SPRINGFIELD AND SANGAMON COUNTY ILLINOIS
By Joseph Wallace, M. A.
of the Springfield Bar
The S. J. Clarke Publishing Co., Chicago, IL
1904
---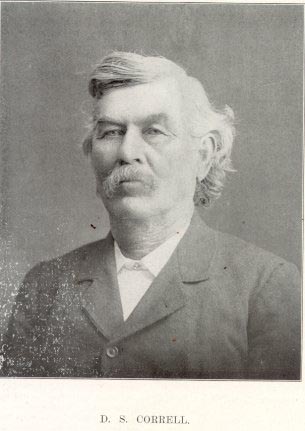 D. S. CORRELL - D. S. Correll, a native son of Sangamon county, was born in Mechanicsburg township, September 3, 1835, and is now an enterprising farmer of Illiopolis township. He is a son of Thomas Correll and a brother of John and Fletcher Correll, all of whom are represented elsewhere in this work. His boyhood days were spent in this county upon the old home farm and to the public school system he is indebted for the early educational privileges he enjoyed. He afterward attended the Wesleyan University at Bloomington and he remained with his father until he had attained his majority, assisting him in the operation of the old homestead, so that he thereby gained the practical experience that enabled him to carry on his own farming operations in a practical and successful manner. On leaving home he and his brother Fletcher purchased land in Macon county and engaged in farming there for a number of years. D. Simpson Correll afterward sold his interest to his brother and purchased the old William Crane farm near Illiopolis, a place of two hundred and forty acres, which he at once began to cultivate and improve. He has also added to his farm from time to time by additional purchase and has been extensively engaged in agricultural pursuits. He also raises good grades of stock, feeding and fattening cattle for the market and largely making his own shipments. About 1878 he removed to Illiopolis, where he purchased a home which he has remodeled, making it one of the good residences of the town. He yet owns valuable farming interests and is a stockholder in the Farmers' State Bank of Illiopolis.
On February 25, 1874, Mr. Correll was married in Illiopolis to Miss Sarah E. Peden, a native of Ohio, who was reared in Illinois and is a daughter of Joseph Peden, one of the early settlers of Sangamon county. Three children have been born of this union: Pierce Peden; Charles D., and a daughter who died in infancy. Pierce Peden holds a responsible position in the Farmers' Bank. He married Georgia A. Constant, and has one daughter, Helen Elizabeth. Charles D. Correll is a well educated young man, having graduated from the law department of the State University of Michigan at Ann Arbor. He is now operating the home farm. He was married January 27, 1904, to Violet Jane Rule.
Politically Mr. Correll is a stanch Democrat, having supported the party since he cast his first presidential vote for Millard Fillmore. He afterward supported Stephen A. Douglas, "the little giant" of Illinois, and his last presidential ballot was cast for William J. Bryan. The honors and emoluments of office, however, have had no attraction for him, as he has preferred to give his energy and attention to his business interests. He and his wife are members of the Christian church and he belongs to the masonic fraternity, having been raised to the sublime degree of a Master Mason in Illiopolis. His entire life has been passed in this county, which he has helped to improve in large measure. He has cultivated many acres of virgin soil and is widely recognized as a successful agriculturist. He has a wide acquaintance in Springfield and the western part of the county and is known as one who in his business career has never faltered in his allegiance to honorable principles. His success has resulted from close application, unfaltering diligence and keen discernment in business affairs and now he has a very comfortable home in Illiopolis, his prosperity having enabled him to largely put aside the arduous duties of farm life.

---
Return to 1904 Biographies Index
Return to Sangamon County ILGenWeb
---