Sangamon County ILGenWeb © 2000
In keeping with our policy of providing free information on the Internet, data and images may be used by non-commercial entities, as long as this message remains on all copied material. These electronic pages cannot be reproduced in any format for profit or for other presentation without express permission by the contributor(s).
---
PAST AND PRESENT OF THE CITY OF SPRINGFIELD AND SANGAMON COUNTY ILLINOIS
By Joseph Wallace, M. A.
of the Springfield Bar
The S. J. Clarke Publishing Co., Chicago, IL
1904
---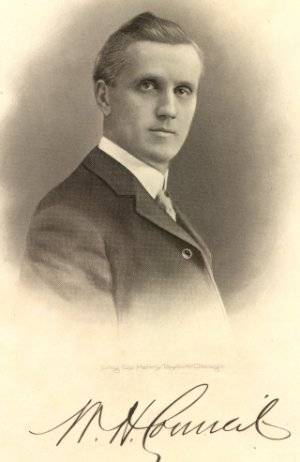 WILLIAM H. COUNCIL. - Among the representative business men of Williamsville is numbered William H. Council, who is one of the leading grain dealers of this county. Upon the commercial activity of any community depends its prosperity, and the men who are recognized as leading citizens are those who are at the head of important business enterprises. Mr. Council is a man of broad capabilities and generally carries forward to successful completion whatever he undertakes.
He was born in Williamsville on the 19th of November, 1864, and is a son of Wesley Council, whose birth also occurred in this county, November 21, 1824. The paternal grandfather, Hardy Council, was a native of North Carolina, born in 1790, and was a representative of one of the early families of that state. He married a Miss Hanna, who was originally from Pennsylvania, where her family had a large grant of land. From North Carolina Hardy Council removed to Kentucky, and about 1816 or 1818 came to Illinois, locating in Fancy Creek township, Sangamon county, where he improved a farm, becoming one of the prominent citizens of that locality. There Wesley Council was born and reared, and on reaching manhood was united in marriage to Miss Martha Wigginton, a native of this county. Her father, Squire Wigginton, was of Welsh extraction and was one of the pioneers of Illinois. After farming for some years Wesley Council removed to Williamsville in 1855 and embarked in the grain business, which he carried on quite successfully for forty-two years, building an elevator there in 1877. He also built a good residence and gave liberally toward the erection of the first Methodist Episcopal church at that place. As a public spirited and progressive citizen he took an active interest in public affairs and was called upon to fill several local offices of honor and trust. He continued active up to the time of his death, which occurred in May, 1897. His wife passed away two weeks previously. In the family of this worthy couple were twelve children, four living, namely: John W., Nellie, wife of Otto L. Caldwell, of Springfield; Bessie, wife of James Caldwell, and William H.
Our subject obtained his elementary education in the public schools of Williamsville and later attended business college in Jacksonville, where he completed the course in 1882. He then turned his attention to railroading and was in the employ of the Chicago & Alton railroad from 1883 until 1893, acting as operator and agent at different places. Later he was train dispatcher at Bloomington, and while in that city was married in December, 1891, to Miss Frances Bloomfield, a daughter of General Ira J. Bloomfield, who was an officer in the civil war. Mrs. Council was reared and educated in Bloomington, and by her marriage has become the mother of two children, Clarence, aged nine years, and Lucille, aged six years.
On resigning his position as dispatcher at Bloomington, Mr. Council accepted employment with the Chicago, Burlington & Quincy railroad at LaGrange, Illinois, where he remained until 1897. He then returned to Williamsville to take charge of the grain business left by his father, and has since carried on the same with most gratifying success. The old elevator was destroyed by fire in September, 1900, but in its place he erected a larger and more modern building, with the latest improved machinery. He also owns an elevator at Van Wood and now handles a large quantity of grain at these places, being one of the principal grain dealers of the county at the present time. Mr. Council is the inventor of an important train signal, known as the Miller train signal, in which he owns a large interest and which is coming into general use, being now used by the New York Central railroad, and is quite extensively used throughout Europe.
Mr. and Mrs. Council are among the most prominent members of the Methodist Episcopal church and take an active part in both church and Sunday school work. He was chairman of the building committee at the time the new house of worship was erected and he presented the church with a new pipe organ. A man of superior business ability, of strict integrity and sterling worth, he stands high in the esteem of his associates and he has a host of warm friends throughout his native county.

---
Return to 1904 Biographies Index
Return to Sangamon County ILGenWeb
---