Sangamon County ILGenWeb © 2000
In keeping with our policy of providing free information on the Internet, data and images may be used by non-commercial entities, as long as this message remains on all copied material. These electronic pages cannot be reproduced in any format for profit or for other presentation without express permission by the contributor(s).
---
PAST AND PRESENT OF THE CITY OF SPRINGFIELD AND SANGAMON COUNTY ILLINOIS
By Joseph Wallace, M. A.
of the Springfield Bar
The S. J. Clarke Publishing Co., Chicago, IL
1904
---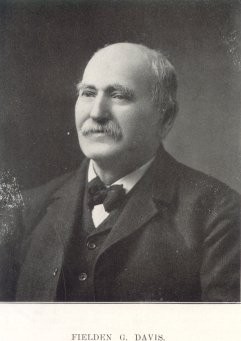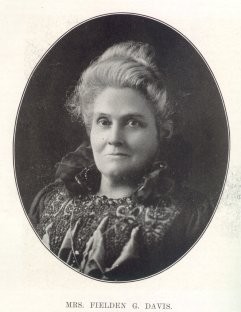 Page 688
FIELDEN G. DAVIS , the well-known and popular proprietor of the Commercial Hotel of Springfield, is a worthy representative of an honored pioneer family of this section of the state. He was born near Smith's Grove, in Warren county, Kentucky, on the 24th of July, 1828, a son of William M. and Susanna (Beams) Davis, who were natives of Green county, that state, and were natives of Green county, that state, and were of Irish and Welsh descent, though their ancestors came to America many generations ago. Both families were large and influential and the Beams are now widely scattered over the south. One of their number married an Indian girl of the Sac tribe soon after the Revolutionary war, and they have many descendants now living in Indian Territory and Oklahoma. Our subject's paternal grandfather was a native of Culpepper county, Virginia, and was the father of fourteen children, seven sons and seven daughters, all of whom reached years of maturity. Most of the number came to Illinois and settled in Sangamon county, near Salem, the old home of President Lincoln. They were all landowners, rich and influential. The grandfather of our subject located here in 1830, when the population of Springfield did not exceed fifty and Indians were still quite numerous in this locality. He was living here during the memorable winter of the "deep snow" (1830-31), when the snow fell for forty days, though it was not very cold, and was followed by the spring of "high waters." Our subject's mother had three sisters and one brother, the latter being William Beams, who married Mahala Hall, of Decatur, who was a cousin of Abraham Lincoln.
Mr. Davis, of this review, was quite small when he accompanied his parents on their removal to this state and here he was reared amidst pioneer scenes, being educated at home by his own hard study - a wonderful example of perseverance and strenuous living. In 1850 he married Miss Hannah A. Shepherd, who died June 23, 1850, leaving three daughters, but only one of the number is now living, Mrs. Ruth Morris, of Petersburg, Illinois. In 1870 he was again married, his second union being with Miss Mickey E. Hohimer, a native of Menard county, Illinois, whose parents came from Kentucky. By this marriage seven children were born, those still living being: William I., an iron bridgeman, engaged in structural work; Fred, at home; Mrs. Dora Armbruster, whose husband is an electrician of Springfield; and Edgar, at home.
Mr. Davis' first work was on a farm, and he later followed the brick and stonemason's and plasterer's trades for some years. Subsequently he became very much interested in political affairs and was called upon to fill a number of official positions of honor and trust in Menard county, serving his fellow citizens well and acceptably in various capacities. In 1878 he embarked in the hotel business in Petersburg, and in August, 1887, came to Springfield with his family, continuing in the hotel business here. For the past nine years he has been proprietor of the Commercial Hotel at the corner of Jefferson and Third streets, which under his management has become a favorite resort with the traveling public, so that he now receives a liberal patronage.
In early days the Davis, Hohimer and Lincoln families were on very friendly terms, meeting often in a social way, as they lived in the same neighborhood, and our subject can relate many interesting anecdotes of the martyred president. He also has many stories to relate of Frank Phillips, the painter and whittler, Judge Douglas, Colonel Baker, Major Thomas L. Harris and others, whom he often met in years long gone by. In addition to his own children he reared and educated William Davis, now a prosperous merchant of Menard county; Mary Watkins, now Mrs. Kennedy, who is living with her family in Mason county; and Ellen Overby, a resident of Springfield. Mr. Davis has always been a very energetic and philanthropic citizen, and has done much to promote the welfare of those around him. He has lived amid the most stirring events in our country's history, and possessing a good memory he can tell many fascinating stories of early men and affairs, which make him a popular conversationalist.

---
Return to 1904 Biographies Index
Return to Sangamon County ILGenWeb
---