Sangamon County ILGenWeb © 2000
In keeping with our policy of providing free information on the Internet, data and images may be used by non-commercial entities, as long as this message remains on all copied material. These electronic pages cannot be reproduced in any format for profit or for other presentation without express permission by the contributor(s).
---
PAST AND PRESENT OF THE CITY OF SPRINGFIELD AND SANGAMON COUNTY ILLINOIS
By Joseph Wallace, M. A.
of the Springfield Bar
The S. J. Clarke Publishing Co., Chicago, IL
1904
---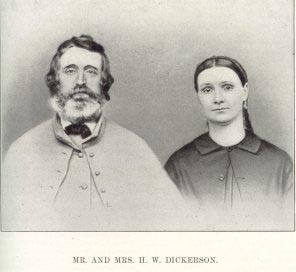 CHARLES E. DICKERSON. - This well known citizen and progressive farmer of Williams township was born October 10, 1859, on the farm on section 28, where he now resides, and is a representative of an old and highly respected family of this county, his father being Hugh W. Dickerson, who was born in Pendleton county, Kentucky, in 1811. His grandfather, Samuel Dickerson, was a native of Virginia and an early settler of Kentucky, whence he came to Illinois in 1829 and first located in Logan county, but in 1830 removed to what is now Illiopolis township, Sangamon county, prior to the winter of the deep snow. Hugh W. Dickerson was a young man on the removal of the family to this county and he materially aided his father in carrying on the home farm. On the 7th of August, 1833, he married Catharine Green, who died in 1850. Of the five children born of this union the only one now living is Eliza Jane, wife of John B. Taylor, of Williamsville. Four sons, W. H., Alexander, John S. and S. G., are now deceased. The father was again married April 1, 1852, his second union being with Edna S. Rice, by whom he had seven children, two of whom are now living, namely: Charles E., of this review, and Ida Belle, wife of W. H. Miller, a business man of Williamsville. May C., wife of Z. M. Ramey, died in Nebraska; Oliver P. died at the age of nineteen years, and Josiah, Anna and Robby all died under four years of age. In 1852 the father purchased three hundred and twenty acres of land, where our subject now resides, and to its cultivation and improvement devoted the remainder of his life. At the time of his death he also owned four hundred and eighty acres of land in Franklin county, Kansas. Upon his home place he built a good brick residence and substantial outbuildings. After a useful and well-spent life he passed away April 15, 1879, and his second wife died January 2, 1894.
By aiding his father in the work of the farm Charles E. Dickerson early acquired an excellent knowledge of every department of farm work and on the death of his father he and his mother took charge of the place. Later he purchased the interests of the other heirs and succeeded to the homestead. He now has two hundred acres under a high state of cultivation and well improved with good buildings, making his farm one of the most desirable of its size in the county.
In Williams township, January 9, 1884, was celebrated the marriage of Mr. Dickerson and Miss Illie C. Matthews, who was born, reared and educated in this county. Her father, J. H. Mathews, came to this county from Kentucky at an early day and now makes his home with Mrs. Dickerson. His wife, who bore the maiden name of Sarah House, was born in Cabarrus county, North Carolina, September 2, 1835, and died in Sangamon county, Illinois, November 9, 1901. Mr. and Mrs. Dickerson have three children: Noi F., Edna C., and C. Estel.
Since casting his first presidential vote for James A. Garfield, Mr. Dickerson has been a supporter of the Republican party and is now serving as township trustee. Both he and his wife are members of the Methodist Episcopal church of Wolf Creek, and fraternally he is connected with the Knights of Pythias at Barclay and the Modern Woodmen of America. Being a man of strict integrity and sterling worth he stands high in public esteem and is widely and favorably known throughout his native county.

---
Return to 1904 Biographies Index
Return to Sangamon County ILGenWeb
---