Sangamon County ILGenWeb © 2000
In keeping with our policy of providing free information on the Internet, data and images may be used by non-commercial entities, as long as this message remains on all copied material. These electronic pages cannot be reproduced in any format for profit or for other presentation without express permission by the contributor(s).
---
PAST AND PRESENT OF THE CITY OF SPRINGFIELD AND SANGAMON COUNTY ILLINOIS
By Joseph Wallace, M. A.
of the Springfield Bar
The S. J. Clarke Publishing Co., Chicago, IL
1904
---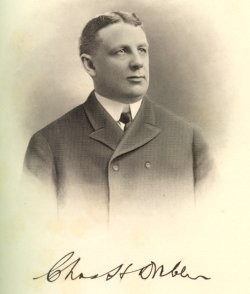 Page 216
CHARLES HAY DOEBLER - Charles Hay Doebler, master mechanic of the Wabash railroad at Springfield, was born in Williamsport, Pennsylvania, March 17, 1860, a son of Valentine S. and Elizabeth Hepburn Doebler, both of whom were natives of the Keystone state. The father was proprietor of a hotel for a number of years, but is now deceased. In Masonry he attained the thirty-second degree. His widow is still living in Williamsport, Pennsylvania. In the family were three sons and four daughters, of whom Charles was the eldest son and fourth in order of birth.
Mr. Doebler, after attending a preparatory school in Racine, Wisconsin, entered the University of Pennsylvania and was graduated with the class of 1883. Previous to this time he worked as an apprentice in the machine shops and during vacations had been fireman on an engine on the Philadelphia, Wilmington & Baltimore railroad. After graduation he was a machinist apprentice and fireman on the Pittsburg, Fort Wayne & Chicago railroad. Throughout his business career he has been connected with railroad service. He held the position of inspector of materials and of freight cars, was assistant master mechanic and assistant road foreman of the engines. Previous to accepting his present position with the Wabash Railroad Company he served as master mechanic with the Big Four Railroad Company for five years. In Fort Wayne, Indiana, he spent two and a half years as master mechanic with the Wabash Railroad Company, and in 1896 was transferred to Springfield, and has since been master supervision seven hundred and thirty men, three hundred and seventy-six of them being in Springfield. The Wabash shops cover a large area, extending from Ninth to Tenth streets. The grounds are well kept and everything is clean and a credit to the management. Mr. Doebler has devoted his entire life to the line of work which now claims his attention, having begun in the machine shops and worked his way upward, and there is not a tool that he is not familiar with, and therefore capable of superintending the practical work of the men.
At Fort Wayne, Indiana, Mr. Doebler was married, January 12, 1887, to Pauline R. Ward, who was born and educated there. They have three living children, two sons and a daughter - Pauline, Charles and Horatio Ward. They also lost one child. The parents are members of St. Paul's Pro-Cathedral, and Mr. Doebler is one of its vestrymen. He is a member of a college fraternity which he joined when attending the Pennsylvania University. He has made a most creditable business record and in the position he is now filling he commands the respect of those who serve under him and the entire confidence of those whom he serves.

---
Return to 1904 Biographies Index
Return to Sangamon County ILGenWeb
---