Sangamon County ILGenWeb © 2000
In keeping with our policy of providing free information on the Internet, data and images may be used by non-commercial entities, as long as this message remains on all copied material. These electronic pages cannot be reproduced in any format for profit or for other presentation without express permission by the contributor(s).
---
PAST AND PRESENT OF THE CITY OF SPRINGFIELD AND SANGAMON COUNTY ILLINOIS
By Joseph Wallace, M. A.
of the Springfield Bar
The S. J. Clarke Publishing Co., Chicago, IL
1904
---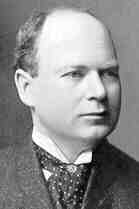 THOMAS MARION DOLAN, JR. - Thomas Marion Dolan, Jr., who is at the head of the Illinois Plumbing & Heating Company, is one of the enterprising business men of the capital city, thoroughly conversant with the lines he represents, and as the result of his energy, careful management and keen discrimination he is now enjoying a well merited prosperity. He was born July 25, 1865, in Detroit, Michigan. His father, Thomas M. Dolan, was born in Liverpool, England, August 13, 1830, and when twenty years of age emigrated to America. He had previously learned the trade of cigar making, which he followed in New York and other places, and he is still a practical workman in that line in Detroit, Michigan, although now seventy-four years of age. He married Catherine Chabbott, a native of Toronto, Ontario, and they became the parents of three children: Annie, wife of Fred Pramstaller, of Detroit, Michigan; Paul J., who is engaged in the plumbing business in Laporte, Indiana, and married Wilhelmina Rosa, by whom he has four daughters; and Thomas Marion, of this review.
In early boyhood Thomas M. Dolan, Jr., formed a determination to see something of the world and when not yet twelve years of age left his parent's home and went to the Pacific coast, but after a short time he returned to his father's roof. His education was obtained in the district schools and later be attended a business college at night, in order that he might be well equipped for the duties of a business career. When thirteen Years of age be entered the United States navy on the the steamship Portsmouth. Enlisting at Detroit he was taken to Erie and by rail to the Brooklyn navy yard. He had many most interesting and a number of thrilling experiences while connected with the navy. He was under Commodore Crowninshield on a two years' European cruise, visiting almost every notable European port. He afterward continued his naval schooling on board the vessel and during the sea voyage twelve of the boys died of typhoid fever. Volunteers were asked for to serve as nurses and Mr. Dolan was among those who offered their services. On the return of the vessel to port Mr. Dolan's father asked that he be discharged and he returned at once to Detroit, where he entered the news office of the Erie & North Shore Dispatch. He afterward took up the study of telegraphy and spent one year at Suspension Bridge, New York, acting as operator for the Michigan Central Railroad and also as eastbound tonnage clerk. His next position was with the Atchison, Topeka & Santa Fe Railroad as billing clerk, first at Argentina, Kansas, and afterward at Topeka, Kansas.
Mr. Dolan learned the plumber's trade in Chicago, spending two years in the establishment of E. Baggott, after which he went to Michigan City, Indiana, where his brother Paul opened a plumbing establishment, in which he completed his trade. He afterward became a partner in the firm of Dolan Brothers, which was continued for two years, when Paul Dolan removed to Laporte, Indiana, and T. M. Dolan remained at Michigan City, conducting a successful business there for twelve years. About 1898 he came to Springfield, where he worked at his trade for two years, and on the 1st of August, 1900, he established a business of his own under the name of the Illinois Plumbing & Heating Company, on South Sixth street. He has been very successful since that time, doing contract work largely, and extensive contracts have been awarded him. From a small beginning he has now the largest established house in his line in the central part of Illinois.
On the 2d of January, 1888, in Michigan City, Indiana, Mr. Dolan was married to Miss Lulu Elizabeth Conden, who was born, reared and educated in Michigan City and is a graduate of the high school there. She is the eldest of the three children of William and Julia (Millspaugh) Conden. Her father was a merchant of Joliet, Illinois, and afterward of Michigan City, becoming a wealthy man. His father was Reynolds Conden, a hardware merchant who at the time of his death had accumulated one hundred thousand dollars. The maternal grandfather of Mrs. Dolan was a very prosperous pioneer resident of Michigan City, settling there in 1830. Unto Mr. and Mrs. Dolan have been born three children: Ethel, Lorain and Paul G., all attending the public schools.
Mr. Dolan is a member of the Elks' Lodge of Springfield, in which be holds the office of esteemed loval knight, and he also belongs to the Knights of Pythias fraternity, Royal Areanum and the Masons. He is a lover of good books and has a well selected library in his pleasant home, with the contents of which he is very familiar. His has been an interesting and varied career, in which, however, he has developed a strong manhood, his alient characteristics being such as merit the confidence of his fellow men in both business and social relations.

---
Return to 1904 Biographies Index
Return to Sangamon County ILGenWeb
---