Sangamon County ILGenWeb © 2000
In keeping with our policy of providing free information on the Internet, data and images may be used by non-commercial entities, as long as this message remains on all copied material. These electronic pages cannot be reproduced in any format for profit or for other presentation without express permission by the contributor(s).
---
PAST AND PRESENT OF THE CITY OF SPRINGFIELD AND SANGAMON COUNTY ILLINOIS
By Joseph Wallace, M. A.
of the Springfield Bar
The S. J. Clarke Publishing Co., Chicago, IL
1904
---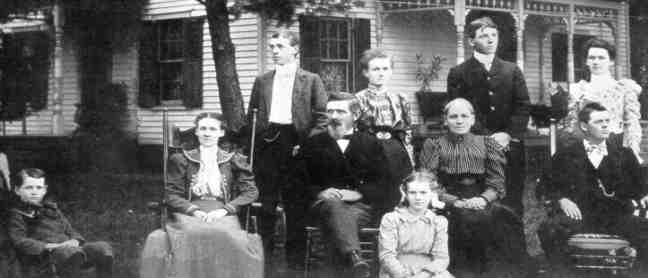 Benjamin F. Drennan Family
Ancestor of Bob Drennan

BENJAMIN F. DRENNAN - Benjamin. F. Drennan, who resides at 807 South Douglas avenue, Springfield, was for many years one of the enterprising farmers and stock-raisers and breeders of Sangamon county, but is now practically living retired. He operated a farm of six hundred and fifty acres, which constitutes a well improved and valuable property. He was born in Ball township on the old homestead, February 15, 1845. His father, John L. Drennan, was a native of Caldwell county, Kentucky, born February 18, 1808, and was a son of William Drennan, Sr., whose birth occurred in Pendleton district of South Carolina, April 9, 1768. The family is of Scotch ancestry. The grandfather was married to Miss Mary Thomas, and unto them had been born six children when they left South Carolina. About 1803 they removed to Kentucky, settling in Pendleton county, and in 1817 came to Illinois, first locating on Wood river, near Alton, in Madison county. In the spring of 1818 Mr. Drennan and his half-brother, Joseph, and his son-in-law, Joseph Dodds, and others came to Sangamon county, and he made a permanent location on section 22, Ball township, wh ere he secured a claim, built two cabins, cleared some of the land and planted a crop. All this work was performed with much arduous labor on the part of Mr. Drennan and his associates. In the fall the party returned to Wood river for their families, and again coming to Sangamon county they established one of the first settlements within its borders. Mr. Drennan was one of the two county commissioners at the time Springfield was located, the other being Zachariah Peters.
John L. Drennan, the father of our subject, was one of a family of twelve children, and was a lad of ten summers when he arrived in Sangamon county, being reared here upon the old family homestead. He was twice married. He wedded Mary A. Alexander, and they had three children, Mary J., Thomas H. and Malinda J.. On the 15th of December, 1842, Mr. Drennan married Nancy A. Dodds, and they had six children: George L., who married Mary E. Ridgeway and afterward removed to Nodaway county, Missouri, but died in Sangamon county, Illinois, about 1890, his remains being interred in Oakridge cemetery, of Springfield; Benjamin F., of this review; G. C., of Springfield; Charles, now deceased; D. A., a physician of Springfield; and A. L. Drennan, also of this city. John L. Drennan was a substantial farmer of Ball township and owned several hundred acres of land. He died in 1853, when but forty-five years of age. His wife, who long survived him, afterward married John B. Weber, of Pawnee, Illinois. Her death occurred in 18 96.
Benjamin F. Drennan was reared and educated in Sangamon county, and remained with his mother, with whom he lived until after he had attained his majority. He was married in this county, December 3, 1867, to Miss Anna E. Wheeler, who was born near Bellefontaine, Ohio, and came to Illinois in her girlhood. She was reared in Bond county, this state, but afterward removed to Auburn, Illinois. Following his marriage Mr. Drennan engaged in the operation of the old homestead for a short time and then located on section 20, Ball township, having at first but a small tract of land, which he began to clear and improve. As his financial resources increased he added to his property from time to time and now owns altogether six hundred and fifty acres of rich land. He has built upon his place a very desirable residence, two good tenement houses, substantial barns and other outbuildings, and, in fact, the place is supplied with all modern improvements and accessories. He is also a director of the Farmers' Elevator at Chath am, and in addition to the cultivation of grain he extensively engaged in the raising and breeding of stock, which proved a very profitable part of his business. Leaving the farm in charge of his older sons, he removed to Springfield, October 19, 1903, in order to educate the younger children.
In 1900 Mr. Drennan was called upon to mourn the loss of his wife, who died on the 11th of February of that year, and was laid to rest in Cumberland, Sugar Creek cemetery. There were eight children by that marriage: Charles F., who is married and resides on a farm in Divernon township; Florence M.; Adela, the wife of John A. Ingles, of Ball township; Nellie, the wife of Charles Kincaid, of Cottonhill township; John W.; Clifford; Marie and Clinton.
Politically Mr. Drennan is a stanch Republican, having voted with the party since he cast his first presidential ballot for Grant in 1868. He is a friend of the public school system and for years did effective service as a member of the school board. He attends the Cumberland Presbyterian church, of which his children are members, and he has served as one of its trustees. He has also been president of the board of trustees of the Cumberland Association cemetery. He belongs to the Masonic fraternity, holding membership with the Chatham Lodge, No. 523, A. F. & A. M.; Auburn Chapter, R. A. M. His entire life has been passed in Sangamon county and therefore he is familiar with its growth and development, while in Ball township he aided materially in its progress and advancement. He has a wide acquaintance in Springfield and Sangamon county, and well deserves representation in this volume, devoted to the past and present of central Illinois.

---
Return to 1904 Biographies Index
Return to Sangamon County ILGenWeb
---