Sangamon County ILGenWeb © 2000
In keeping with our policy of providing free information on the Internet, data and images may be used by non-commercial entities, as long as this message remains on all copied material. These electronic pages cannot be reproduced in any format for profit or for other presentation without express permission by the contributor(s).
---
PAST AND PRESENT OF THE CITY OF SPRINGFIELD AND SANGAMON COUNTY ILLINOIS
By Joseph Wallace, M. A.
of the Springfield Bar
The S. J. Clarke Publishing Co., Chicago, IL
1904
---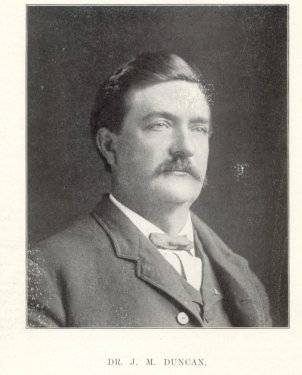 J. M. DUNCAN, M.D. - Dr. J. M. Duncan whose careful preparation for his profession and conscientious discharge of duty has made him one of the capable and successful physicians of Sangamon county, is now living in Pawnee. He was born in Dearborn county, Indiana, September 9, 1862, and is a son of Josiah Duncan, whose birth occurred in that county in 1835. His grandfather, James Duncan, was a native of Maryland and was of Scotch parentage. At an early day he emigrated westward settling in Dearborn county, Indiana, which was then a frontier district. Securing a tract of land, he chopped down the trees, cleared the fields and developed a good farming property, on which he reared his family and spent his remaining days. Josiah Duncan continued on the old homestead there throughout the period of his boyhood and youth and in his native county was married to Melissa McMullen, after which he began farming on his own account. He never left the county of his nativity, but continued one of the active representatives of its agricultural interests for many years and died there in 1899. His wife still survives him and now resides with her son in Dearborn county, Indiana. Dr. Duncan of this review is the oldest of three children. His brother, Dr. William F. Duncan, who attended the same college and was graduated in the same class as J. M. Duncan, is now practicing his profession in Manchester, Indiana. The sister, Lizzie, is the wife of Robert Withered, a resident farmer of Dearborn county, Indiana.
Dr. Duncan was reared on the old family homestead and his primary education acquired in the common schools was supplemented by two years study at Moore's Hill College. Subsequently he engaged in teaching for three years and then took up the study of medicine, attending his first course of lectures in the Miami Medical College in Cincinnati, Ohio, in 1889. Later he returned to that institution and, completing the regular course, was graduated with the class of 1892. He then located for practice in Kyle, Indiana, and in 1893 came to Illinois, settling at Blackburn, Christian county, where he remained for three years. He then returned to Kyle, where he continued in practice until 1897, when he established his home in Pawnee, where he has since secured a very good patronage, extending over an area of eight or ten miles in each direction from the town. He has been a close and earnest student of the science of medicine and belongs to the County, State, and National Medical Societies. He pays strict regard to the ethics of the profession and enjoys the high esteem of his brethren of the medical fraternity as well as the general public.
Dr. Duncan was married in Sangamon county in 1897 to Elizabeth M. Brunk, who was born and reared and also educated in Ball township, and is a daughter of Jacob and Emily J. Brunk. Her father was born in Ball township in 1834. Dr. and Mrs. Duncan have one son, William Thomas. Politically the Doctor is a Democrat, and voted first for Grover Cleveland. He was elected and served for two years on the town board and is now the efficient mayor of Pawnee, having filled the position for three years in a most acceptable manner. He is a Master Mason and also belongs to the Knights of Pythias lodge of Pawnee, while his church relationship is with the Christian Union church and his wife belongs to the Christian church. As in his profession so in official circles, Dr. Duncan has gained an enviable position and the high regard of those with whom he is connected and his influence in community affairs is far reaching and beneficial.

---
Return to 1904 Biographies Index
Return to Sangamon County ILGenWeb
---