Sangamon County ILGenWeb © 2000
In keeping with our policy of providing free information on the Internet, data and images may be used by non-commercial entities, as long as this message remains on all copied material. These electronic pages cannot be reproduced in any format for profit or for other presentation without express permission by the contributor(s).
---
PAST AND PRESENT OF THE CITY OF SPRINGFIELD AND SANGAMON COUNTY ILLINOIS
By Joseph Wallace, M. A.
of the Springfield Bar
The S. J. Clarke Publishing Co., Chicago, IL
1904
---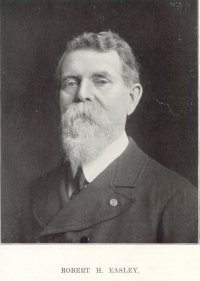 Page 382
ROBERT H. EASLEY - Robert H. Easley, who is now living retired at No. 717 South Walnut street, Springfield, was born in Ball township, Sangamon county, September 19, 1841, and comes of English, Scotch and Irish ancestry. His paternal grandfather, Daniel Easley, was born in North Carolina in 1773 and removed thence to South Carolina and later to Kentucky, while in the fall of 1830 he emigrated to Sangamon county and purchased land in Ball township, where he improved a good farm, which he continued to cultivate until he put aside business cares and removed to Auburn, where his death occurred in February, 1874, when he was a little more than one hundred years of age. His wife, Mrs. Margaret Ritchie, whom he married in 1805, died soon after the removal to Illinois. They had five children, of whom four, two sons and two daughters, reared families of their own and became residents of Sangamon county. The elder members of the family were buried in what is known as the Easley graveyard in Ball township. Daniel Easley was one of the early settlers of this portion of the state. He came here when the broad prairies were largely uncultivated and he took an active part in reclaiming the wild land for the purposes of civilization. He was among those who aided in laying broad and deep the foundation for the present development and progress of the county, and in all ways possible he aided in the general improvement. His children were Winnifred, who became the wife of Edin Lewis; James B., the father of our subject; Benjamin H., who died, leaving a family in Ball township; Sally, the wife of Willis Shellhouse; and Daniel W., who died in childhood.
James B. Easley, the father of our subject, was born in Caldwell county, Kentucky, in January, 1811, and was educated in the common subscription schools there. After a time he took charge of the home farm in Sangamon county, and his brother, Benjamin, lived upon adjoining land. He resided upon the old homestead until 1849, when he removed to a farm on Sugar Creek, where he purchased land, making his home thereon until his death. He had two hundred and sixty acres at the time of his demise. At one time he knew every man in Sangamon county and had the friendship and trust of all. He was honored with various local positions, including those of justice of the peace and constable, acting in the latter capacity in Ball township for eight years. He settled many estates and wrote many wills, and he enjoyed in the fullest measure the confidence of all with whom he came in contact. In October, 1840 he wedded Margaret Dodds, who was born in this county in July, 1820. Her father was Joseph Dodds and her maternal grandfather was William Drennan. The latter was of Irish ancestry and came to this county from Kentucky in 1818. Here he opened up a farm and erected a house, and as time advanced and his financial resources increased he improved his home and developed an excellent farm. He was one of the county commissioners who located the county seat, and for many years he was regarded as a leading citizen of this portion of the state. His death occurred in Ball township. Unto Mr. and Mrs. Easley were born eight children, of whom four died in early childhood and one daughter died after her marriage. Those living are: Robert H.; Mrs. Mary M. McFall, who resides near Phillipsburg, Kansas; and John T., a stock dealer, who is married and lives in Kansas City. Our subject was the eldest of the family and John T. the youngest of all the children. The parents were consistent members of the Cumberland Presbyterian church and the father held various offices in the church. After his death his widow married Warham Easley and later removed to Kansas.
Robert H. Easley began his education in a school conducted on the subscription plan in a log house. He afterward attended the Illinois State University and received a good practical education. When the war broke out he enlisted and was mustered in March 29, 1862, as a member of Company F, Twelfth Illinois Cavalry. He held the rank of sergeant and served in the Army of the Potomac, participating in a number of important engagements. His command opened the battle of Gettysburg and he was wounded in that invasion. In 1864 he returned to the north, and after doing recruiting service was sent to the gulf department, with which he was connected until the close of the war in 1865. The other engagements in which he participated was a cavalry fight at Darksville, Virginia, and later he was in the battles of Upperville, Gettysburg and Boonesboro and in many minor encounters with the Confederates. He also did much skirmish, guard, garrison and provost duty and on the 3rd of April, 1865, at Memphis he was honorably discharged.
Mr. Easley at once returned to his home, where he taught school for a time and in October, 1865, he wedded Mary F. Easley, who was born in Crittenden county, Kentucky, a daughter of Ambrose and Elizabeth (Haggard) Easley. Her father died while serving in the Union army. He had removed to Illinois and enlisted from here. Our subject and his wife began their domestic life upon the farm where his father died, he devoting his energies to stock-raising. As he prospered he added to his property and is today the owner of nearly six hundred acres of valuable land upon which he has made splendid improvements, including the erection of modern buildings. Many years ago Mr. Easley remarked that he might live to see the value of land in this locality reach one hundred dollars per acre, but is has more than exceeded that amount. He also heard the prediction that the land would be cut off by small farms, but the reverse has been true, as the small farms have been absorbed by large landowners and are now operated by tenants. Mr. Easley was one of the organizers of the Farmers State Bank of Auburn in 1891, has since been one of its directors and for a number of years has been its first vice-president.
Five children have been born unto our subject and his wife. Laura E. is married and has a daughter, Ermel. She lives with a sister on one fo the fine farms in Chatham township. Henrietta F. is the wife of George Bearden and they have a daughter, Helen M., who is with them on the home farm. James A. is cashier in the First National Bank and is married and has two children, Frances M. and Edward P. Arthur K., who is living on the old homestead in Ball township, is married and has five children: Ernest, Della, Stella, Robert L., and Ralph. Herbert L., the eldest, was graduated at the Springfield high school and is now attending business college in Springfield. Four generations of the Easley family have resided on the old homestead and throughout the years the representatives of the name in the different generations have been men of genuine worth, active and reliable in business and progressive in citizenship.
In politics mr. Easley is a Republican who has served as justice of the peace. He has also been supervisor from both Ball and Chatham townships and while on the county board was a member of the committee on furniture and the remodeling of the courthouse. He was also on the judiciary committee and the last year was chairman of that committee. In the spring of 1904 he was again selected assistant supervisor. For nine years he was school trustee and one of the school directors for a long period. He has frequently been a delegate to the county and congressional conventions of his party, has been a member of the county central committee representing both townships in which he has lived. He was also a charter member and one of the organizers as well as the first commander of J. W. Dodds Post, No. 370, G.A.R., Department of Illinois, and long acted as the leading officer, but is now identified with Stephenson Post, No. 30. He also served as staff officer on the department general's staff. He is likewise one of the charter members of Abraham Lincoln Regiment of the Union Veterans Union. In 1865 he was raised to the master's degree in Masonry, belonging to Ark and Anchor lodge, A.F. & A.M., and he is a member of Auburn Chapter, No. 92, R.A.M., and Elwood Commandery, K. T., of Springfield. He and his wife hold membership with the West Side Christian church and she is an honored member of the Eastern Star of Auburn and belongs to the Woman's Relief Corps. Mr. Easley retired from active work and in 1901 purchased his elegant home in Springfield, where he is now enjoying a well merited rest. He ans his wife have lived so as to command the esteem and confidence of all with whom they have been associated and he has long been an active man in advancing the interests of the county and its constant growth and improvement.

---
Return to 1904 Biographies Index
Return to Sangamon County ILGenWeb
---