Sangamon County ILGenWeb © 2000
In keeping with our policy of providing free information on the Internet, data and images may be used by non-commercial entities, as long as this message remains on all copied material. These electronic pages cannot be reproduced in any format for profit or for other presentation without express permission by the contributor(s).
---
PAST AND PRESENT OF THE CITY OF SPRINGFIELD AND SANGAMON COUNTY ILLINOIS
By Joseph Wallace, M. A.
of the Springfield Bar
The S. J. Clarke Publishing Co., Chicago, IL
1904
---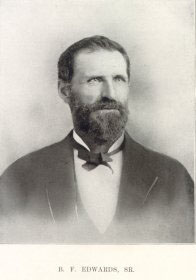 Page 1398
BENJAMIN F. EDWARDS, JR. - One of the most progressive and enterprising agriculturists of Buffalo Hart township is Benjamin F. Edwards, Jr., who was born on the 7th of September, 1867, on the farm where he now resides on section 27. He belongs to a very old and highly respected family of this county, being a son of Benjamin F. and Mary C. (Cass) Edwards. His father was born in Madison county, New York, July 12, 1822, and was a son of Peter S. and Mary B. Edwards, the former of whom was born June 5, 1790, and the latter July 24, 1790.
In the county of his nativity Benjamin F Edwards, Sr., was reared and educated and in early life began buying cattle in Illinois, Missouri and Kansas, which he would drive across the country to Detroit and Buffalo. He was fond of relating his varied experiences on these trips, which would often consume many weeks, and we of the present day can hardly realize the hardships and dangers that were often encountered in those early days when making a journey of this kind. After traveling all day the men would lie down to sleep where night found them, with only the blue canopy of heaven overhead. Most of the streams had to be forded, as there were few bridges at that time, and many times the roads were mere trails. Deciding to locate in Sangamon county, Mr. Edwards finally purchased the farm in Buffalo Hart township, where our subject now resides, and he added to his property from time to time until he became the owner of six hundred and forty-seven acres, upon which he engaged in farming and stock raising until 1888. He then returned to New York and lived retired at Oxford up to the time of his death, which occurred January 6, 1904. In politics he was originally a Whig and later a Republican, and his fellow citizens, recognizing his worth and ability, called upon him to serve as supervisor of his township. Fraternally he was a member of the blue lodge and chapter of the Masonic Order.
On the 31st of March, 1858, was celebrated the marriage of Benjamin F. Edwards, Sr., and Miss Mary C. Cass, who was the second in order of birth in a family of nine children, her parents being A. Bowen and Melinda (Burns) Cass. Her father was born in Clark county, Kentucky, February 11, 1811, and came to Sangamon county with his parents in 1826, the family being one of the first to locate here. He was a soldier in the Black Hawk war and took part in the battles of Bad Ax and Wisconsin. Unto Benjamin F. and Mary C. (Cass) Edwards were born six children, those still living being Gaylord C., a resident of Oregon; John P., of Buffalo, Illinois; and Benjamin F., Jr. Mary died at the age of twelve years and the two others died in infancy. The mother of these children passed away on the 20th of April, 1881, and in February, 1888, the father was again married, his second union being with Miss Olive E. McCall, of Oxford, New York, by whom he had two children, but only one is now living, Laura M. Since her husband's death Mrs. Edwards has continued to reside in Oxford.
Benjamin F. Edwards, Jr., received his education in the public schools of Sangamon county and in the academy at Oxford, New York. After leaving school he went to Colorado, where he took up a claim and resided thereon for about a year. He then spent some time in Council Bluffs, Iowa, and Omaha, Nebraska, after which he returned to Springfield and entered the employ of the Sattley Plow Company. In 1893 he settled on the old home farm in Buffalo Hart township and has since given his attention to general farming and stock raising, together with the buying and shipping of stock. He is the owner of one hundred and sixty acres and in connection with its cultivation also operates two hundred and ten acres, which he rents from his brother Gaylord.
At Buffalo, Illinois, September 16, 1891, Mr. Edwards was united in marriage to Miss Bertha McDaniel, a daughter of Oliver McDaniel, of whom extended mention is made on another page of this volume. Six children bless this union, namely: Hudson M., Russell A., Victor H., Virgil, Mary E. and Martha P. Mr. and Mrs. Edwards hold membership in the Methodist Episcopal church of Buffalo and are highly respected and esteemed by all who know them. Socially Mr. Edwards is connected with Cornland Lodge, No. 808, A.F. & A.M., and politically he is identified with the Republican party. He has served as collector of Buffalo Hart township.

---
Return to 1904 Biographies Index
Return to Sangamon County ILGenWeb
---