Sangamon County ILGenWeb © 2000
In keeping with our policy of providing free information on the Internet, data and images may be used by non-commercial entities, as long as this message remains on all copied material. These electronic pages cannot be reproduced in any format for profit or for other presentation without express permission by the contributor(s).
---
PAST AND PRESENT OF THE CITY OF SPRINGFIELD AND SANGAMON COUNTY ILLINOIS
By Joseph Wallace, M. A.
of the Springfield Bar
The S. J. Clarke Publishing Co., Chicago, IL
1904
---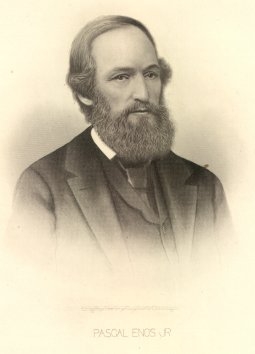 Page 1003
PASCAL PAOLI ENOS, JR. - The subject of this sketch was for many years one of the most prominent and influential citizens of Springfield as well as one of its honored pioneers. He was born at St. Charles, Missouri, on the 28th of November, 1816, and was quite young when brought to Springfield by his parents, Pascal P. and Salome (Paddock) Enos, a sketch of whom will be found on another page of this volume. The Enos family was established in America in colonial days and it has been well represented in the wars of this country. Abner Enos, a distant relative of our subject, who was born near Utica, Oneida county, New York, July 20, 1791, was in the American navy under Commodore Perry in the war of 1812, and during the famous battle on Lake Erie, September 10, 1813, was wounded by a pike, which was thrust through him and fastened him to the side of the ship until released by friends. He was captured by the enemy and spent six months in captivity as a prisoner of war. In later years he came with his family to Sangamon county, Illinois, and here died.
Pascal P. Enos, Jr., of this review received his elementary education in the common schools of Springfield and later attended the Jesuit College at St. Louis, Missouri, and the Illinois College at Jacksonville, this state. He began his business career as a clerk in a mercantile establishment in Springfield and after his father's death assisted his mother in the management of the estate. He was a stockholder and director of the First National Bank and also of the first street railway of Springfield, and he took a very active part in getting the Alton & Sangamon Railroad (now a part of the Chicago & Alton) built.
Mr. Enos was married at Springfield to Mrs. Eliza J. Johnson, a daughter of Colonel Barrett, who was one of the early residents of this county and was engaged in farming in Island Grove. He was one of the leading Democrats of this section of the state ad served in the state legislature for some time. Mrs. Enos died on the 15th of April, 1859, and her husband, who survived her for a few years, passed away February 17, 1867. They had no children.
On attaining his majority, Mr. Enos affiliated with the Whig party and cast his first presidential vote for William Henry Harrison. He afterward became a stanch Republican and took a very prominent and influential part in local politics. His first office was as alderman of the city, in 1848, and later he served as a member fo the school board for some time. He was also elected to the legislature and was subsequently appointed clerk of the United States circuit court by Judge McLean and again by Judge Davis, holding that position at the time of his death. Everything calculated to advance the general welfare received his hearty support and he was a liberal contributor to the Second Presbyterian church, of which he was a member.
Mr. Enos originated the idea of forming a society of old settlers of Sangamon county, and through his activity brought it about. On the 25th of May, 1859, he drew up a paper calling for a meeting of the early settlers and secured sixty-one signatures.
This call appeared in the Journal and Register on the 27th of May and the meeting convened June 1 at the place where the first log house was erected in Sangamon county, on what is now section 21, Ball township. Judge Moffit was elected president, and P.P. Enos, secretary. At this meeting, which adjourned June 15, 1859, it was declared that the 20th of October each year should be celebrated as "old settlers' day." This was the first old settlers meeting ever held in the United States and it has been continued ever since. Mr. Enos took a deep interest in the welfare and upbuilding of the county, and throughout the long years of his residence here was ever known as a loyal and valued citizen. He was a great social favorite on account of his jovial disposition and was very popular with all classes, having a most extensive circle of friends and acquaintances who esteemed him highly for his genuine worth.

---
Return to 1904 Biographies Index
Return to Sangamon County ILGenWeb
---