Sangamon County ILGenWeb © 2000
In keeping with our policy of providing free information on the Internet, data and images may be used by non-commercial entities, as long as this message remains on all copied material. These electronic pages cannot be reproduced in any format for profit or for other presentation without express permission by the contributor(s).
---
PAST AND PRESENT OF THE CITY OF SPRINGFIELD AND SANGAMON COUNTY ILLINOIS
By Joseph Wallace, M. A.
of the Springfield Bar
The S. J. Clarke Publishing Co., Chicago, IL
1904
---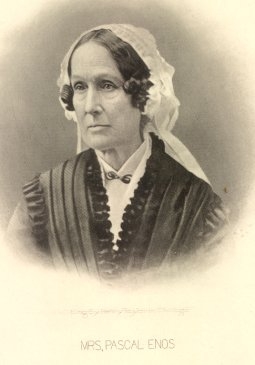 Page 997
MRS. PASCAL P. ENOS, SR. - One of the most prominent women of Springfield in early days was Mrs. Pascal P. Enos, who was born in Woodstock, Vermont, March 12, 1791, and bore the maiden name of Salome Paddock. No better estimate of her character can be given than by quoting the following articles written at the time of her death. James W. Matheny said:
"The distinctive qualities or traits of Mrs. Enos - her marked characteristics of mental power and action and conduct of life, and business management of a large, but for years unproductive, estate - was economy, industry, frugality, hope, faith and resolution. She was far-sighted, clear in her vision and correct in her judgment of the possibilities of the future.
"The development of the resources of central Illinois and the consequent growth of the capital city, which was to add value to her estate, was fully impressed on her mind. Left a young widow, with sons and daughters to provide for, with a property then of small commercial value in dollars, she husbanded her resources, cared for and protected that property with frugal industry for years and brought her children one of the largest estates of the city."
"Mrs. Enos received, and was entitled to receive, the respect, admiration and love of all her contemporaries, of every class, creed and condition. Her example was a beacon light to illume and direct others who might follow in all the varied duties of social, spiritual and business life. Remembering what her husband had done during that long and dread winter of '30-31, the hardships of the winter of the "deep snow," how he had labored with his ox team to provide fuel and food for the needy settlers of the cabins of the village, his faithful wife in the course of a long and earnest life never turned a deaf ear to the call and necessities of the poor, unfortunate and dependent.
"Mr. Enos gave to the county of Sangamon property which today is worth three million dollars, part of which is the three blocks fronting the east, west and south sides of the public square. When the state capitol was moved to Springfield in 1837, Mrs. Enos gave to the city, so that the city could donate to the state for the erection of the capitol building, the present public square. Mrs. Enos and children gave the ground on which to erect the Chicago & Alton depot. They also gave the large tract of land now embraced in the grounds of the Lutheran College. In donations of property and efforts to promote the growth and welfare of the city, the family easily rank "facile princeps."
"Mrs. Enos, by the official position of her husband, appointed by President Monroe and continued by Adams, and by her own management of her business affairs, was brought in social relations with the representative men of the city and state - judges, lawyers and legislators. When assembled at the capital many of them at her house found a home, her drawing room and dining room were often the meeting place of the beauty and talent that came to Springfield to enjoy themselves or to transact legal or official duties between 1840 and 1860. These were the days of Lincoln, Douglas, Stuart, Trumbull, Shields, Browning, Williams and many others too numerous to cite who came into national renown.
"The last dozen years of her long life she lived in comparative retirement in her beautiful home on North Sixth street with her eldest daughter and a companion whom, as an orphan, she received into her home, when poor and friendless, and cared for her for more than fifty years. Mrs. Enos lived till far advanced in years, with mental powers maintained; with composure she passed the evening of life, with calmness and contentment she welcomed the close of her earthly journey, conscious of duties performed, leaving to her family something more precious than property, the memory of a beautiful, blameless, beneficent life.
"When a long and beautiful life closes it is peculiarly appropriate that more than a passing notice should chronicle the event. It is but simple justice to the dead and should be made instructive to the living - life's lessons taught by example are lasting and permanent,, the impressions left are imperishable. As the sun sinking in the west casts all around him long rays of light, brightening the clouds that enshroud his setting long after he has passed from our vision, so the pure and the good, as they fade from our midst, leave behind them a hallowed radiance, illuming the pathway they have trod and rekindle within us a desire to emulate their example."
Dr. William Jayne, a lifelong friend, wrote:
"Of Salome B. Enos it may with singular truth, be said that her life was a "long and beautiful one." Coming as she did from the very midst of a refined civilization to the rude and uncultured surroundings of her western home, she with remarkable adaptness assimilated herself to her new and inexperienced life and by her gentle manner and calm deportment purified and elevated all those with whom she associated.
"For more than half a century she moved in our midst, discharging her every duty as wife and mother and friend and companion with singular faithfulness, and the longer she lived the still closer she bound to her in the chains of enduring affection all of those by whom she was surrounded, and at the close, as she lay upon her deathbed and the light of life was fading from her vision, the last that she saw of earth were the bending forms and loving eyes of children and kindred.
"Of all that little band of heroic women who fifty years ago endured the hardships of this then western wild, Salome Enos was the last. One by one she had seen them, wearied by life's toils, lay down - Elizabeth Taylor, Flora Cox, Rebecca Herndon, Melinda Iles and Jemima Matheny - and now she, too, has gone, and we have faith to believe that they have all met once again 'on the banks of that beautiful river."
"Salome Enos was not only possessed of all the beautiful characteristics of womanhood, but was endowed with a mind of surpassing strength and power. By the death of her husband, Pascal Enos, she was left at a comparatively early age to struggle alone with the burden of a large and unproductive landed estate and the care and responsibility of rearing to maturity a family of children. With a oneness of purpose truly remarkable, she lent every energy of her whole life to the faithful discharge of these trusts and that she was entirely equal to the emergency an estate preserved entire and a family of more than ordinary respectability fully and completely attest.
"She was one of the rare few who "grew old gracefully." Time, in his onward flight, "touches her gently." Her whole life was one continued harmony, with scarcely a solitary note of discord jarring harshly in the music of her existence. Hers was that beautiful faith that disarms death of its terrors and lightens up the "dark valley" with the glorious hope of a joyous hereafter. In this faith she lived and in this faith she died, calm, peaceful and serene.
"All that was mortal of Salome Enos now quietly rests in her tomb. Her virtues still live and are imperishable. Although we shall never again gaze upon that form, so hallowed by love and affection, and shall never again hear the tone of that gentle voice breathing out the lessons of virtue and truth, yet the bright example she gave us will long be cherished as a fond and pleasing memory and emulated by all who love the purer and loftier characteristics of humanity."

---
Return to 1904 Biographies Index
Return to Sangamon County ILGenWeb
---