Sangamon County ILGenWeb © 2000
In keeping with our policy of providing free information on the Internet, data and images may be used by non-commercial entities, as long as this message remains on all copied material. These electronic pages cannot be reproduced in any format for profit or for other presentation without express permission by the contributor(s).
---
PAST AND PRESENT OF THE CITY OF SPRINGFIELD AND SANGAMON COUNTY ILLINOIS
By Joseph Wallace, M. A.
of the Springfield Bar
The S. J. Clarke Publishing Co., Chicago, IL
1904
---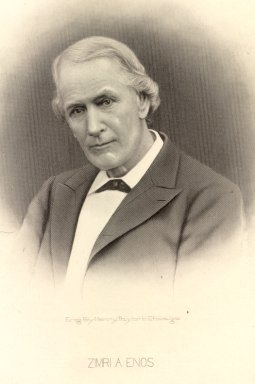 Page 1003
ZIMRI ALLEN ENOS - Eighty years have passed since Zimri A. Enos came to Springfield, or, rather, to the present site of the city, which had not then been laid out. No history of this county would be complete without the record of his life - so closely has he been associated with the work of development, improvement and upbuilding here. He was born in St. Louis, Missouri, September 29, 1821, his parents being Pascal P. and Salome (Paddock) Enos, whose family numbered six children, who were left to the care of the widowed mother upon the death of her husband in 1832. In the meantime, on leaving St. Louis, Pascal P. Enos had removed to Madison county, Illinois, and had then been appointed receiver of a land office in the Springfield district, to which place he came with his family in 1823. Here, associated with Elijah Iles, John Taylor and Thomas Cox, he laid out the town, to which the name of Calhoun was given, but this was later changed to Springfield.
It will be seen that Mr. Enos, of this review, was but two years of age when his parents came to Sangamon county, and here amid the wild scenes of frontier life, he was reared, enjoying few advantages in his youth. He was eleven years of age at the time of his father's death, and, though the family inherited large tracts of land, it was heavily encumbered and it required a great amount of sagacity and prudence on the part of the mother to retain possession of this. However, she succeeded in her task and also gave her children better educational advantages than the district schools afforded. Z. A. Enos received his early mental training in a log school house but later he became a student in the Springfield Seminary, the Jesuit University, of St. Louis, and the Illinois College, of Jacksonville. Wishing to follow civil engineering, he gave particular attention to studies which would assist him in that work, especially mathematics. However, after leaving school he entered the law office of the firm of Baker & Bledsoe, becoming a fellow student of James H. Matheny, afterward judge, and following his admission to the bar he entered into partnership with Mr. Matheny. At that time the bar of Springfield numbered among its members some of the most eminent representatives of the legal profession in the United States, including Abraham Lincoln, Stephen A. Douglas, Stephen T. Logan, Lyman Trumbull and others. After a time, however, Mr. Enos left the profession of the law to become a commission merchant, and after three years spent in that way he resumed the pursuit which had claimed his attention in his earlier years - surveying and civil engineering. In that capacity he surveyed the larger part of Sangamon county, and at one time had a personal acquaintance with a majority of the people of the county. He always possessed a retentive memory and his mind is stored with many interesting reminiscences concerning the early days and pioneer settlers. He continued the work of surveying, both in the city and the surrounding districts, and was at one time county surveyor. He has also been largely interested in real estate and laid out an addition to the town. His property holdings are still extensive and valuable, making him one of the prosperous citizens of Springfield.
In 1846, in this city, Mr. Enos married Miss Agnes D. Trotter, a native of New York city, born February 15, 1825, her parents being George and Catherine (Imlay) Trotter. Her father removed to this section of the country in 1835, accompanied by his family, and was therefore one of the pioneer settlers. He was born in Dumbarton, Scotland, in the latter part of the eighteenth century and about 1801 went to the West Indies, whence he came to the United States several years later. After coming to Springfield he was engaged in land speculation until his death, which occurred in May, 1842, after which his widow made her home with her son, John, until her demise. Unto Mr. and Mrs. Enos were born six children: Pascal P., who died in Kansas; George T., who was connected with the Springfield Rolling Mills, but is now a surveyor and civil engineer; William, who is engaged in business near Topeka, Kansas; Catherine I., at home; Allen Z., who is county surveyor at Springfield and is assisted by his brother, George; and Louisa, at home. The wife and mother died in May, 1896, at the age of seventy-one years.
Mr. Enos has throughout the period of his manhood been regarded as a leading and influential leader in political circles, although not a politician in the sense of office seeking. His early political support was given the Whig party and he was a warm admirer of Henry Clay. He became one of the organizers of the Republican party and has since been unfaltering in his allegiance thereto. He holds strong and decided opinions on political questions - the result of careful study and of investigation. For ten years he served as one of the aldermen of Springfield, and for a similar period was a member of the board of education, largely promoting the cause of the schools through his earnest and effective efforts in their behalf. A prominent Mason, he has taken the degrees of the blue lodge, of the York rite and of the Scottish rite up to and including the thirty-second degree, and his life has exemplified the helpful and fraternal spirit of the craft. Although now eighty-two years of age, he is still hale and hearty, a well preserved man to whom nature has been kindly because he has not abused her laws. He has ever been deeply interested in whatever pertains to the intellectual, material and moral development of the community. His life has grown richer and stronger with the passing years - stronger in those qualities which are the basis of an honorable manhood and which command respect and honor in every land and clime - and no history of Springfield would be complete without mention of this man, who is not only one of the revered patriarchs of the community and her oldest citizen, but also because his life has ever been honorable, his actions sincere and unaffected, and his loyalty and friendship above question.

---
Return to 1904 Biographies Index
Return to Sangamon County ILGenWeb
---