Sangamon County ILGenWeb © 2000
In keeping with our policy of providing free information on the Internet, data and images may be used by non-commercial entities, as long as this message remains on all copied material. These electronic pages cannot be reproduced in any format for profit or for other presentation without express permission by the contributor(s).
---
PAST AND PRESENT OF THE CITY OF SPRINGFIELD AND SANGAMON COUNTY ILLINOIS
By Joseph Wallace, M. A.
of the Springfield Bar
The S. J. Clarke Publishing Co., Chicago, IL
1904
---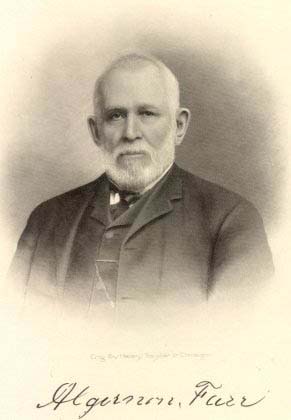 ALGERNON FARR. - Eighty-four years of age and yet actively engaged in business controlling and superintending extensive and important interests, the life record of Algernon Farr should well serve as an example and as an inspiration to the young. The great state of Illinois, outside of Chicago, owes it advancement and prosperity to its agricultural interests. The broad prairies and fertile meadows offer ample opportunity to the producer of grain and to the raiser of stock. Of this line of business, especially of the latter branch, Mr. Farr is a representative.
He was born upon a farm in St. Lawrence county, New York, February 13, 1820. His father, James Farr, a native of New Hampshire, was born in 1785, and after reaching mature years wedded a Miss Elsen, of St. Lawrence county, New York, who was born in Ireland and came to the United States in early girlhood. The young couple began their domestic life in St. Lawrence county, where they reared their family and spent their remaining days.
During the period of his youth Algernon Farr attended a three months' term of school each year, when he began handling live stock, which he would purchase and drive from St. Lawrence to Dutchess county, where he would then sell. All stock was driven on foot to market. Wishing better opportunities for engaging in this business he made his way to Ohio, where he purchased cattle and associated himself with others in driving cattle over the mountains to market. Gradually he made his way westward, gathering up small herds of stock in Illinois and driving them to New York, the trip often consuming about four months. He continued actively in the business in this way until 1851. The following year railroad building was begun in Illinois, Indiana and Ohio, and after that time he shipped his stock by rail.
In the spring of 1850 Mr. Farr came to Sangamon county, making his headquarters in Springfield through three years, during which time he purchased cattle which he shipped direct to New York City. After a period of twenty-five years spent in this department of the business he began feeding cattle and hogs, and was one of the principal feeders of his locality. In the meantime he purchased a farm of seven hundred and twenty acres which was devoted to the raising of corn and grass. It was located near Mechanicsburg and when he sold that property he purchased three hundred and twenty acres about two and one-half miles northeast of Springfield. Upon the latter farm he continued the work of feeding stock and at the same time engaged in the breeding and raising of cattle, owning several thoroughbred bulls. In this branch of the business he likewise prospered and as his financial resources increased he added to his farm from time to time until he is now the owner of fifteen hundred acres of valuable land in the heart of the agricultural region of Illinois. The greater portion of this farm, if not all of it, is underlaid with a vein of coal from five to six feet in thickness. His buildings are commodious and substantial and his residence, which was erected in 1878, is an attractive frame dwelling.
In 1851 Mr. Farr was united in marriage to Ardelia Hart, of Herkimer county, New York, who was born and reared in Oneida county, that state. Mr. Farr is now eighty-four years of age and, aside from the fact that he suffers to some extent with rheumatism, he is enjoying excellent health and is in the possession of all his faculties, both mental and physical. In addition to the supervision which he gives to his farming interests he visits almost daily the Illinois National Bank, of which he is the president. He was one of its organizers and first directors. He has often fed hundreds of head of cattle and a large number of hogs and as an extensive farmer, feeder and shipper of stock he is widely and favorably known throughout the west as well as in the middle states. In 1852 he drove cattle to Michigan City, Indiana, whence they were shipped by lake to Dunkirk, New York, that being the first cattle shipped by lake from that point. At Dunkirk they were loaded on the Erie Railroad and were the first cattle shipped by railroad into New York city. Mr. Farr began his business career with very limited means and today he enjoys a splendid competency which has been acquired entirely through his own labors. His history is indicative of what can be acquired and accomplished when one is not afraid of work and will exercise energy, discrimination and close application in the control of business interests. In politics he has always been a Republican but never an office holder.

---
Return to 1904 Biographies Index
Return to Sangamon County ILGenWeb
---