Sangamon County ILGenWeb © 2000
In keeping with our policy of providing free information on the Internet, data and images may be used by non-commercial entities, as long as this message remains on all copied material. These electronic pages cannot be reproduced in any format for profit or for other presentation without express permission by the contributor(s).
---
PAST AND PRESENT OF THE CITY OF SPRINGFIELD AND SANGAMON COUNTY ILLINOIS
By Joseph Wallace, M. A.
of the Springfield Bar
The S. J. Clarke Publishing Co., Chicago, IL
1904
---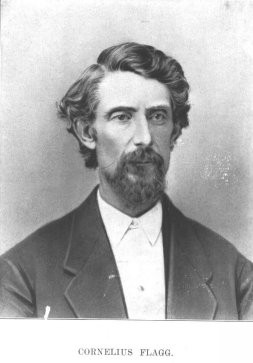 Page 624
K. A. FLAGG - With the agricultural and business interests of Sangamon county this gentleman has been identified since attaining man's estate, and he is today one of the most prosperous citizens of Williams township, his home being on section 30, where he has a fine farm of three hundred and thirty-six acres. He was born in that township on the 2d of October, 1861, and has always resided in Sangamon county.
Cornelius Flagg, our subject's father, was born near Chillicothe, Ohio, in 1830, and when a young man came to Sangamon county, Illinois, with his father, Abraham Flagg, who was also a native of the Buckeye state. Locating in Williams township, the latter entered and bought large tracts of land and at his death Cornelius Flagg succeeded to a part of the property, becoming the owner of about eight hundred acres of very valuable farming land. He did not confine his attention wholly to agricultural pursuits, however, but engaged in contracting in wood and ties with the railroad company with good success. Although he continued to make his home here his business affairs called him west and south many times and he died in Los Angeles, California, April 14, 1886. In early manhood he was married in this county to Miss Sarah E. W. Kerns, who was also born near Chillicothe, Ohio, and was principally reared there. Her father, Samuel Kerns, died in that state, and her mother subsequently brought the family to Sangamon county, Illinois, locating in Fancy Creek township. Mrs. Flagg died in 1874, leaving four children, namely: K. A., the subject of this sketch; Frank, a farmer of Fancy Creek township; Sarah Jane, who married W. A. Cline, of Cantrall, and died about 1895; and Albert, a farmer of Fancy Creek township.
Reared in this county, K. A. Flagg obtained his early education here and later attended school at Norman, Illinois. During his youth and early manhood he assisted his father in carrying on the home farm. On the 15th of March, 1894, he was united in marriage to Miss Julia Shepherd, who was born and reared in Menard county and is a daughter of W. R. and Clarissa (Hoffman) Shepherd. To our subject and his wife has been born a son, Cornelius R., who was born April 15, 1895.
After his marriage Mr. Flagg located on a farm near Cantrall, where he spent a few years and then removed to his present place on section 30, Williams township, where he started with two hundred and sixteen acres of partially improved land but has since extended the boundaries of his farm until they now comprise three hundred and thirty-six acres. The place is now well improved with good and substantial buildings and is supplied with all the conveniences and necessaries found upon the model farm of the present century. Besides this property he owns eight acres in Fancy Creek township and ninety-six acres in Salisbury township. He follows farming and stock raising to a considerable extent and also deals in wood. In 1902 he erected a store building at Sherman and stocked it with a line of general merchandise. This is now in the hands of his clerk, while he gives his personal attention to his other business interests. He is a very progressive, energetic man and in all his undertakings is meeting with marked success.
Politically Mr. Flagg is identified with the Republican party and cast his first presidential ballot for James G. Blaine. For two terms he capably represented Fancy Creek township on the board of supervisors and served on some important committees. Taking an active interest in educational affairs he has also efficiently served as a member of the school board and as president of the same. He is a member of the Knights of Pythias Lodge at Cantrall, in which he has filled all the chairs and is now past chancellor, and is also connected with several fraternal insurance companies. He is one of the representative and prominent citizens of the community and is deserving of mention in the history of his native county. As his many friends attest, no man in the county is more desirous of doing for the country's good than this native son of Williams township.

---
Return to 1904 Biographies Index
Return to Sangamon County ILGenWeb
---