Sangamon County ILGenWeb © 2000
In keeping with our policy of providing free information on the Internet, data and images may be used by non-commercial entities, as long as this message remains on all copied material. These electronic pages cannot be reproduced in any format for profit or for other presentation without express permission by the contributor(s).
---
PAST AND PRESENT OF THE CITY OF SPRINGFIELD AND SANGAMON COUNTY ILLINOIS
By Joseph Wallace, M. A.
of the Springfield Bar
The S. J. Clarke Publishing Co., Chicago, IL
1904
---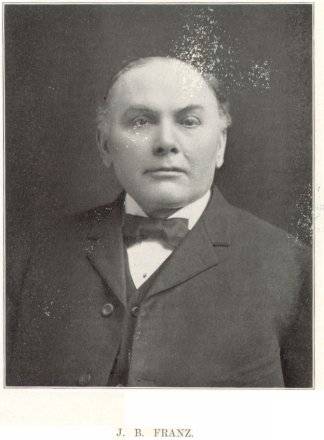 JOHN B. FRANZ. - John Baptiste Franz has developed a business of considerable extent, and importance during his connection with trade interests in Springfield. He is today president of the Franz Brothers Packing Company, whose output now returns a good annual income to the owners of the enterprise. Mr. Franz has resided in this city since 1865. He was born in Baden, Germany, on the 10th of May, 1847, and is a son of Fredoline Franz, who was born and reared and educated in the fatherland and there spent his entire life. He was a butcher by trade and followed that pursuit throughout his business career. He wedded Mary A. Summer, whose death occurred at the age of thirty-eight years. In their family were seven children, of whom John B. is the oldest, while his brother and partner, Fredoline Franz, is the youngest of the family and was born in 1859. The other children are: Henry, who was killed at the age of thirteen years; Rosalia, who died at the age of twenty-three years; Edward, who is a saddler and who visited in this country for several months in 1892; Mary A., who is married and resides in Germany; and Theckla, who is a widow and is also in the fatherland.
John B. Franz attended the school of Baden until he was fourteen years of age, after which he assisted his father until coming to America at the age of eighteen years. The favorable reports which he had heard concerning business opportunities in the new world induced him to seek his fortune in the United States, and he made his way direct to Springfield, where he entered the employ of Joseph Reisch, with whom he worked at the butcher's trade for three years. He was afterward employed for about two months on a farm owned by Mr, Kincaid, wishing to have some experience in agricultural work. In 1869 he returned to the city and was employed in a meat market of Lewis Trout until June of that year, when he began business on his own account, selling meats in the old market house until 1876. He rented the building and had full control of the market place from 1872 until 1876, conducting a very successful business. When Mr. Franz arrived in this country he had one hundred and sixty-five dollars in gold, which he largely spent in sight-seeing, and the capital which enabled him to engage in business on his own account was what he saved from his earnings after arriving in America. In 1876 he paid five thousand dollars for the corner which he now occupies, erected thereon large and substantial buildings and opened a retail meat market. Gradually he began building up a wholesale trade, and in 1885 he put in a six horsepower boiler and began the manufacture of sausage. In 1888 he purchased the first ice machine in this city and began the packing and cold storage business. His machine had a capacity of ten tons. Mr. Franz began the various departments of his business on a small scale and gradually increased his facilities in order to meet the growing demands of his trade. In 1893, he put in a fifty ton ice machine, and he now has four boilers of eighty horsepower each. In the different departments of his business he employs thirty-five men and his trade is now large and brings to him a good profit. He has his own electric light plant and his packing house is situated about three-fourths of a mile northwest of the city limits. His output is principally sent to different points in Illinois, and he also sells largely to the home markets. In 1876 his brother Fredoline came to America, and in 1879 was admitted to a partnership in the business which is now carried on under the name of the Franz Brother's packing plant. Their plant is equipped with all modern machinery necessary in their line, and they have one of the largest retail markets in Springfield.
On the 19th of October, 1869, Mr. Franz was married to Miss Amelia Reisch, who was born in Germany and was brought to America when only eighteen months old. They have had seven children, but two sons, Adolph and John Baptiste, died between the ages of twelve and thirteen years. Those still living are: Rosalie, the wife of Edward Eck, by whom she has two children; Henry, who is the secretary and treasurer of the Franz Brothers Packing company; Louisa, the wife of John Hartman; Helena and Clark K., both at home. All were born in Springfield and attended the public schools here and the daughters have also been students in a convent.
Mr. Franz mastered the English language after coming to America and is self-educated in business. He has had a successful career, due to his own enterprise and strong purpose. He resides at No. 508 Mason street, where in 1872 he purchased a home, which he has since remodeled several times, making it a modern and attractive residence. In politics he supports the men whom he thinks best qualified for office, regardless of party affiliations. He is a liberal supporter of St. Peter's and St. Paul's German Catholic church, in which he holds membership, and he belongs to the Arion Club and to the Business Men's Association of Springfield. He was president of the Workman's Building and Loan Association for about ten years and treasurer of the same for fifteen years. Measures for advancement and improvement receive his indorsement and co-operation, and he is a public spirited man who has seen many changes in this city and has assisted materially in its upbuilding during the thirty-three years of his residence here.

---
Return to 1904 Biographies Index
Return to Sangamon County ILGenWeb
---