Sangamon County ILGenWeb © 2000
In keeping with our policy of providing free information on the Internet, data and images may be used by non-commercial entities, as long as this message remains on all copied material. These electronic pages cannot be reproduced in any format for profit or for other presentation without express permission by the contributor(s).
---
PAST AND PRESENT OF THE CITY OF SPRINGFIELD AND SANGAMON COUNTY ILLINOIS
By Joseph Wallace, M. A.
of the Springfield Bar
The S. J. Clarke Publishing Co., Chicago, IL
1904
---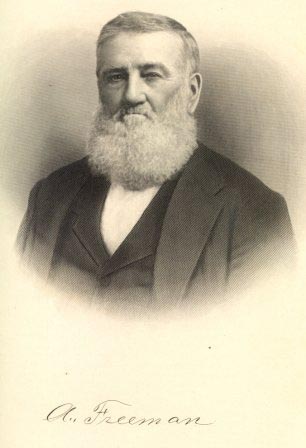 ABRAHAM FREEMAN. - There is particular satisfaction in reverting to the life history of the honored and venerable gentleman whose name introduces this review, since his mind bears the impress of the historical annals of the state of Illinois from the early pioneer days and from the fact that he has been a loyal son of the republic and has attained to a position of distinctive prominence in the thriving city where he has retained his residence through many years, being now one of he revered patriarchs of the community. He was born in Preble county, Ohio, December 26, 1815, and comes of English ancestry on the paternal side. His father, William Henry Fitz Freeman, was born in Pennsylvania and was a son of Abraham Freeman, who, with seven brothers came from England and settled in New Jersey. All of them enlisted for service in the American army during the Revolutionary war, and as five of them were never heard from again it is supposed that they gave their lives for the cause of freedom. After the war Abraham Freeman settled in Lancaster county, Pennsylvania, and from him is descended a large family, whose representatives have become well known in the medical profession and in agricultural pursuits. William H. Freeman was united in marriage to Mary Campbell, a lady of Scotch lineage and a daughter of Enos Campbell, who was buried in Sackett cemetery in Sangamon county, Illinois. The Campbell family was also represented in the war for independence. After the removal of their son, Abraham, to Illinois, Mr. and Mrs. William H. Freeman desired to come to this state and he returned to Ohio and brought them to Sangamon county. Here they spent their remaining days, the father passing away at the age of seventy-six, the mother at the age of sixty-four, and they were laid to rest in the Sackett cemetery. Their son Clarkson removed to Texas in 1858. Their daughters were Mrs. Phebe Plew, Mrs. Margaret Baker and Mrs. Abbie Baker. Abbie became the wife of John Baker and died in Ohio, after which her husband married her sister Margaret.
Abraham Freeman received but limited educational privileges, for his people lived in a pioneer district of Ohio and were in straightened financial circumstances. He was reared upon the home farm, assisting in the arduous task of developing the fields, and to his father he gave the benefit of his services there until he was twenty-one years of age, when, in 1837, he came to Illinois. He drove a team to Fort Wayne, Indiana, hauling goods to that place and, noting the rich soil as he passed westward, he determined to further investigate the condition of the country. By boat he made his way to St. Louis, working his passage, as he had no money. He walked from that city to Sangamon county, where his uncle, John Campbell, lived. For a time he was employed in a saw mill by George Wagner and continued to follow the life of a laborer for a considerable period.
On the 12th of June, 1842, on Rock creek, near Salisbury, Illinois, Mr. Freeman was united in marriage to Margaret Penney, who was born in Polk county, Illinois, April 20, 1818, a daughter of Robert and Louisa (McCree) Penney, who in 1820 came to Sangamon county. The paternal grandfather of Mrs. Freeman was buried in Cartwright township, this county, and her mother who passed away December 20, 1875, at the age of ninety-three years, was laid to rest in Oak Ridge cemetery, but Robert Penney, her father was buried near Beardstown, Illinois.
In the year 1839 Abraham Freeman had returned to Ohio for his parents, who had expressed a desire to join their sons in this state. He brought them overland to Sangamon county and they settled on a farm nine miles northwest of Springfield. Our subject had purchased two horses here and had gone horseback to Ohio, where he bought a wagon and thus drove across the county when he returned with his parents. For some time during his early residence here he followed teaming and then, disposing of his interests in that way, he embarked in the grocery business on a small scale in connection with his brother, Clarkson. Later they secured a stock of general merchandise and subsequently extended their efforts to the milling business, but their mill was later destroyed by fire and the sold the ground on which it had stood. At one time Mr. Freeman, of this review, owned the building where Myers Brothers' store now stands, and it is now the property of his daughter, Mrs. Dr. Hughes. He was also the owner of the place where Mr. Broadwell carries on business, and also the buildings west of Myers Brothers, the one occupied by Mr. Williams, the undertaker. The partnership between him and his brother was dissolved when Clarkson freeman removed to Texas in 1858. Abraham Freeman, in 1860, went to northern Texas, where he remained until 1868, living there through the period of the Civil war. He purchased two farms there and had them well stocked. He has been the owner of his present place of residence in Springfield since the time of his marriage in 1842. His home stands at No. 313 West Monroe street, and here all of his children were born. They were five in number, but one son, Seth A., died at the age of two years, while Louisa J., the wife of Dr. Langdon, died at the age of fifty-five years, and Taylor Z. passed away at the age of fifty-two. The living children are Mary Ellen, the widow of Dr. Isaac S. Hughes, and the eldest of the family; and Clarkson Winfield, who is the youngest and resides in Springfield. The children were educated int eh public schools of this city and the son and daughter who have passed away, were among the first to enter the Edwards school. Mrs. Hughes was educated in a private school.
Mr. Freeman gave his political support to the Whig party and later was a Democrat, but has never been an aspirant for office. He has, however, kept well informed on the questions and issues of the day and has always been an advocate of public measures for the general good. A man of domestic tastes, he has found his greatest happiness at his own fireside in the midst of his family. He has ever been a devoted husband and father, and a faithful friend, and that he is best liked by those who know him best is an indication of an upright life and of pleasing characteristics. He came to this county a poor man, having but little more than six dollars at the time of his arrival. Enjoying a good health, he labored earnestly and with discrimination for many years, and as the time passed he acquired a handsome competence. For many years he has now lived retired from business cares, enjoying a well earned rest. He has now passed the eighty-seventh mile-stone on his life's journey and his career has ever been one worthy of the highest commendation, so that he can look back over the past without regret. He receives the veneration and respect of all who know him, and few man in Springfield have a wider acquaintance than Abraham Freeman. He and his good wife are now spending the evening of life quietly together and have passed the sixty-first anniversary of their marriage.

---
Return to 1904 Biographies Index
Return to Sangamon County ILGenWeb
---