Sangamon County ILGenWeb © 2000
In keeping with our policy of providing free information on the Internet, data and images may be used by non-commercial entities, as long as this message remains on all copied material. These electronic pages cannot be reproduced in any format for profit or for other presentation without express permission by the contributor(s).
---
PAST AND PRESENT OF THE CITY OF SPRINGFIELD AND SANGAMON COUNTY ILLINOIS
By Joseph Wallace, M. A.
of the Springfield Bar
The S. J. Clarke Publishing Co., Chicago, IL
1904
---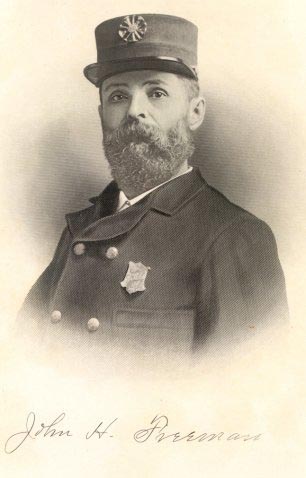 JOHN H. FREEMAN. - There have been few deaths in recent years in Springfield so deeply lamented as that of John H. Freeman, former fire chief of the city, because of his loyal citizenship and his splendid personal traits of character. His loss was deeply felt, all the more so because of his tragic ending, as he gave his life while in the performance of duty in fighting the flames of the cold storage plant on the grounds of the World's Columbian Exposition in Chicago.
He was born June 6, 1837, in Rochester, New York, and at an early day was left an orphan, so that he had to fight life's battles alone. When thirteen years of age he joined the New York fire department as a torch boy, and after acting in that capacity for two years he became a sailor, and while thus employed he first learned to read and write. He also mastered the jeweler's trade in Baltimore, and while devoting his time to his duties there through the day he spent his evenings in study, thus acquiring an education. He never had the privilege of attending school for more than six months in his life, but through reading, observation and experience he continually broadened his knowledge, becoming a well informed man.
After mastering his trade in the east he started westward in 1855 and established his home in Chicago, where he worked in a jewelry store for two years. On the expiration of that period he came to Springfield and soon afterward entered the employ of George W. Chatterton, Sr., now deceased. In this store he was employed for a number of years, and in connection with Mr. Chatterton he was manager of the opera house and also fire marshal. At the same time he took an active part in organizing the Springfield fire department in all of its branches. He eventually became and for many years held the position of foreman of what is now the Button Company. He was engineer of the button engine until made fire marshal by Mayor John McCreery, under whom he served for three years. He was continued in the position under Mayor James Garland and for one year under Mayor Hay. He was then removed, but in April, 1891, he was again made fire marshal by Mayor Lawrence and held the position until April, 1893.
It was on the 11th of June of that year that he went to Chicago to accept the position of lieutenant in the fire department on the World's Fair grounds, and while in the performance of his duty there he lost his life, July 10, 1893. He was a warm friend of Fire Chief Swenie, of the Chicago fire department, and it was through him that Mr. Freeman accepted the position at Jackson park. He was loved and esteemed by all his men of the Springfield fire department, and at the time of his death resolutions of respect were passed and printed by the old volunteer department and also by the paid departments of the city, as well as by the Knights of Pythias lodge, of which he was a member. The fatal fire in which he lost his life was witnessed by a half million people. Mr. Freeman was very brave and fearless in the discharge of his duty and would never allow any of his men to go where he would not lead them. He commanded the respect and good will of the entire brigade. The conflagration broke out in the exhibit of the Hercules iron works and that of the ice and refrigerating machine manufacturers. The cold storage building contained three 120 ton ice machines and forty barrels of linseed oil, and this oil added greatly to the catastrophe, burning with great fierceness. The firemen had to mount ladders to the height of 150 feet in the air. Many brave men lost their lives in that fire, and the scene is one which will never be forgotten by those who witnessed it. Mr. Freeman leaped from the burning tower, and after the ruins had been cleared away to some extent his body was identified by his watch and chain. His remains were accompanied from Chicago to Springfield by C. H. Foster, who was sent to the former city as the representative of the Knights of Pythias lodge, and were met at the Chicago and Alton depot by Lincoln division of the uniformed rank of the Knights of Pythias and by this division escorted to his home. Other Knights of Pythias organizations formed a part of the funeral cortege, as did the lodge of the Ancient Order of United Workmen, representatives of the old volunteer fire department and of the paid fire department. The funeral was one of the largest held in Springfield in many years. The services took place at the First Congregational church on the 13th of July, 1893, and were conducted by the Rev. Dr. A. E. Stembridge, assisted by Rev. T. D. Logan, of the First Presbyterian Church. The large auditorium was crowded by his many friends, and, in fact, large numbers could not obtain admission.
Mr. Freeman was married in May, 1861, to Miss Margaret Stillwell Marr, who was born, reared and educated in Springfield. Her father, Thomas Marr, died in 1852, while her mother, Mrs. Caroline P. (Butler) Marr, passed away in 1890. Mr. Marr was a native of Washington county, Pennsylvania, and his wife of Vermont. They became early settlers of Springfield and here reared their family, numbering four daughters, the eldest of whom is Mrs. Freeman. There was an ideal relationship existing between Mr. and mrs. Freeman that causes his loss to be most keenly felt by the widow, although ten years have passed since his death. She had proved of great assistance to her husband and always inspired and encouraged him, and night after night she would attend fires with him where her own skillful handling of the horse won her high commendation on more than one occasion. Many a time when the fire alarm sounded she would to the store for her husband, and they would be seen together day and night at the fires and in all kinds of weather. Since her husband's death, Mrs. Freeman has lived in retirement, her home being shared by her stepfather and her youngest sister. Mr. Freeman carried a large amount of insurance, so that he left his wife well provided for financially, and she now occupies a pleasant home at the corner of Capitol avenue and Eighth street.
In his political views Mr. Freeman was a stanch Republican. He was one of the organizers of Capital lodge, No. 14, Knights of Pythias, with which he had continued to hold membership up to the time of his death, and he occupied every position in that lodge. He was also identified with the uniformed rank and was a member of the Ancient Order of United Workmen. Mr. freeman was a self-made man in every respect and one who deserved high praise for what he accomplished. He left the heritage of a well spent, useful and honorable career, and his memory will long be cherished by his many friends. He was benevolent in spirit, generous in action, and in his home was a most kind and loving husband.

---
Return to 1904 Biographies Index
Return to Sangamon County ILGenWeb
---