Sangamon County ILGenWeb © 2000
In keeping with our policy of providing free information on the Internet, data and images may be used by non-commercial entities, as long as this message remains on all copied material. These electronic pages cannot be reproduced in any format for profit or for other presentation without express permission by the contributor(s).
---
PAST AND PRESENT OF THE CITY OF SPRINGFIELD AND SANGAMON COUNTY ILLINOIS
By Joseph Wallace, M. A.
of the Springfield Bar
The S. J. Clarke Publishing Co., Chicago, IL
1904
---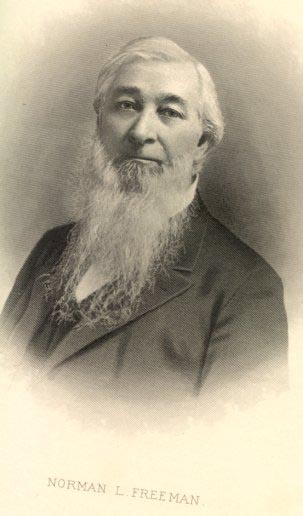 NORMAN L. FREEMAN (By Joseph Wallace.) - Norman Leslie Freeman, for thirty-one years official reporter of the supreme court of the state of Illinois, was born in Caledonia, Livingston county, New York, May 9, 1823. His ancestry were of English extraction and settled in New England during the early colonial period. Is maternal grandmother was a Greeley and belonged to the same family as that of Horace Greeley. His immediate parents were Truman and Hannah (Dow) Freeman, who were both natives of New Hampshire and resided for a number of years at Concord, that state. Removing thence to New York Truman freeman became a leather merchant at Albany, where he died in 1824.
Norman L. Freeman was one of a family of eight children who reached maturity, and of all these he appears to have been the last survivor. In 1831 his widowed mother migrated with her family from New York to Ann Arbor, Michigan, where they lived six years, and then moved to Detroit. During his boyhood young Freeman entered the store of David Cooper, a merchant of Detroit, and remained with him about three years. In 1840 he went to Cleveland, Ohio, where an older brother was living, in whose store he clerked for a few months, and then entered the academy there. Thence he passed to the Ohio University at Athens, where he completed his literary education. That institution was at the time under the presidency of W. H. McGuffy, a well-known and highly esteemed educator of that State. Among Mr. Freeman's fellow students were Samuel S. Cox and Milton Latham, the former of whom was the champion of the Atheneum, and the latter of the Philomathean Society.
In 1843, on quitting the university, Mr. Freeman went to western Kentucky and engaged in teaching school. While teaching he devoted his leisure time to reading law and, returning to New York in the fall or winter of 1845, he entered the law office of Kirtland & Seymour, at Waterford, to complete his preparatory studies. In the spring of 1846 he again went to Kentucky and was there admitted to the bar at the age of twenty-three, and began the practice of law at Morganfield in Union county, of that commonwealth. Of his early practice and success at the beginning of his professional career we have no particulars; it was doubtless a period of working and waiting. On December 20, 1849, Mr. freeman was married to Miss Tranquilla Richeson, a daughter of Alfred, of Union county, Kentucky. Mrs. Freeman was born at Lynchburg, Virginia, and comes of an old Virginia family. Her father was a large land owner in Kentucky and her uncle, William Richeson, was a wealthy merchant of Shawneetown, Illinois.
In 1851 Mr. Freeman removed with his young wife to Shawneetown, Gallatin county, Illinois, where he practiced his profession with marked success for the ensuing eight years. At and long before that time, the bar of Shawneetown and the adjoining counties was the equal in ability and legal learning of any in the state. He soon enjoyed a good practice at this bar, for it appears that he had a number of cases in the supreme court at Mount Vernon at the November term, 1852, and a still larger number at the November term, 1853, of that court. He seems to have maintained a high position at the bar until he abandoned it to enter the field of legal authorship. His first legal publication was his "Digest of the Illinois Reports," issued in February, 1856, in two large volumes. It was a pioneer work of its kind in this state, though ante-dated some nine months by Elliott Anthony's "Illinois Digest". The publication of Mr. Freeman's digest was facilitated by the state becoming a purchaser of five hundred copies of the book. It was found to be a great boon to practicing lawyers and soon became a very popular work. It is still regarded as a valuable digest, although it has been, in a measure, superseded by more modern works of that class.
In 1859, with a view to recuperate his health, Mr. Freeman and family moved to a farm in Marion county, Missouri, and made it their home for about three years. But the unsettled condition of affairs in that state, occasioned by the Civil war, induced him to return to Shawneetown in 1862 and resume his residency there. It was fortunate for him that he should have returned to Illinois before a vacancy occurred in the office of supreme court reporter. His eminent fitness as a lawyer for the position had been shown in the preparation of his admirable digest, and this circumstance, no doubt, influenced the action of the court when it came to filling the vacancy. At the April term, 1863, of the supreme court, upon the resignation of Judge Peck, the former reporters, the court tendered to Mr. Freeman the appointment of reporter of its decisions, which he accepted and entered at once upon the performance of the important duties of the office. In 1864 he came to Springfield to reside and this city was ever afterward his home, as it still is of his surviving family. At the time of Mr. freeman's appointment and during his continuance in office as reporter, the state was divided for judicial purposes into three grand divisions, and the supreme court held its sittings successively at Ottawa, Springfield and Mount Vernon. Mr. Freeman attended all of these sessions, taking notes and making memoranda from the decisions handed down by the court. He methodized his work and by unceasing application and industry, kept pace with the increasing business of the court and met the demands of the legal profession for the printed volumes of the reports.
"His work commenced," says Judge J. M. Scott, in his memorial address before the supreme court, "with volume thirty-one of the reports, and volume one hundred and fifty was not quite finished at the time of his death. Patient in toiling industry, with that learning and natural ability which enabled him to appreciate and comprehend the reasoning in the opinion of the court, he rarely, if ever, failed to state concisely and with entire accuracy the exact point decided. His diction was splendid, and his ability to condense an elaborately reasoned opinion into short propositions or syllabi, was indeed wonderful. His work when done had a classic finish. It was expected his reporting would be well done, but the amount of work accomplished is a matter of surprise to everyone. * * * His reporting ran through a period of a little more than thirty-one years. During that time he produced one hundred and twenty volumes, including the volume unfinished at the time of his death. It is thus seen that the average annual production was nearly four volumes, in some years more and in some years less. Most of the labor necessary to bring out these one hundred and twenty volumes was personal work. All the clerical as well as mental labor was done by him, especially in the early years of his incumbency of the office. Later, and only in the last years of his life, he had a very valuable and learned assistant. And yet the work of reporting from its beginning to its close was subjected to his close inspection and supervision. Large as was the clerical labor done by him, it was as nothing in comparison with the patient, thoughtful study required to produce that great number of volumes. It was a mental strain running through more than three decades of years. * * * Astonished as we all were at the magnitude of the work done, yet it is the mental strength that conceived and executed it, that is the crowning distinction of his reporting."
From the sale of his reports as the came from the press, Mr. Freeman reaped a rich pecuniary harvest, which enabled him to leave a handsome competency to his family. Outside of his office as reporter it does not appear that he ever held or sought to hold any public office. In politics he was originally a Whig and after the dissolution of that party he affiliated with the Democracy, but he was never a partisan politician. His tastes were those of a scholar and literary man, and if he had not devoted himself so exclusively to lawbook making, he might have easily excelled as an author in the field of general literature. His miscellaneous library was extensive and well selected, and he took a special pride in his books. His personal appearance is thus accurately described by Judge Scott.
"In stature he was light in form, but rather above the medium height, with features so pronounced and distinct no one ever forgot him. He was always dressed as became one in his position, but with great care and neatness. His complexion was neither light nor yet very dark. His eyes were dark (black) and very bright, giving a cheerful expression to all his features. In early life his hair was black and only became iron gray near its close. In later years he wore a full beard, except the upper lip was clean shaven. He suffered his beard to grow quite long, falling down over his breast - a style that became him very much. He had that manly form and carriage that belonged to the old school. Although grave in deportment he had that gentleness in manner which attracted every one to him."
In social intercourse with his fellow men mr. Freeman always exhibited a genial, kindly nature that was inborn with him. His conversation was alike agreeable and instructive and was often seasoned with Attic wit, but not of the sarcastic kind. He was a true man and a faithful friend; and to him may well apply the familiar lines from Pope's Iliad - "How skilled he was in each obliging art; The mildest manners and the gentlest heart."
"In the home circle," writes one who knew him well, "he laid aside the cares of official life, and devoted himself to his family and friends, and to literature. While it was not his disposition to participate in social gayeties, he approved of it in others, and he made his home a happy place by surrounding his family with friends and by encouraging them to contribute to the pleasures of others with social entertainment."
After a lingering illness at his pleasant abode on South Sixth Street, in the city of Springfield, Norman L. Freeman passed out of this life, on the morning of the 23d of August, 1894, aged seventy-one years, three months and fourteen days. He left surviving him his widow and four children, namely: Mary d.; Elizabeth H., now Mrs. Joseph P. Doyle; William R., and Georgia L., the last named being the wife of John H. Brinkerhoff, of Springfield. The obsequies took place at the residence on the 24th of August, and were attended by a large number of friends of the family and by many prominent members of the legal profession in Illinois. The honorary and active pall-bearers were largely composed of representative men from the bench and bar of the state. The religious services were conducted by the Rev. T. D. Logan, assisted by the Rev. Fred. H. Wines, both of the Presbyterian church. In accordance with an expressed wish of Mr. Freeman, Dr. Wines preached the funeral sermon, which was rich in thought, in profitable suggestions and in kindly words for the deceased lawyer and his family. We make space for the following short paragraph from this discourse:
"The man whom we bury today was reticent in the expression of his religious beliefs. But I knew enough of his mind on these subjects not to misrepresent him by the assertion that he was free from the power of the special temptation of his calling in life. If he had been he would have avowed his convictions, which he never did. On the other hand I am too familiar with the attitude of men of the world to religion and the church to attempt to argue from their silence on the subject of their inner life to their insensibility to the appeal of spiritual truth to their better natures, or to pronounce judgment upon the nature and degree of their faith. Nor is it necessary. Even the apostles were compelled to cry, "Lord, increase our faith."
At the close of Dr. wines' discourse the Hon. James A. Connelly made a brief address, befitting the occasion, and eulogistic of the life and work of the deceased. At the October term, 1894, of the Illinois supreme court, held at Ottawa, appropriate proceedings were had in relation to the demise of the Hon. N. L. Freeman. The resolutions of respect by the Sangamon county bar were presented to the court by Hon. John M. Scott (for many years a member of the supreme bench), who delivered an able and finished eulogy on the life and professional labors of the deceased reporter. Following Judge Scott's address the Hon. John N. Jewett, of Chicago, paid a feeling tribute to the memory of Mr. freeman and spoke of the great value to the profession of his life's work. To these addresses Chief Justice Wilkin, on behalf of the court, made a brief, yet fitting response. On January 25, 1895, in the United States circuit court for the southern district of Illinois, eloquent and appreciative memorial addresses on th death of Mr. Freeman were made by Hons. William E. Shutt, Henry S. Greene, George W. Wall, E. S. Smith, Bluford Wilson and S. P. Wheeler. At the conclusion of their respective addresses, the court, in the person of the late Judge William J. Allen, responded in a generous tribute to the memory of his deceased friend and former associate at the bar in southern Illinois.
Such are the more noteworthy incidents in the life and such the more salient features in the character of Norman Leslie Freeman. His spirit has passed from earth, but his work remains, a more enduring monument to his memory than bronze or marble. By the learned profession with which and for which he labored, he will long be remembered for his virtues as a man, his ability as a lawyer, and his genius as a law writer, Vivit post funera virtus.

---
Return to 1904 Biographies Index
Return to Sangamon County ILGenWeb
---