Sangamon County ILGenWeb © 2000
In keeping with our policy of providing free information on the Internet, data and images may be used by non-commercial entities, as long as this message remains on all copied material. These electronic pages cannot be reproduced in any format for profit or for other presentation without express permission by the contributor(s).
---
PAST AND PRESENT OF THE CITY OF SPRINGFIELD AND SANGAMON COUNTY ILLINOIS
By Joseph Wallace, M. A.
of the Springfield Bar
The S. J. Clarke Publishing Co., Chicago, IL
1904
---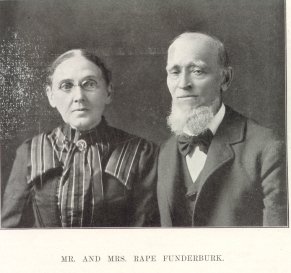 RAPE FUNDERBURK. - Rape Funderburk, who follows farming on section 8, Pawnee township, was born in what is now Cotton Hill township, February 10, 1821. He is a son of Henry Funderburk, a native of South Carolina, born in 1771. His grandfather, Michael Funderburk, was a native of Germany and became a pioneer settler of South Carolina, where his son, Henry, was reared to manhood. Later he went to Tennessee and was there married to Polly Rape, a native of the latter city. Mr. Funderburk owned and operated a farm in Tennessee for several years and then removed with his family to Sangamon county, Illinois. He and John Nelson were said to be the first settlers on the "Sangamon purchase." For a brief period Mr. funderburk resided in St. Clair county, Illinois, arriving in Sangamon county in the spring of 1817. He cleared some of the timber and brush from his land and planted and raised a crop of corn, the first produced in the county. He then returned to St. Clair county, where he left his family, but in the fall of the same year brought them to his new home, locating in what is now Cotton Hill township. There he developed a good farm, on which he lived for a few years, after which he purchased land from the government in Ball Township and there improved another farm, owning several hundred acres of land. He was quite prosperous in his agricultural pursuits and became the possessor of a valuable property. There he reared his family, spending his last years in Ball township, where he died in 1843. His wife had passed away two years before.
Rape Funderburk spent his youth on the homestead farm in Ball township and largely assisted in the work of development and improvement there. He turned his first furrow upon the farm when nine years of age, and his youth was largely a period of toil, for he assisted materially in the cultivation of the fields and the production of the crops, continuing with his father until twenty-two years of age. Mr. Funderburk was then married in the fall of 1843 to Amanda Jones, who was born in Sangamon county, and died about 1845. There is one son of this marriage, Alexander, a resident farmer of Montgomery county, Illinois. About 1846 our subject wedded Mary Sanders, who died in 1848, and later he married Carolina Armstrong, who died in 1893. There were eight children by the last union, of whom seven are yet living: Mary Jane, the wife of Henry Dodds, of Ball township; Abel, a farmer of Christian county; George, of Springfield; Amanda, wife of William Hicks, of Greene county, Illinois; Melvin, Edward and Miles, all of whom are living in this county. In August, 1897, Mr. Funderburk married Harriet Wheeler, who was a widow and a sister of his second wife.
After his first marriage he located on a farm in Ball township and a few years later purchased a tract of raw land in the same township. Subsequently he purchased, improved and sold various farms in Sangamon and Christian counties and became an extensive landowner, but has given most of his realty to his children. At one time he had seven hundred and thirty acres in Christian and Sangamon counties, but as his sons and daughters reached mature years he gave to each a tract of eighty acres, all improved. He still retains a farm in Ball township and he makes his home on section 8, Pawnee township. In his farming operations and as a stock dealer he has prospered and his life has been one of untiring industry. He has never abused the laws of nature, and now well advanced in years, is still a hale and hearty man. Politically he has been a Democrat since casting his first presidential ballot for James K. Polk. His wife is a member of the Baptist church, while mr. Funderburk holds membership in the Methodist episcopal church. He is one of the few remaining early residents of Sangamon county, having spent his entire life covering eighty-three years in Illinois, and few men have so long had an intimate and personal knowledge of the history of the state. His memory goes back to the time when there were great herds of deer on the prairies and when there were many wolves and various kinds of wild game. He has broken hundreds of acres of raw land, preparing it for the plow and thus reclaiming it for the purposes of civilization. He has seen the swamp land drained, transformed into most productive farms, and especially in the line of agricultural development he has been a most active factor in the continued growth and progress.

---
Return to 1904 Biographies Index
Return to Sangamon County ILGenWeb
---