Sangamon County ILGenWeb © 2000
In keeping with our policy of providing free information on the Internet, data and images may be used by non-commercial entities, as long as this message remains on all copied material. These electronic pages cannot be reproduced in any format for profit or for other presentation without express permission by the contributor(s).
---
PAST AND PRESENT OF THE CITY OF SPRINGFIELD AND SANGAMON COUNTY ILLINOIS
By Joseph Wallace, M. A.
of the Springfield Bar
The S. J. Clarke Publishing Co., Chicago, IL
1904
---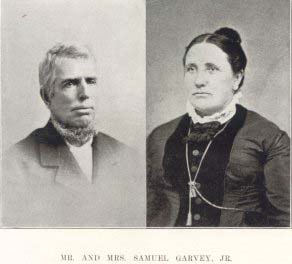 SAMUEL GARVEY - No history of Sangamon county would be considered complete without mention of Samuel Garvey, who came to Illinois in the fall of 1830. Then came the winter of the deep snow and other incidents and events of those early days have left a deep impress upon the mind of Mr. Garvey, so that he can through recollection present a faithful picture of pioneer conditions here. He was for a number of years connected with farming interests, but is now living a retired life in Buffalo.
A native of Kentucky, he was born in Owen county, August 27, 1825, and is of Scotch lineage. His paternal grandfather, Job Garvey, was born in Scotland and on crossing the Atlantic to America settled in Virginia. At the time of the outbreak of the Revolutionary war he espoused the cause of the colonists and served through seven years in defense of liberty. His son, Samuel Garvey, Sr., was born in Virginia in 1795, and during his boyhood days accompanied his parents on their removal to Kentucky, the family home being established in Owen county in pioneer times. There Samuel Garvey was reared to manhood and when the country again became involved in war with England in 1812 he entered the military service under Richard Johnson, who killed the Indian chief, Tecumseh. Samuel Garvey, Sr., was married in Kentucky to Miss Maria Elliston, a native of that state and a daughter of Squire Elliston. After his marriage Mr. Garvey carried on general farming in Kentucky and six children were born unto him in Owen county. In 1830 he came to Illinois, settling in Mechanicsburg township, Sangamon county, where he entered land from the government and developed a large farm located near the present site of Mechanicsburg. He secured several hundred acres of land there, which he placed under a high state of cultivation. It was upon that farm the he reared his family and spent his remaining days, his death occurring in 1881, while his wife passed away in 1871. In their family were six sons and four daughters, who reached mature years, while three sons and three daughters are yet living, namely: Mrs. Polly Ann Hampton, a widow of Mechanicsburg; Samuel, of this review; Mrs. Nancy Hampton, a widow shoe home is in Illiopolis; William Garvey of Illiopolis; Mrs. Jane Peedon, a widow of Illiopolis; and John, who is a resident farmer, residing near Mechanicsburg.
Samuel Garvey Jr., was a lad of only five years when brought to Sangamon county, where he was reared and educated. He assisted in carrying on the old home place of one hundred and sixty acres and continued to reside with his father until twenty-four years of age. He was then married on the 31st of July, 1849, to Miss Sarah Ann Gideon, a native of Ohio, who came to Illinois in 1840, her father, henry Gideon, bringing his family to this state from Ohio. He had previous to that time been a resident of Virginia.
After his marriage Mr. Garvey located on a farm of eighty acres, a part of the old homestead. This was raw prairie land, not a furrow having been turned or an improvement made upon it, but with characteristic energy he began to break and fence it and to cultivate it after the most improved manner of the times. As his financial resources increased he added to his property at intervals. For his first eighty acre tract he paid six dollars and fifty cents per acre. Eventually he became the owner of more than five hundred acres and he erected thereon a fine residence and large and substantial barns. Splendid improvements were made by him in the way of other buildings and he was widely recognized as a successful stock raiser, making a specialty of horses, mules, hogs and cattle. These he fed for the market and his annual sales of stock brought to him a good financial return. He continued to engage in farming until 1882, when he removed to Buffalo and purchased residence property, on which he is now living retired. His activity in former years, resulting from a laudable ambition to achieve success, brought to him well merited prosperity and in agricultural circles he became widely and favorably known.
Mr. Garvey was called upon to mourn the loss of his wife on the 3d of August, 1894. In the family were five children, three of whom are living: Ann M., the wife of George D. Ellington, a business man of Buffalo; Catherine J., the wife of J. B. Rodgers, of Mechanicsburg; and Captain H. C. Garvey, a farmer and stock raiser of Buffalo. The eldest daughter, Mary Alice, became the wife of D. C. Fletcher, of Buffalo, and died there October 8, 1902. Scott S. Garvey died in 1871 in his fourth year.
In his political affiliations Mr. Garvey was formerly a Republican, but believing in temperance principles and feeling that the cause of temperance should be made one of the paramount issues before the people he joined the ranks of the Prohibition party. He has served as commissioner of highways and has thus assisted in opening up different roads in his township, but has never been an active politician in the sense of office seeking. He belongs to the Buffalo Christian church, of which he is an elder. His residence of seventy-three years in Sangamon county well entitles him to representation among the early and honored pioneers and his upright life commands for him the respect and confidence of all with whom he has been associated.

---
Return to 1904 Biographies Index
Return to Sangamon County ILGenWeb
---