Sangamon County ILGenWeb © 2000
In keeping with our policy of providing free information on the Internet, data and images may be used by non-commercial entities, as long as this message remains on all copied material. These electronic pages cannot be reproduced in any format for profit or for other presentation without express permission by the contributor(s).
---
PAST AND PRESENT OF THE CITY OF SPRINGFIELD AND SANGAMON COUNTY ILLINOIS
By Joseph Wallace, M. A.
of the Springfield Bar
The S. J. Clarke Publishing Co., Chicago, IL
1904
---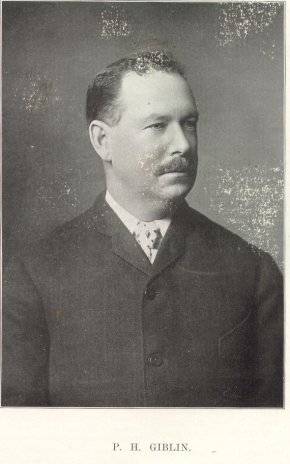 PATRICK HENRY GIBLIN. - A country has but one ruler, be he emperor, king or president, and but one can hold the commanding position in military affairs, but the field of business is limitless and offers many avenues in which the individual may win success, if he possesses the ability to gain leadership in his chosen line of endeavor. Patrick Henry Giblin, now the foremost representative of the grocery trade in Springfield, furnishes in his life history an exemplification of the fact that America offers unrestricted opportunities to all people. A native of Ireland, he came to the United States a young man without capital and yet today he controls the largest trade in his line in this city and is accorded the unqualified confidence of the public because of his straightforward, honorable business methods.
Mr. Giblin was born in Roscommon county, Ireland, on the 28th of February, 1860, and is a son of James and Bessie (Kelly) Giblin. The father died on the Emerald Isle when the subject of this review was twenty-one years of age, and the mother departed this life six months after her son came to the new world. He was reared in Ireland, pursuing his education in the public schools of Roscommon county. Just prior to his emigration he resided upon a farm in his native county, but believing America offered superior business advantages, he bade adieu to home and family and sailed for the United Stated, arriving on the 1st of June, 1880. Because of the fact that he had relatives living in Springfield he came direct to this city and soon afterward secured employment in the rolling mill of the Springfield Iron Company, in which he remained for three months. He entered upon business on his own account with a capital of but three hundred dollars, which he had saved from his earnings, and seventeen years ago he located at his present place of business. He at first occupied but one store, but within five years his trade had so greatly increased that he secured additional store room and now has an extensive stock which fills the large building at Nos. 216-218 South Sixth Street. His patronage has constantly grown and comes from the best people of the city. He now employs ten clerks, utilizes three wagons in the delivery of his goods and is in control of the largest business in his line. He carries staple and fancy groceries, and his store in its tasteful, neat and attractive appearance wins many customers, whose patronage he retains by reason of his honorable business methods and straightforward dealing. His business is now the largest in his line in the city and is the visible evidence of his capable management, unfaltering enterprise and strong and honorable purpose. He is also a director and the treasurer of the Sangamon Savings & Homestead Association.
In May, 1889, Mr. Giblin was united in marriage to Miss Bridget A. Grant, then a resident of Springfield. Her mother, Mrs. Bridget (Kelly) Grant, died January 18, 1904, and her father James Grant is now filling the office of bailiff of the county court. Seven children have been born unto Mr. and Mrs. Giblin and the family circle yet remains unbroken by the hand of death. James, fifteen years of age, is now a sophomore in St. Mary's College, at St. Mary, Kansas: The younger members of the family are Bessie, twelve years of age; P. H., ten years; Mary, eight; Agnes, six; Frances, four; and Robert Emmet, two years old. The family home is at No. 426 South Ninth Street, and Mr. Giblin takes deep interest in providing for the family, doing everything in his power to promote the welfare and happiness of his wife and children. His friendships - and they are many - are strongly ratified by his deference for the opinions of others, his kindliness and courtesy, which are manifest in business as well as social relations.

---
Return to 1904 Biographies Index
Return to Sangamon County ILGenWeb
---