Sangamon County ILGenWeb © 2000
In keeping with our policy of providing free information on the Internet, data and images may be used by non-commercial entities, as long as this message remains on all copied material. These electronic pages cannot be reproduced in any format for profit or for other presentation without express permission by the contributor(s).
---
PAST AND PRESENT OF THE CITY OF SPRINGFIELD AND SANGAMON COUNTY ILLINOIS
By Joseph Wallace, M. A.
of the Springfield Bar
The S. J. Clarke Publishing Co., Chicago, IL
1904
---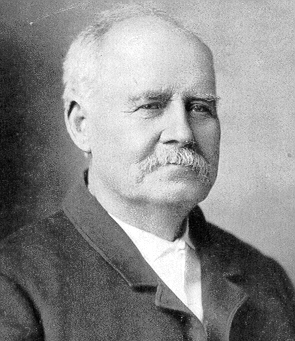 Benjamin A. Giger
Ancestor of Maggie

BENJAMIN A. GIGER - Benjamin A. Giger, a retired agriculturist of Cooper township, is a worthy representative of an honored pioneer family of this county and a true type of the energetic, hardy men who have actively assisted in developing and improving this beautiful and fertile agricultural country. He was born on the farm where he still resides January 8, 1827, and throughout the years of his active business life was successfully engaged in farming.
Henry Giger, the father of our subject, was born in Pennsylvania, on the 14th of May, 1799, and was a son of George Giger, who was of German descent, and in 1803 removed with his family to East Tennessee, where Henry grew to manbood. There he was married when about twenty years of age and in 1820 came to Sangamon county, Illinois, driving across the country in a wagon and arriving here in April of that year. He was therefore one of the first settlers. In September, 1822, he located on a tract of eighty acres where our subject now resides and in 1826 entered the land from the government. The old patent issued and signed by John Q. Adams, president of the United States, is now in possession of his son Benjamin. Throughout life the father followed farming and, meeting with success, he added to his property until he owned four hundred and eighty acres. He died here in November, 1844, and his wife who survived him for forty-four years, passed away in 1888. They were the parents of seven children. namely: William A., who died in 1823; Ann, who married and died in 1884; A. T., who died in Kansas; Benjamin A., of this sketch; Addison, who died in 1862 and two who died in infancy.
This countv being sparsely settled and schools few and far between, Mr. Giger had but limited educational advantages during his boyhood and is almost wholly self-educated. He remained under the parental roof until his father's death, when he succeeded to a part of the old homestead and to its further improvement and cultivation he has since devoted his energies. He has erected thereon a good residence, barn and other outbuildings and today has a very desirable place.
On the 30th of November 1848, Mr. Giger married Miss Mary A. V. Kirk, who died in May, 1853, and in the following November he wedded her sister, Miss Margaret J. Kirk, by whom he had two children: William Edward, who is now operating the home farm; and Henry Douglas, who is chief deputy county clerk and has served as such for five or six years. The mother of these children passed away in 1869 and subsequently Mr. Giger was united in marriage to Miss Mary E. Johnson, who was born in Springfield but was reared in Arkansas. Two children were born to them but one died in infancy and Nola B. at the age of eighteen months. Mrs. Giger's father was Elisha Johnson, who was born in Indiana and was a son of Elias Johnson, a native of Delaware. About 1828 or 1830, when fifteen years of age, he came to Illinois with his parents, nine brothers and two sisters, the family settling
in Cooper township, Sangamon county. By trade be was a carpenter and followed that occupation throughout life. He married Miss Sarah Hutchins, by whom he had eight children who reached years of maturity. He died in this county at the age of fifty-three years but his wife passed away in Arkansas at the age of thirty-nine.
Mr. Giger cast his first presidential vote for Lewis Cass and has since supported the Democratic party and its principles. He has taken quite an active and prominent part in local politics and has been called upon to fill several offices of honor and trust, having served as justice of the peace sixteen years; road, commissioner two terms; assessor one term; town treasurer ten or twelve vears; and township school treasurer one term. He was instrumental in the establishment of a postoffice at Buckhart in 1893 and has filled the office of postmaster for ten years. He has been a delegate to state and county conventions of his party and is a recognized leader in public affairs in his community. It was through his influence that a cemetery was founded in Cooper township, being incorporated in 1876 as the Oak Hill cemetery, and he has since served as secretary of its board of trustees. Since 1841 he has been an active member of the Methodist Episcopal church and was a member of its official board for thirty-t wo years. His wife belongs to the same church an is a most estimable lady. Mr. Giger is now the honored president of the Old Settlers' Society of Sangamon county and there is probably no man in the county that is held in higher esteem.
---
Return to 1904 Biographies Index
Return to Sangamon County ILGenWeb
---