Sangamon County ILGenWeb © 2000
In keeping with our policy of providing free information on the Internet, data and images may be used by non-commercial entities, as long as this message remains on all copied material. These electronic pages cannot be reproduced in any format for profit or for other presentation without express permission by the contributor(s).
---
PAST AND PRESENT OF THE CITY OF SPRINGFIELD AND SANGAMON COUNTY ILLINOIS
By Joseph Wallace, M. A.
of the Springfield Bar
The S. J. Clarke Publishing Co., Chicago, IL
1904
---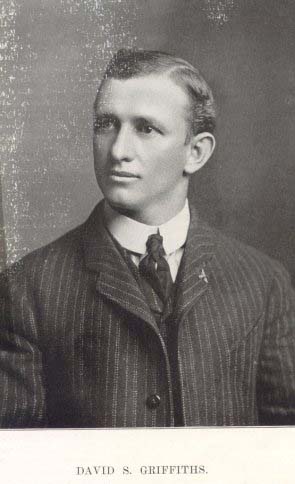 DAVID S. GRIFFITHS - David S. Griffiths, who is serving as deputy county treasurer at Springfield, was born in Hamilton, Canada, February 5, 1875, and is a son of John Griffiths, Sr., whose birth occurred in Merthur Tydvil, Wales, on Christmas day of 1846. The father received but limited educational privileges and when a lad of six years accompanied his parents to Canada. He was an iron worker by trade, following that pursuit in Canada, where for some time he worked as a puddler. Later he removed to Pittsburg, Pennsylvania, where he was employed in the mills until 1875, when he removed to Springfield and accepted a position as a puddler, but was subsequently appointed foreman in the rolling mills here. In 1883 he was promoted to the position of superintendent and acted in that capacity until his death, which occurred at the home of his son, David, on the 17th of March, 1900. At one time he was supervisor of Springfield and throughout his residence here he lived in the northern part of the city. His political support was given the Republican party. In early manhood he wedded Agnes Henderson, who was born in Glasgow, Scotland, in 1849 and was brought to America when eight years of age. She gave her hand in marriage to Mr. Griffiths in Canada and they became the parents of seven children, one of whom died in early childhood. The others are John, who is married and is now upon the stage. He is well known as one of America's successful actors and at present is playing in Macbeth. His most artistic work and his greatest efforts lie in the role of heavy drama. Margaret is the wife of Ed. C. Griswold, of Chicago. David S. is the next of the family. Helen is the wife of James Connor of St. Louis. Minnie is the wife of Clarence E. Meints, of East St. Louis. Charles is pursuing his education in Andover, Massachusetts. The children were all educated in the public schools of Springfield. Since her husband's death Mrs. Griffiths has divided her time among her children, but regards Springfield as her home.
David S. Griffiths, of this review, is a graduate of the Springfield high school and he pursued a two years' course in engineering at Troy, New York. Returning then to this city he accepted the position of assistant city engineer, in which capacity he served during the year 1896. He then resigned to become a roller in the Springfield Rolling Mills and later he succeeded his father as superintendent of the mills, acting in that capacity for eight months, when the business was suspended. Later he obtained a position as foreman with the firm of John F. Bretz & Son, with whom he was connected for a year, when in April, 1901, he was elected city treasurer by the largest majority ever given in Springfield. His term of service expired in 1903, at which time he accepted the position of deputy county treasurer.
On the 8th of December, 1897, Mr. Griffiths was united in marriage to Miss Kate Deicken, who was born in Springfield in 1874. She is a graduate of the Springfield high school and by her marriage has become the mother of one child, Helen E. They have a pleasant home at No. 1402 North Third street and Mrs. Griffiths is a member of St. Paul's Episcopal church. Mr. Griffiths belongs to Navarre Lodge, No. 142, K.P.; to the Royal Arcanum; to Innini Tribe, I.O.R.M.; to the Elks; and is a charter member of the Engineer Corps of the state. Since attaining his majority he has labored earnestly in local political circles for the adoption of the principles in which he believes and for the success of the party whose platform embraces these principles. He also takes an active interest in athletics in the city, especially in football and baseball. Mr. Griffiths is well known here and is a popular young man who has a wide acquaintance. He is ever at ease with all classes and is a favorite because of his geniality.

---
Return to 1904 Biographies Index
Return to Sangamon County ILGenWeb
---