Sangamon County ILGenWeb © 2000
In keeping with our policy of providing free information on the Internet, data and images may be used by non-commercial entities, as long as this message remains on all copied material. These electronic pages cannot be reproduced in any format for profit or for other presentation without express permission by the contributor(s).
---
PAST AND PRESENT OF THE CITY OF SPRINGFIELD AND SANGAMON COUNTY ILLINOIS
By Joseph Wallace, M. A.
of the Springfield Bar
The S. J. Clarke Publishing Co., Chicago, IL
1904
---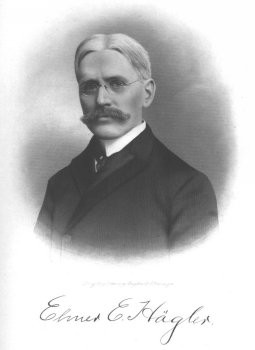 Page 102
ELMER ELLSWORTH HAGLER, M.D., F.R.M.S. - Dr. Elmer Ellsworth Hagler was born May 5, 1863, in Macoupin county, near Virden, Illinois. He is the first of the nine children of James G. and Clarissa Falls Hagler. The father, who was also a native of Illinois, was a farmer of considerable means and a man known and esteemed in the whole community for his integrity, public spirit and intelligence. He was foremost in all work for the advancement of all that pertained to progress and public good, a friend to all who needed help and sympathy, and a man whose honor was never questioned. His children, while spending their early life on the farm, learning the lessons of thrift and industry were given every advantage that the community afforded and were provided with all that makes a happy and helpful home life.
After graduating with credit from the Virden high school in 1883, Elmer E. Hagler, became a teacher in the public schools, in which work he proved himself more than ordinarily successful. In 1887 he entered the University of Michigan as a student in the department of medicine and surgery. Upon his graduation from that institution in 1890, Dr. Carrow, professor of ophthalmology, otology and rhino-laryngology in the university, offered Dr. Hagler the position of assistant in the department and left him in sole charge of his large practice during his absence that summer in Europe.
Dr. Hagler's connection with the university lasted three years, during which time he was promoted first to demonstrator, then to instructor. His work as an instructor was eminently successful. He was popular with the students and attracted the favorable notice of his fellow members of the faculty, who prophesied a brilliant future for the young instructor. During this time he was made a fellow of the Royal Microscopical Society, of London, in recognition of his work in microscopy. He also found opportunity for graduate work in the hospitals of New York and Philadelphia.
Dr. Hagler was married June 21, 1893, in Philadelphia, to Miss Kent Rolla Dunlap, B.A., Wellesley College, M.A., University of Pennsylvania. In spite of a decided taste for university life and a marked aptitude for teaching, Dr. Hagler's energy and ambition led him to desire the wider opportunities of active practice. He resigned his position in the university and removed to Springfield, Illinois, in July, 1893, where he was at once given the position of oculist and aurist to St. John's Hospital, one of the largest and best equipped institutions in Illinois. In December of that year he was appointed special United States pension examiner for central Illinois, which position he still holds. In June, 1896, he was chosen oculist and aurist for the Chicago, Peoria & St. Louis Railroad. His success as a practitioner was marked from the start, and in the eleven years of practice in Springfield he has established himself among the foremost men of the profession and made a reputation that is not confined to the state alone for skill and success in his work. He has always maintained the highest standard of scientific methods and professional conduct, keeping to the front rank and enjoying the esteem of his fellow physicians as well as the public.
Notwithstanding a busy professional life, Dr. Hagler takes an active and prominent part in the social life of the community. He is a member of St. Paul's Protestant Episcopal church, and of the fraternal organizations of the city, being a Mason, Knight Templar, an Odd Fellow and a Knight of Pythias, and a member of the medical societies of the state and district, and of several literary and art societies of the city. He is, in brief, a representative of the highest type of the American man, the worthy bearer of an honored name, a credit to his profession, a progressive citizen actively interested in all that advances the good of the community.
In the summer of 1889 Dr. Hagler, finding his practice too large for him to attend to alone, associated with him in his office and hospital work a younger brother, Dr. Arthur Lee Hagler, a graduate of Rush Medical College, Chicago, an arrangement that has proved wise and of material advantage.

---
Return to 1904 Biographies Index
Return to Sangamon County ILGenWeb
---