Sangamon County ILGenWeb © 2000
In keeping with our policy of providing free information on the Internet, data and images may be used by non-commercial entities, as long as this message remains on all copied material. These electronic pages cannot be reproduced in any format for profit or for other presentation without express permission by the contributor(s).
---
PAST AND PRESENT OF THE CITY OF SPRINGFIELD AND SANGAMON COUNTY ILLINOIS
By Joseph Wallace, M. A.
of the Springfield Bar
The S. J. Clarke Publishing Co., Chicago, IL
1904
---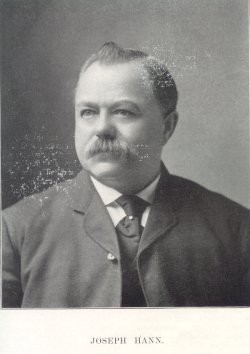 Page 494
JOSEPH HANN - It would hardly be possible to estimate what would be the condition of the country were it not furnished with the products of the rich coal mines of the Mississippi valley. It is certain that the introduction of this fuel has been an important element, not only in the direct channels of trade occasioned by purchase and sale, but also in many manufacturing interests, supplying the fuel which, transmuted into heat, furnishes the motive power for machinery. Joseph Hann is the pioneer in the coal developing interests of Sangamon county. He sank the first shaft here and has carried forward his work in a manner that has been of lasting benefit to this section of the state, while at the same time returning to him an excellent income as the reward of his labor. With a recognition of the difficulties and obstacles which lay before him in such a business venture, he entered upon his work, and with sound, practical judgment to bear upon its various phases he has continued the task of developing the coal mines, not only of Illinois, but of other states.
Mr. Hann is a native of England, and in that country he acquired a good common school education, which served as a basis upon which to found his later success. It was in the year 1866 that he arrived in America, the vessel on which he sailed dropping anchor in the harbor of New York, whence he made his way across the country to Peoria, Illinois. In that city he was employed for a brief period, but afterward came to Springfield, and having investigated the subject of the coal deposits in this section of the state he had come to the conclusion that there were rich beds of coal underlying much of the surface of Sangamon county. Therefore he sunk the first shaft in Sangamon county and also the first one for the West End Coal Company and for the Sangamon Coal Company. He is today the leading officer and principal stockholder in the Citizens' Coal Mining Company, serving as general manager and secretary. This company was incorporated in 1894 with a capital of thirty thousand dollars. In the previous year a coal mine was opened about two miles west of Springfield, the shaft being sunk to the depth of two hundred and fifteen feet, where a six-foot vein of coal was struck. At a later date the company began operating mine B, which is located two and one-half miles southwest of Springfield and which also has a vein of six feet. The Citizens Coal Mining Company is a progressive corporation, having improved hoisting machinery, and the product it secures is of a superior quality of bituminous coal. The output of the mines is extensive, and, finding a ready sale on the market, makes the business a profitable one. For some time Mr. Hann was connected with the Randolph Coal and Gas Company, of Kansas City, Missouri. He is a man of sound judgment and his long experience in connection with coal mining renders his opinions safe and reliable. No industry has been of as great value to Sangamon county as the development of these coal interests, and for his pioneer labors in this direction Mr. Hann certainly deserves great credit and commendation. Many men with the multiplicity of business cares that devolve on Mr. Hann would be unable to give each and all of them proper attention, yet he does this and directs his large operations with seemingly less annoyance than many men show in managing very small enterprises. He takes a citizen's interest in good government, but political conductorship or conquests are for him without charm. The difficult walks of business life are more to his liking, and here he has been successful and here has been the true sphere of his usefulness. He is a member of a number of local mutual societies and is living with his wife and children at No. 1331 West Edwards street.

---
Return to 1904 Biographies Index
Return to Sangamon County ILGenWeb
---