Sangamon County ILGenWeb © 2000
In keeping with our policy of providing free information on the Internet, data and images may be used by non-commercial entities, as long as this message remains on all copied material. These electronic pages cannot be reproduced in any format for profit or for other presentation without express permission by the contributor(s).
---
PAST AND PRESENT OF THE CITY OF SPRINGFIELD AND SANGAMON COUNTY ILLINOIS
By Joseph Wallace, M. A.
of the Springfield Bar
The S. J. Clarke Publishing Co., Chicago, IL
1904
---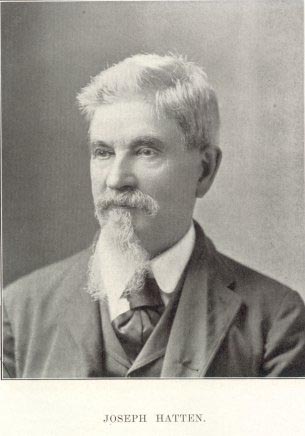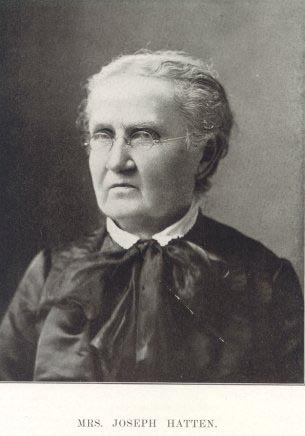 JOSEPH HATTEN. - For almost half a century Joseph Hatten has been a resident of Sangamon county and has been an important factor in its substantial development and permanent improvement. He has seen its wild lands transformed into fine farms while industrial and commercial interests have been introduced, and thus towns have become thriving cities. In the work of progress he bore his part and was particularly active as a representative of the agricultural interests of the county, though he is now living a retired life in the village of Chatham, enjoying a well-earned rest.
Mr. Hatten was born in Garrett county, Kentucky, March 6, 1829, and belongs to an old Virginian family. His father, Richard Hatten, was born and reared in the Old Dominion and there married Hannah Brown, a native of the same state. On leaving Virginia he removed to Garrett county, Kentucky, where he engaged in farming throughout the remainder of his life. His death occurred on the 7th of June, 1850. Later his wife came to Illinois with her family and died here in September, 1855.
In the county of his nativity Joseph Hatten grew to manhood with very limited school privileges, so that he is almost wholly self-educated. In October, 1854, he and his brother Benjamin came to Sangamon county, Illinois, and after renting land or a few years purchased a tract of one hundred and twenty acres, which they began to cultivate and to which they added from time to time. Later the property was divided and Joseph Hatten bought more land until he now has four hundred acres, which is well improved and under excellent cultivation. For thirty years he carried on farming and stock raising with good success, but in 1882 he rented his farm and removed to Chatham, where he has since practically lived retired, though he still devotes considerable time to keeping up his property. Besides his home in the village he has two or three other residences there and is one of the most prosperous men of the community.
On the 3d of October, 1873, Mr. Hatten married Miss Eliza Clements, a native of this county and a daughter of Thomas Clements. Her father was born and reared in Kentucky, where he married Cindicia Harris, also a native of that state, and at an early day they removed to Sangamon county, Illinois, where Mr. Clements entered land and improved a farm. He died there.
In politics Mr. Hatten was originally an old line Whig and cast his first presidential ballot for General Winfield Scott in 1852. Since the organization of the Republican party, in 1856, he has been a stanch supporter of its principles, but has never cared for office. His wife is a member of the Christian church and both are held in high regard by all who know them. As one of the early settlers of the county and an honored citizen he is justly deserving of prominent mention in the Past and Present of Springfield and Sangamon County.

---
Return to 1904 Biographies Index
Return to Sangamon County ILGenWeb
---