Sangamon County ILGenWeb © 2000
In keeping with our policy of providing free information on the Internet, data and images may be used by non-commercial entities, as long as this message remains on all copied material. These electronic pages cannot be reproduced in any format for profit or for other presentation without express permission by the contributor(s).
---
PAST AND PRESENT OF THE CITY OF SPRINGFIELD AND SANGAMON COUNTY ILLINOIS
By Joseph Wallace, M. A.
of the Springfield Bar
The S. J. Clarke Publishing Co., Chicago, IL
1904
---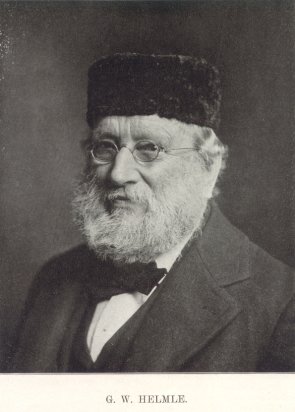 GEORGE WILLIAM HELMLE. - Germany has furnished to the United States many bright, enterprising young men who have left the fatherland to enter the business circles of this country with its more progressive methods, livelier competition and advancement more quickly secured. Among this number is George William Helmle, who is now living retired in Springfield. He possesses somewhat the strong rugged and persevering characteristics developed by his earlier environments, which, coupled with the lively impulses of the Teutonic blood of his ancestors, made him at an early age seek wider fields in which to give full scope to his ambition and industry - his dominant qualities. He found the opportunities he sought in the freedom and appreciation of the growing western portion of the United States .....(2 lines missing here) prestige in Springfield as one of its successful and representative business men.
Mr. Helmle was born in Baden, Germany, May 30, 1825, a son of Heinrich and Caroline (Himmelheber) Helmle. This is one of the oldest and most influential families of Carlsruhe, the capital of the grand duchy of Baden, and in appearance and talents, in education and in manner George William Helmle became a worthy scion of his race. The father was a carpenter and builder, well known as an excellent mechanic. He died in his native country at the advanced age of eighty-four years, and his wife passed away at the age of sixty-five years. They were the parents of eight children, three of whom are still living, our subject and two sisters who are residents of Germany - Caroline and Stephanie. After the French war in 1848 four brothers of the family came to the United States, all making their way to St. Louis. Frederick, the youngest started for California in 1850, but was drowned while en route. Henry, the eldest of the family, remained for six years in America. He had a farm in Missouri and also worked at his trade of carpentering. He then returned to Germany to take charge of his father's business, which he conducted up to the time of his own death. Another brother, Carl A. Helmle, was born September 10, 1827, and was long a resident of Springfield. He was married in 1853 to Marie Flesche and the following year came to this city. In company with Frank Reisch he opened a general store and subsequently he engaged in the brewing business on a small scale, but developed one of the largest plants in the state. In 1864 the partnership was dissolved and Mr. Helmle then engaged in the wholesale liquor business until his death.
George William Helmle pursued his education in Carlsruhe, where he attended school until fifteen years of age. He then learned the wood carver's trade, paying sixty dollars to his employer for this privilege. He served a four years' apprenticeship, becoming an expert workman, and throughout his business career he continued in that line, executing some of the finest work of that character done in Springfield. He was the second son in his father's family and the only one now living. With his brothers he came to America in 1848 and worked at his trade in St. Louis until 1851 when he came with his brother Albert to this city.
In 1850 in St. Louis George W. Helmle was united in marriage to Miss Elise Marschuetz, who was born in Baden, Germany, January 16, 1825, and came to America in the same year in which her husband crossed the Atlantic. The following year they took up their abode in Springfield and here Mr. Helmle began business as a wood carver while his wife, well known as Madame Helmle, established a millinery store, which she conducted in this city for twenty-five years at No. 200 South Fifth street. She was known by all the older people of that time throughout the county and conducted a very successful business. She had learned the art of millinery in Parish before she came to the new world and here she conducted a fine establishment and had a very large trade, enjoying the patronage of the leading ladies of this city. At that time millinery goods were not usually carried in general stores. She not only possessed artistic taste, as was manifest in her fine millinery creations, but she also had marked executive skill. In the meantime mr. Helmle was conducting his business with marked enterprise and energy and with the result that it grew in volume and importance as his superior skill was acknowledged. He supplied the ornamental work for a great many of the dwellings and business blocks of this city, doing all the work by hand. For many years he continued wood carving but afterward began making this ornamental work out of a composition. He furnished the composition work and ornaments for the governor's mansion and also for the residences of Mrs. Black Vredenburgth, H. E. Gardner and E. A. Wilson.
Unto Mr. and Mrs. Helmle was born eight children, four sons and four daughters. George Henry is an architect but is now employed as bookkeeper in a bank in Springfield. He is married and has five children and resides at No. 430 South fifth Street. Otto, who was an enterprising and capable young man held in the highest regard by all who knew him, was employed in the office of the State Register and died at the age of twenty-five years. William, who was graduated in the high school of Springfield and afterward in the State University of Michigan at Ann Arbor, became a principal in the high school here, occupying that position for nineteen years. He is now connected with the schools of Chicago and is married and has two sons. Charles Frederick is an architect, residing in California. Carrie became the wife of C. Gehrman, of Montclair, New Jersey, and has two sons. Amelia is the wife of Alva Camp, of Chicago. Elizabeth died at the age of eighteen years. Clara, the youngest, is at home. All of these children attended private and public schools in Springfield and all were born in this city.
In 1859 Mr. Helmle erected a residence at No. 220 South Fifth street, where they lived for twenty-five years. In 1872 he built a dwelling two doors south of his present home, occupying it for two years, and later he removed to the place where he has now resided for a number of years. In 1900 he and his wife celebrated their golden wedding, having traveled life's journey together for a half century. Mr. Helmle cast his first presidential vote for John C. Fremont and has since supported the Republican party, but has never been an office seeker. He and his wife are members of the Evangelical church, in which faith they reared their family. Mr. Helmle has always been a student, reading broadly and thinking deeply, and is now a well informed man. Having put aside business cares, he is living retired and well does he merit the rest which has come to him. He has passed the seventy-ninth milestone on life's journey, and his has been an honorable and upright career, in which he has labored not alone for his own benefit, but for the benefit of his city, his business interests promoting its commercial activity and its improvement.

---
Return to 1904 Biographies Index
Return to Sangamon County ILGenWeb
---