Sangamon County ILGenWeb © 2000
In keeping with our policy of providing free information on the Internet, data and images may be used by non-commercial entities, as long as this message remains on all copied material. These electronic pages cannot be reproduced in any format for profit or for other presentation without express permission by the contributor(s).
---
PAST AND PRESENT OF THE CITY OF SPRINGFIELD AND SANGAMON COUNTY ILLINOIS
By Joseph Wallace, M. A.
of the Springfield Bar
The S. J. Clarke Publishing Co., Chicago, IL
1904
---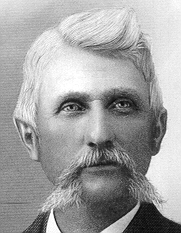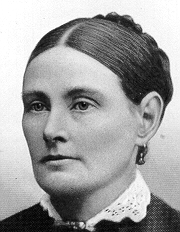 D. C. Herrin & Mrs. D. C. Herrin
D. C. HERRIN - A resident of Sangamon county for seventy years, D. C. Herrin is well entitled to representation in this volume and because he is an honored pioneer settler and successful business man, whose prosperity has been gained through straightforward methods, he receives and merits the respect and good will of all with whom business or social relations bring him into contact. His landed possessions now aggregate more than one thousand acres in this state and his holdings are an indication of an active and progressive business career.
Mr. Herrin was born in Clear Lake township May 25, 1834, his father having located in this county in the days when it was a frontier region. Here he was reared and acquired his education in the subscription schools, there being no free schools in this locality until after he reached manhood. The school houses were rude structures, furnished with slab seats and heated by large fireplaces. Mr. Herrin completed his education at the Wesley University in Bloomington. Through the summer months he assisted in the labors of the fields, so he early gained practical experience of the various departments of farm work. He has spun many a cut of wool in the card, which his mother afterward used, as at that time she spun and wove most of the cloth used in making clothing for her family. In those early days prairie and forest fires were of frequent occurrence and to those living in their midst it would seem that the whole world was on fire. The house in which Mr. Herrin was born is still standing and is yet occupi ed. He owns the first land which his father purchased after coming to this county, there being at that time only one small grocery store in Springfield, owned by Major Iles. Our subject began earning his own living by breaking prairie with five yoke of oxen, and this occupation he followed for several years, turning the first furrow upon hundreds of acres. The first land which he ever owned was in Lanesville township, and this he and his brother, W. F. Herrin, broke together.
D. C. Herrin was married in this county May 22, 1862, to Miss Sarah J. North, a sister of his brother Frank's wife and a daughter of Robert North. She is a native of this county and, her father was born in Buckingham county, Virginia, in October, 1814, and came to Sangamon county with his brother, John, in 1832, locating in what is now Cooper township. Here he was married in 1838 to America Schmick, whose birth occurred in Lincoln county, Kentucky, February 10, 1816, and who came to this county with her mother and family in 1829. Robert North located on a farm near Springfield and became a very prominent and prosperous agriculturist. He was also a very public-spirited citizen and in pioneer times did much for the advancement and upbuilding of this section of the state.
After his marriage Mr. Herrin located on his farm in Lanesville township and added to the property until four hundred acres of land returned to him golden harvests or provided pasturage for his stock. He located at his present home in 1872, having here two hundred and fifty-five acres of land, but this does not represent his entire realty possessions. for he has invested until he now has over one thousand acres. He erected on his farm a large and substantial residence with commodious outbuildings for the shelter of grain and stock. He also built a tenant house, and his farm has been converted into a very productive tract by means of tiling and cultivation. The rotation of crops add to the richness of his land and modern methods of farming find exemplification in his work. He has been raising pure blooded and high grade stock and for thirty-five years has been a shipper of fat cattle, formerly selling from ten to fifteen carloads of stock annually.
In 1885 Mr. Herrin removed with his family to Springfield in order to educate his children, and while there be was one of the stockholders and directors of the First National Bank. Unto him and his wife have been born two daughters and seven sons: Robert Elmer, who is married and resides on the home farm; James W., on the home farm; George Everett, who is living on the old homestead where his father and mother first settled at the time of their marriage; David A., who is engaged in farming with his brother George; Albert, Jennie Flora, and Mary Emma. Two sons died in infancy.
Mr. Herrin exercises his right of franchise in support of the Republican party, and prior to its organization he was an old line Whig, never faltering in his allegiance to the principles he espouses, but never seeking office as a reward for party fealty. He labors for the welfare of his county along other lines and has ever been watchful of its interests. He was acquainted with Abraham Lincoln, Judge Logan and Judge Springer, and, in fact, was a personal friend of the first named. He is familiar with the history of the county almost from its earliest days and has seen all its prominent men who have figured so conspicuously in state and national affairs. His mind bears the impress of the early historical annals of the state and although he might be termed a patriarch of the community, because of his long residence here, he is yet an active factor in the business life of this portion of the state.
---
Return to 1904 Biographies Index
Return to Sangamon County ILGenWeb
---