Sangamon County ILGenWeb © 2000
In keeping with our policy of providing free information on the Internet, data and images may be used by non-commercial entities, as long as this message remains on all copied material. These electronic pages cannot be reproduced in any format for profit or for other presentation without express permission by the contributor(s).
---
PAST AND PRESENT OF THE CITY OF SPRINGFIELD AND SANGAMON COUNTY ILLINOIS
By Joseph Wallace, M. A.
of the Springfield Bar
The S. J. Clarke Publishing Co., Chicago, IL
1904
---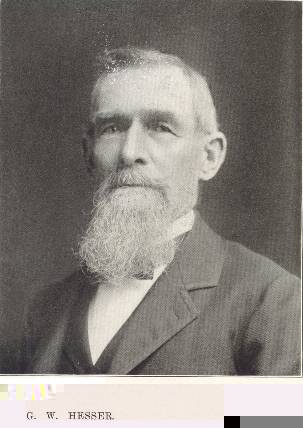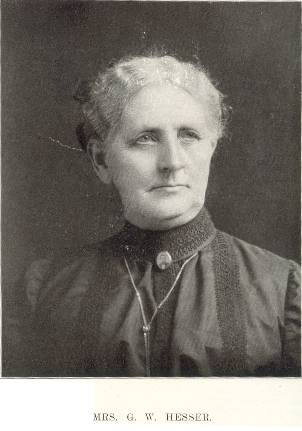 GEORGE W. HESSER. - George W. Hesser, whose business ability has made him the owner of a good farm of one hundred and sixty acres on section 18, Illiopolis township, is numbered among the pioneer settlers of Sangamon county, who, through many decades, have been witnesses of the changes that have occurred and have transformed the county from a frontier district to one in which every evidence of an advanced civilization is found. He was brought to this county June 6, 1836, his birth occurring in Berryville, Frederick County, Virginia, September 30, 1833, his parents being Samuel L. and Ann Maria (Slagel) Hesser. The father was born in Winchester, Virginia, June 2, 1797. The grandfather was of German ancestry, the family having been established in the Old Dominion at a very early day in its settlement. Samuel L. Hesser was reared in that state and there married Sarah Fry, who died in 1825. He was again married September 12, 1826, to Ann Maria Slagel, who was born in Hagerstown, Maryland, October 4, 1803. Five children were born unto them in Virginia and in 1836 the father brought his family to Sangamon county, Illinois, arriving in Springfield on the 6th of June. He was a carpenter and joiner by trade and followed that pursuit in Springfield for sixteen years. He assisted in building the old state house and was connected with the construction of many other important buildings at an early day. He afterward purchased land in Mechanicsburg township, where he took up his home and improved a farm. He spent his last years in buffalo, Illinois, where he died in 1871. He was a charter member of the Masonic lodge of Springfield. His wife survived him for twenty-two years and died at the home of her son, John Hesser, in Clear Lake township.
George W. Hesser was one of a family of four sons and five daughters, who reached adult age, and with the exception of one daughter all are yet living. His boyhood days were largely passed in Mechanicsburg township, where he was educated in private schools and later he attended Eureka College at Eureka, Illinois. He prepared for a business career by learning the carpenter's trade under his father and for a few years he followed that pursuit in and near Mechanicsburg. After his marriage he began farming on the old homestead and several years later he purchased a section of land in Lanesville township, which he broke with a team of horses, and as the years passed by he developed there an excellent success. He afterward purchased the old Fullenwider farm of three hundred and twenty acres and devoted his energies to its cultivation for seven years, on the expiration of which period he sold that property and purchased his present farm of one hundred and sixty acres on section 18, Illiopolis township. In 1890 he engaged in the hardware and implement business in Illiopolis and has since been a factor in mercantile enterprises there. In 1895 he moved into the town and resided there for seven years in order to give his personal attention to his business affairs. He became one of the stockholders and organizers of the Farmers' State Bank and other business interests have felt the stimulus of his energy and enterprise.
On the 15th of May, 1860, in Mechanicsburg township, Mr. Hesser was married to Caroline Morgan, a native of Sangamon county and a daughter of Jacob Morgan, who arrived in central Illinois about 1827, thus being one of the first settlers in Sangamon county. Unto Mr. and Mrs. Hesser have been born six children, of whom four are living, Jesse M. being the eldest; Homer H., a commercial traveler of Illiopolis, married Jennie Batchelder and has three children, George B., Frank R. and Mary; Arthur A., of Illiopolis, married Gertrude Capps and they have three children, Louis D., Robert C. and Sarah C.; Clara B. is the wife of W. M. close, of the same town, and they have two children, Erle H. and Mina C.; Byron B. died at the age of nineteen years and George Samuel died in infancy.
Mr. Hesser cast his ballot for James Buchanan in 1856, but in 1860 supported Abraham Lincoln for the presidency and since that time has never faltered in his allegiance to the Republican party and its principles. He served as a member of the board of county supervisors for two terms and was chairman of the committee on insane and charitable institutions. He also served on other important committees and put forth a strong effort for the benefit of the county along various lines of progress. He was assessor for eight years in Lanesville township, being the first to occupy that position there, and for seven years he filled the same position in Illiopolis township. He has served as township school trustee and a school director and he exercises his official prerogatives in support of every measure that he believes will contribute to general progress and improvement. The period of his residence in Sangamon county covers sixty-eight years. He saw Springfield when it was a mere village in the midst of a wild prairie, over which ran herds of deer and wild timber wolves. He has seen the building of railroads, the introduction of the telegraph and the telephone and the establishment of modern industries and commercial enterprises which have contributed in large measures to the growth and improvement of ths section of the state, while in agricultural lines he has borne an important part as an active and enterprising farmer. He possesses good business ability, keen discernment and unfaltering honesty and among the honored and trustworthy pioneers of the county he is numbered.

---
Return to 1904 Biographies Index
Return to Sangamon County ILGenWeb
---