Sangamon County ILGenWeb © 2000
In keeping with our policy of providing free information on the Internet, data and images may be used by non-commercial entities, as long as this message remains on all copied material. These electronic pages cannot be reproduced in any format for profit or for other presentation without express permission by the contributor(s).
---
PAST AND PRESENT OF THE CITY OF SPRINGFIELD AND SANGAMON COUNTY ILLINOIS
By Joseph Wallace, M. A.
of the Springfield Bar
The S. J. Clarke Publishing Co., Chicago, IL
1904
---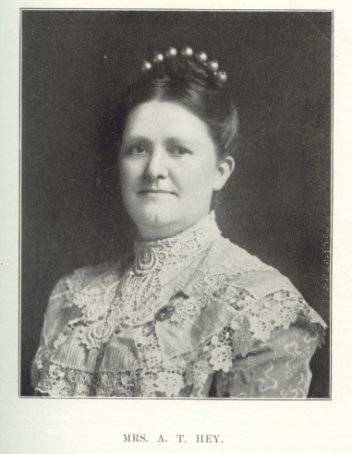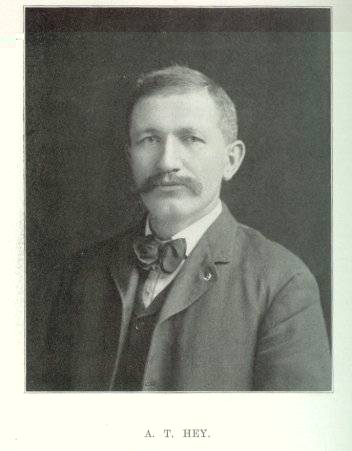 ALBERT THOMAS HEY. - There is no characteristic element of our national development of which we have more reason to be proud than the fact that in this country advancement can be secured through capability, merit and labor, unhampered by caste or class, and that the majority of our strongest and best citizens are self-made men. Such a one is Albert Thomas Hey, a well known florist of Springfield, doing business at 821 South Second Street. He has resided here since 1883, and his life stands as an illustration of the fact that excellent opportunities are afforded in the new world to young men of ambition and determination. He was born in Huddersfield, Yorkshire, England, December 20, 1861, and is a son of Joseph Hey, who is still living in his native England and is following the florist's business at the age of eighty-five years - a hale and hearty old man. For many years he was known as a contracting landscape gardener, devoting his energies to the pursuit which has been the business of the family through many generations, even back to the sixteenth century. His wife, Mrs. Emma Hey, is living at the age of seventy-five years and, like her husband, still enjoys good health. They are the parents of nine children, but seven died in early childhood and one passed away at the age of twenty-four, leaving Albert Thomas Hey the only survivor of the family.
In the parochial school of his native country Albert T. Hey acquired his literary education and afterward was fitted by special educational training for a business career, successfully passing an examination in the Pittman system of stenography and becoming a member of the Phonetic Society of Great Britain. During his boyhood he assisted his father in the florist's business and remained with him until he came to this country in 1883, gaining thereby a good practical experience. Crossing the Atlantic to Canada, he remained for a short time in that country and then came to Springfield. For a time he was employed in the service of a firm of florists in Springfield, but in 1894 he took charge of the greenhouses and grounds of the Hon. Charles E. Hay and the business has continually grown in size and profit. He carries all kinds of flowers and his greenhouses are now large and well equipped, their dimensions have been increased one-third, while the trade has more than doubled since he took charge of the business ten years ago. He carries on a general florist business, making a specialty of cut flowers and orchids, and he is also engaged in dealing in gold fish.
In May, 1886, Mr. Hey was married to Miss Mary A. Davies, who was born in Meryther Tydvill, Wales, in 1865, and in her childhood became a resident of Pittsburg, Pennsylvania, with her parents, Mr. and Mrs. William L. Davies, who in 1872 removed with their family to Springfield. The home of Mr. and Mrs. Hey has been blessed with three sons and a daughter: W. A. J., born March 26, 1887; Louis E., born January 18, 1890; Albert D., October 26, 1892; and Gwenllean Louise, May 17, 1895. The family residence is at No. 218 West Scarret street - a beautiful modern home of their own.
Mr. Hey is one of the distinguished Masons of Illinois and high honors have been conferred upon him by the craft. He now belongs to Springfield Lodge, No. 4, A.F. & A.M.; Springfield Chapter, No. 1, R.A.M.; Springfield council, No. 2, R. & S.M.; Elwood Commandery, No. 6, K. T.; and Mohammed Temple of the Mystic shrine at Peoria while both he and his wife hold membership in the Eastern Star. He is a past master of the lodge and a past high priest and present secretary of the chapter. He is a past thrice illustrious master of the council and is the present grand captain of the guard of the grand council of Royal and Select Masters of Illinois and is also past patron of the Order of the Eastern Star. Mrs. Hey is also a past matron of Lalla Rookh and Mrs. Hey was its first worthy matron. Many times has Mr. Hey been sent as a delegate to Masonic conventions, and his labors have been potent in promoting the growth and success of Masonry. He is also an esteemed member of Navarre Lodge, No. 142, K.P., and of Pawnee Tribe, No. 66, I.O.R.M., of which he is a past sachem, while his membership relations connect him with Capitol Tent, No. 1, K.O.T.M., and the Modern Woodmen of America. Interested in the success of the Republican party, he labors earnestly in its behalf in a local way and has served as clerk and judge of elections. Both he and his wife are members of the Episcopalian church. The hope that led Mr. Hey to seek a home in America has been more than realized, for he has found ample scope for his labors in the new world, and utilizing the business opportunities which have surrounded him, he has steadily worked his way upward gaining not only a financial competence, but also a competence in moral stamina and character.

---
Return to 1904 Biographies Index
Return to Sangamon County ILGenWeb
---