Sangamon County ILGenWeb © 2000
In keeping with our policy of providing free information on the Internet, data and images may be used by non-commercial entities, as long as this message remains on all copied material. These electronic pages cannot be reproduced in any format for profit or for other presentation without express permission by the contributor(s).
---
PAST AND PRESENT OF THE CITY OF SPRINGFIELD AND SANGAMON COUNTY ILLINOIS
By Joseph Wallace, M. A.
of the Springfield Bar
The S. J. Clarke Publishing Co., Chicago, IL
1904
---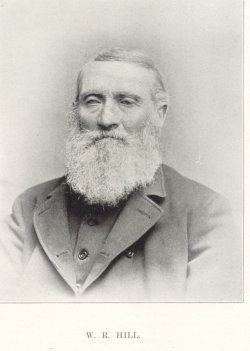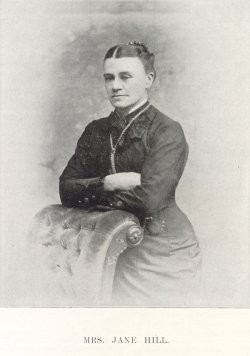 Page 1192
W. R. HILL - W. R. Hill was born in Jessamine county, Kentucky, August 7, 1820, a son of John and Elizabeth (Reed) Hill. The father was born in Henry county, Virginia, and the mother, who was of German descent, was a native of Lexington, Kentucky. John Hill was a farmer and millwright, who removed to the Blue Grass state when a young man. He there resided for a number of years and in the fall of 1836 he became a resident of Christian county, Illinois. Unto him and his wife were born ten children, of whom four are now living: W. R.; Mrs. Jane Coleman, who is a widow residing in Taylorville, Illinois; John T., who resides on Bear creek, near Palmer, Illinois; and Green, who is living in Oklahoma. The father was a Whig in his political affiliations. He died about the year 1864 and his wife passed away in February of the same year.
W. R. Hill was a youth of sixteen years when he accompanied his parents on their removal to Crow's Mill, Illinois. There the family remained for a year, after which they went to that part of Montgomery county, Illinois, which later became Christian county. It was their place of residence until about 1845, when they removed to Sangamon county. W. R. Hill attended school for a short time in Kentucky, but when the family came to Illinois there were no public schools here, and because of this his education privileges were limited. He learned the wheelwright's trade under the direction of his father, whom he assisted until twenty-three years of age and then started out for himself. He was first employed as a journeyman for five years and afterward worked at the carpenter's trade for five years. On the expiration of that period he found himself possessed of a capital sufficient to justify his purchase of land, and he became the owner of two hundred and sixty-nine acres in Auburn township, Sangamon county, northeast of the village of Auburn, which was underlaid with a good vein of coal. He also owned twenty acres of timber land a quarter of a mile east of his farm and eighty acres one-half mile west of Auburn. He improved his farm by the erection of a nice house and barn and engaged in its cultivation for forty-six years. He then sold the place and on the 9th of March, 1904, removed to Auburn, where he now lives retired, enjoying a well-merited rest. The farm which he purchased for twenty and forty dollars per acre he sold for one hundred and eighteen dollars per acre. He has purchased the elegant home of George W. Hutton in Auburn and there resides at the present time.
On the 6th of October, 1858, Mr. Hill was united in marriage to Miss Jane Mason, a daughter of Noah and Martha (Nuckolls) Mason. Her grandfather, Noah Mason, Sr., was born in Mendon, Worcester county, Massachusetts on the 15th of January, 1782, and in his early youth was bound out to a hard task-master. Because of this he ran away and went to sea, spending about five years as a sailor. He married Lucinda Stetson, who was born June 14, 1782, their wedding being celebrated July 15, 1804. After their marriage Noah Mason made a voyage to China and the East Indies, being gone for twenty-one months. He then took up his abode in Hancock county, Maine, where three of his children were born, and in 1812 he located in Madison county, New York. Two years later, in 1814, he settled in Genesee county, New York, where two more children were added to the family. In the spring of 1819 he removed to Olean Point, on the Allegheny river, and in the fall of 1821, in connection with two other men, he built a boat and with their families they desce4nded the Allegheny and Ohio rivers, landing in Polk county, Illinois. There the Mason family remained for two and a half years and another son was added to the household during that period. On the expiration of that time they started for what is now known as Tazewell county, Illinois, but on reaching Sugar creek, in what is now Auburn township, Sangamon county, on the 10th of April, 1824, they decided to settle there. It was thus that the Mason family was established in this county during the pioneer epoch in its history. Of the six children, Noah, Jr., was born February 25, 1807, near Belfast, Maine. He married Martha Nuckolls in Sangamon county on the 19th of February, 1835, and they became the parents of seven children, namely: George T., born February 11, 1836; Jane, who was born July 22, 1837, and is the wife of Mr. Hill; John L., born March 15, 1839; Mary Ann, born January 1, 1842; Amanda, who died at the age of seven years; Elimina E., born October 4, 1847; and Martha C., born April 11, 1849. The mother of these children passed away on the 24th of March, 1852, and Noah Mason was again married on the 9th of August, 1853, his second union being with Elizabeth Talbott. They had one child, Noah D., born October 3, 1854. Noah Mason, Sr., died November 18, 1834, and his widow passed away in October, 1862.
Of the marriage of Mr. and Mrs. Hill four children have been born, of whom three are living: Martha E., born January 16, 1860, is the wife of W. D. Moore, of Chatham, who is now connected with the stove works at Wichita, Kansas, and they have one daughter, Corliss; Fanny M., born April 21, 1862, is at home with her parents; William Mason, born April 1, 1866, died on the 6th of March, 1897, at Lawrenceburg, near Los Angeles, California; Virginia Maude, born November 29, 1869, was married February 5, 1892, to C. P. Newell, a resident of Auburn, and they have one daughter, Virginia Ruth.
Mr. Hill has had trouble with his eyes for the past fourteen years, and during three years has been totally blind. He and his wife are devoted members of the Cumberland Presbyterian church and he is a Republican in politics and has served as road commissioner for a number of years. During a long residence in this section of Illinois he has so lived as to win the confidence and good will of all with whom he has come in contact, and was long recognized as one of the leading agriculturists of his community.

---
Return to 1904 Biographies Index
Return to Sangamon County ILGenWeb
---