Sangamon County ILGenWeb © 2000
In keeping with our policy of providing free information on the Internet, data and images may be used by non-commercial entities, as long as this message remains on all copied material. These electronic pages cannot be reproduced in any format for profit or for other presentation without express permission by the contributor(s).
---
PAST AND PRESENT OF THE CITY OF SPRINGFIELD AND SANGAMON COUNTY ILLINOIS
By Joseph Wallace, M. A.
of the Springfield Bar
The S. J. Clarke Publishing Co., Chicago, IL
1904
---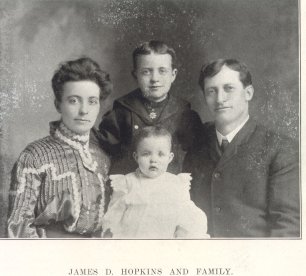 JAMES D. HOPKINS. - James D. Hopkins, born in the city of Springfield, January 28, 1861, pursued his education here between the ages of seven and fourteen years, attending the public schools for six years and a private school for one year. In his early boyhood days he earned his living by working as a delivery clerk in a grocery store, being thus employed for three years. In his youth he also served as the first page in the new state capitol at Springfield. He afterward learned photography under the direction of his brother-in-law, A. W. Kessberger, who is proprietor of one of the leading studios in this city. Professor Hopkins spent three years there and then accepted a position in the Illinois Watch Factory, where he remained continuously from 1880 until 1890, with the exception of a period of one year spent in Kansas, during which time he devoted his attention to the teaching of music. While in the factory he had a number of pupils in music. He was the first member of the Illinois Watch Factory Band, and indeed was practically its organizer. He has been the organizer of many bands and musical societies, including the Juvenile Band of the city of Springfield. He has bene the leader of the Springfield Juvenile Band, the Ide Engine Works Band, the Fourth Regiment Band and was also the leader of the First Cavalry Regiment Band during its entire existence. He has been engaged as special performer with the Pullman Band of Chicago and of Pullman, Illinois, and with DeMolay Band of Bloomington, Illinois, and Goodman's Band of Decatur, Illinois. He organized the Hopkins stringed Quartette, the Young Men's Christian Association Orchestra, the orchestra of the German Methodist Episcopal church, with which he was connected for twelve years, the orchestra of the Christian church, with which he was connected for two years, and the orchestra of the First Methodist Episcopal church, of which he has been the leader for four years. He also organized the DeKoven Orchestra, the High School Orchestra, composed of young ladies of the high school, and the Springfield Ladies' Orchestra. In addition to all these he has been a member of the orchestra at Chatterton Opera House for about twenty years, and is often called from the city to furnish music on special occasions. He also was professor of music in the Springfield Conservatory of Music during its existence. He first had his studio over Bales' drug store at the corner of Cook and Spring streets, and later located at his present residence at No. 933 South Second street. He now has from fifty to eighty pupils. The Hopkins family is well known in musical circles throughout Sangamon county and Illinois, their talent gaining them prestige as representatives of this art. It is said that the poet is born and not made, and this truth is equally applicable to the musician. His talent must be a native one, although its development and growth are due to continuous and earnest study. Professor Hopkins inherited his musical ability from his mother, and she in turn from her mother, who in her maidenhood was Miss Barker, one of the leading soprano singers of Boston, Massachusetts. From his earliest boyhood days Professor Hopkins has been a performer on many musical instruments. When a mere lad he earned his own clothing by his performances as a musician. As the years have advanced he has met with success through the exercise of his native talent and powers and is now comfortably situated in life. He teaches all kinds of instruments and many of his pupils have attained great skill and some considerable fame.
In Springfield, on the 19th of July, 1892, Professor Hopkins was united in marriage to Miss Jennie Zumbrook, who was born and reared in Springfield and is a daughter of Frederick and Louise (Harter) Zumbrook, who were natives of Germany. Mrs. Hopkins is highly accomplished in music, and their son, born September 12, 1897, has inherited the musical taste and talent of his parents. He is named Don Elsner Fredrick Hopkins, for the musician, Don von Elsner, of Bloomington, the brother of "Litta" von Elsner, a noted vocalist. When only eleven months old Don Elsner Fredrick Hopkins gave every indication of understanding music by sound, and today, at the age of six years, he can play his own accompaniment on the piano as he sings. He also plays a toy piccolo, while his father accompanies him on the piano. He is certainly a musical prodigy and is the pride of his parents. They also have a little daughter, Elsie Louise, born June 23, 1903. Professor Hopkins is a member of the Modern Woodmen Camp of Springfield and he also belongs to the Methodist Church. He is the leader of the orchestra in its Sunday school and the music has been a very great factor in the upbuilding of the school.

---
Return to 1904 Biographies Index
Return to Sangamon County ILGenWeb
---