Sangamon County ILGenWeb © 2000
In keeping with our policy of providing free information on the Internet, data and images may be used by non-commercial entities, as long as this message remains on all copied material. These electronic pages cannot be reproduced in any format for profit or for other presentation without express permission by the contributor(s).
---
PAST AND PRESENT OF THE CITY OF SPRINGFIELD AND SANGAMON COUNTY ILLINOIS
By Joseph Wallace, M. A.
of the Springfield Bar
The S. J. Clarke Publishing Co., Chicago, IL
1904
---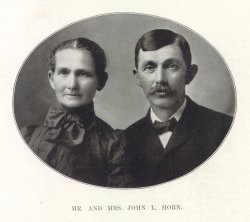 Page 1382
JOHN L. HORN - This well-known farmer of New Berlin township, whose home is on section 30, adjoining the town of New Berlin, came to Illinois in 1867 and has been a resident of Sangamon county since 1871. His early home was on the other side of the Atlantic, for he was born in Prussia, Germany, February 28, 1852, and he is a son of John and Elizabeth (Landgrebe) Horn, also natives of that country, where they spent their entire lives. By occupation the father was a carpenter and joiner.
Like most German boys, John L. Horn obtained a good education in his native tongue, attending school until fourteen years of age, but his knowledge of the English language has been self-acquired since coming to this country. It was in 1867 that he emigrated to the new world and joined an uncle in Cook county, Illinois, working on a farm near Chicago for three years at eight dollars per month. As before stated, he came to Sangamon county in 1871 and settled in Island Grove township, where a former schoolmate was then living. Here he worked by the month for eleven years, ten years of that time being in the employ of J. D. Smith, who proved a good friend to him. At the end of that period he bought an eight acre tract, where he now resides, and later bought an adjoining forty acres, and in 1901 he purchased the old Behl farm of seventy acres, so that he now has nearly two hundred acres in one tract. He has enlarged and remodeled the residence, built a large barn and other outbuildings, and today has a neat and well improved farm.
On the 28th of September, 1876, Mr. Horn was united in marriage to Miss Elizabeth Basse, who was also born in Germany, but was an infant in arms when brought by her mother to America, being reared and educated in this county. Seven children bless this union, namely: George, who was married December 1, 1903, to Minnie Luken, a daughter of Casper Luke, of Morgan county, lives on the old Behl farm in New Berlin township, which belongs to his father and on which the latter has built a new house; John, who was graduated in 1900, is now holding a position in the Warren Boynton Bank; Annie E., Mary Louise, Lizzie, Clara and Katie are all at home; Mary was graduated at the New Berlin high school in the class of 1904.
The parents were both reared in the Lutheran faith and now hold membership in the church of that denomination at New Berlin, of which Mr. Horn has been a trustee for eighteen years. He is a man of sterling worth and strict integrity, who commands the respect and confidence of all with whom he comes in contact and is held in high regard by a large circle of friends and acquaintances. His success in life is well merited, being the just reward of a life of industry, energy and honesty. In politics he is a stanch Democrat, and he capably filled the office of highway commissioner for nine years and has for fifteen years been one of the directors of the New Berlin high school, taking an active interest in educational work.

---
Return to 1904 Biographies Index
Return to Sangamon County ILGenWeb
---