Sangamon County ILGenWeb © 2000
In keeping with our policy of providing free information on the Internet, data and images may be used by non-commercial entities, as long as this message remains on all copied material. These electronic pages cannot be reproduced in any format for profit or for other presentation without express permission by the contributor(s).
---
PAST AND PRESENT OF THE CITY OF SPRINGFIELD AND SANGAMON COUNTY ILLINOIS
By Joseph Wallace, M. A.
of the Springfield Bar
The S. J. Clarke Publishing Co., Chicago, IL
1904
---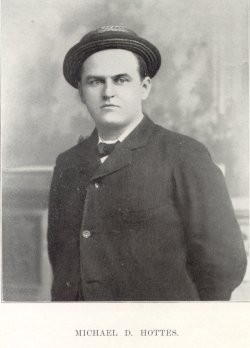 Page 1512
MICHAEL D. HOTTES - Michael D. Hottes, an artist whose skill had won him wide renown in Illinois and in different portions of the east, came to Springfield in 1880. He was a native of Richmond, Virginia, born March 11, 1852, a son of Peter and Christina Hottes, who were also natives of the Old Dominion. The mother died in Richmond when her son was a young lad. The father afterward became very wealthy, making his money through speculation during the Civil War, and in the later years of his life he lived retired in Richmond, continuing his place of residence there up to the time of his death in 1892.
Michael D. Hottes pursued his education in a college in Virginia and in the West Point Military Academy. Subsequently he went to Europe to complete his education and there developed his artistic talent through study under some of the masters of the old world. At Munic Professor Turner, the noted German artist, was his instructor. He learned the best methods of transferring to canvas the beauties of form and color which he saw in nature and to give to others through the medium of his talent a perception of beauty which they perhaps could not gain for themselves. After his return to America he remained for a short time in Richmond, Virginia, and then went to Chicago, where he resided at intervals for a number of years, having a studio in that city. He afterward traveled in the east, going first to Buffalo, thence to the Thousand Islands and later to Newark, New Jersey. He spent several years in that way and upon his return to the Mississippi valley he settled in Springfield in 1880. For a number of years prior to his marriage he was professor of art in the Bettie Stuart Institute of this city. He painted the largest canvas every made of Niagara Falls, and this splendid work now adorns the art gallery at Rochester, New York.
Mr. Hottes was married March 18, 1884, to Miss Julia Schlitt, who was born in Springfield, a daughter of Frederick and Helena Schlitt, whose history is given on another page. After his marriage Mr. Hottes resided in Springfield for several years and then again traveled in the east. It was during his sojourn at Newark, new Jersey, that he became ill, and his death there occurred April 29, 1891. He was a member of the Masonic fraternity of Springfield and was a Democrat in his political views. Both he and his wife were members of Grace Lutheran church. In his profession he was meeting with good success when his brush was stayed by the hand of death. His widow now has many of his fine paintings in her home and specimens of his artistic skill are also seen in other homes of Illinois and in many parts of the east. After the death of her husband Mrs. Hottes returned to Springfield and resided with her mother until the latter's death. Mrs. Hottes and her sister, Miss Elizabeth Schlitt, are now living at No. 300 Capital avenue.

---
Return to 1904 Biographies Index
Return to Sangamon County ILGenWeb
---