Sangamon County ILGenWeb © 2000
In keeping with our policy of providing free information on the Internet, data and images may be used by non-commercial entities, as long as this message remains on all copied material. These electronic pages cannot be reproduced in any format for profit or for other presentation without express permission by the contributor(s).
---
PAST AND PRESENT OF THE CITY OF SPRINGFIELD AND SANGAMON COUNTY ILLINOIS
By Joseph Wallace, M. A.
of the Springfield Bar
The S. J. Clarke Publishing Co., Chicago, IL
1904
---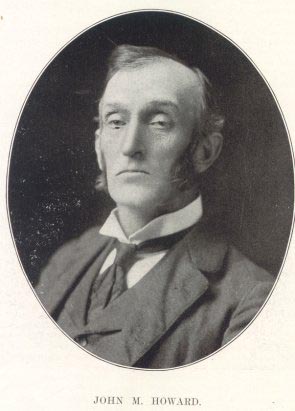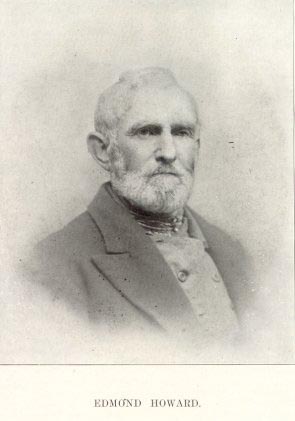 JOHN M. HOWARD - John M. Howard, whose home is on section 28, Cartwright township, is now engaged in raising and feeding stock upon his farm, which comprises three hundred and twenty acres of rich and valuable land. He is one of the native sons of Illinois, his birth having occurred in St. Clair county, February 26, 1845. His father, Edmond Howard, was a native of Tennessee, born in 1816. The grandfather was a soldier of the war of 1812 and participated in the battle of New Orleans. The family had removed from Virginia to Tennessee and Edmond Howard was reared in that state. He was married in that state to Miss Mary Coulter, a native of Tennessee, who was there reared and educated. Her father was Robert Coulter, who, removing to Illinois, settled in Madison county, where they resided for a few years and then removed to Washington county, where the father of our subject was reared. While living there he wedded Lucinda Paul and later settled in St. Clair county, where he engaged in farming for several years. Two of the children of the family were born in St. Clair county. In the fall of 1855, accompanied by his wife and children, he came to Sangamon county and purchased land in Cartwright township, beginning here with two hundred and forty acres. The farm had already been improved to some extent and he at once began the work of its further development. Subsequently he purchased more land and became the owner of nearly an entire section. He was regarded as one of the successful and respected farmers of the county, his sterling worth winning him the warm esteem of all with whom he came in contact. Here he reared his family and passed away August 27, 1893, at the age of about seventy-seven years. His wife died on the 8th of June, 1888.
John M. Howard is the only living son of the family. He has, however, a sister, Mary J., who is now the wife of William Miles, and resides in Reedsburg, Sauk county, Wisconsin. Mr. Howard of this review was reared upon the old family homestead in Sangamon county and obtained his education in Monmouth College, while later he pursued a course of law in the University of Michigan at Ann Arbor, where he was graduated with the class of 1871. After completing his course he established his home in Burlington, Iowa, where he engaged in the practice of his profession for about ten years. Then on account of ill health he was obliged to abandon the latter and returned to the farm in the spring of 1883. He carried on general agricultural pursuits for several years and also raised stock, but in recent years he has rented his farming lands and now devotes his entire attention to the raising and feeding of his stock. He is one of the most successful stock men of his township and his business is extensive and in its control he manifests most capable management and keen discernment. He is also one of the stockholders of the Boynton Telephone company, which he assisted in organizing and at the present time is serving as its secretary.
Mr. Howard was married in 1876 to Miss Lizzie Reed, a native of Sangamon county, reared and educated here. Her father, John C. Reed, came to this county from Ohio and was one of the early settlers here. Politically Mr. Howard has been a life long Republican, having supported the party since casting his first presidential ballot for General U. S. Grant in 1868. He has never been an office seeker or cared for political preferment, but was elected and served as township collector and also filled the position of justice of the peace for one or two years. He and his wife are members of the Congregational church in Springfield, of which Dr. Hale is pastor, and he belongs to the Modern Woodmen of America. He is a gentleman of broad general information, of strong purpose and marked individuality, whose business affairs are capably managed and who through his able direction of his interests is meeting with very creditable and desirable success. His genial manner, courtesy and deference for the opinions of others have made him a popular resident of Sangamon county.

---
Return to 1904 Biographies Index
Return to Sangamon County ILGenWeb
---