Sangamon County ILGenWeb © 2000
In keeping with our policy of providing free information on the Internet, data and images may be used by non-commercial entities, as long as this message remains on all copied material. These electronic pages cannot be reproduced in any format for profit or for other presentation without express permission by the contributor(s).
---
PAST AND PRESENT OF THE CITY OF SPRINGFIELD AND SANGAMON COUNTY ILLINOIS
By Joseph Wallace, M. A.
of the Springfield Bar
The S. J. Clarke Publishing Co., Chicago, IL
1904
---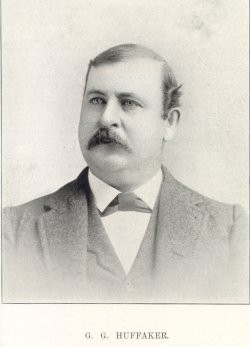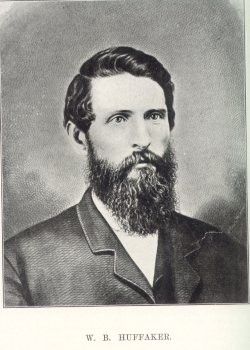 Page 656
GEORGE G. HUFFAKER is a substantial farmer and stock-raiser of Sangamon county and is today one of the most extensive landowners of central Illinois, his possessions aggregating one thousand acres all in one body. This constitutes a well improved farm equipped with modern accessories and conveniences and in its supervision and development Mr. Huffaker displays excellent business sagacity, enterprise and untiring energy. His home is located on section 1, Maxwell township.
Mr. Huffaker was born December 16, 1854, and is of German lineage. His great-grandfather was one of the first settlers of Kentucky, removing from Virginia to that state. Michael Huffaker, the grandfather, was born in Kentucky in 1805 and about 1824 removed to Illinois, settling in Morgan county, where he secured a tract of land, which he developed into a fine farm. It was upon that property that he reared his family. His son, Wellington B. Huffaker, the father of our subject, was born in Morgan county in 1829 and was reared upon the old family homestead there. He was a young man of about twenty years when, in 1849, he went to California attracted by the discovery of gold on the Pacific slope. He left Jacksonville with the first party of gold seekers to start from that city for the far west. He spent about a year in California where he was engaged largely in freighting and on the expiration of that period he returned to Illinois by way of the Isthmus of Panama, the Gulf of Mexico and New Orleans, reaching Morgan county in 1851. The following year he came to Sangamon county, Illinois, and in 1857 he purchased the farm upon which his son now resides, having at first one hundred and sixty acres of land, for which he paid twelve dollars per acre. He had to incur an indebtedness in order to obtain the property, but although he began life in very limited financial circumstances he gradually worked his way upward and as the result of his diligence and perseverance he became one of the most prosperous men of central Illinois, owning at his death two thousand and sixty-six acres of land. His purchases were judiciously made and his investments therefore returned to him a good income. He placed excellent improvements upon his land and developed valuable farms. After some years he removed from the old home place and built a fine large and substantial residence on another part of the farm, occupying it until his death. Wellington B. Huffaker was married in Sangamon county to Miss Lucinda Meacham, a native of this county and a daughter of Eden Meacham, one of the first settlers of central Illinois. Mr. Huffaker died in 1873, and his wife passed away in 1883. He was long recognized as one of the most thrifty farmers and stock-raisers of his county and he accumulated a splendid property within twenty-one years, his death occurring when he was but forty-three years of age.
George G. Huffaker, whose name introduces this record, was reared to manhood upon the old home farm and was educated in the district school. He remained with his father until the latter's death and received practical training at farm work, early becoming familiar with the labors of field and meadow. He was married in Morgan county at Waverly, in 1875, to Miss Clara Manson, a native of that place and a daughter of James W. Manson, one of the early settlers of the county who carried on business as a dry-goods merchant in Waverly. After his marriage Mr. Huffaker began his domestic life on the old home farm and continues here to engaged in agricultural pursuits. He has erected a large and attractive residence, built substantial barns and other outbuildings and has fifty miles of tiling upon his place; in fact, all of the equipments and accessories of a model farm are here found and in no respect does it seem to be lacking. He has made a business of raising and feeding stock and feeds on an average of about three or five hundred head of cattle and hogs annually. He is now making a specialty of Aberdeen Angus cattle and has a herd of eight pure blooded animals and sixty others of very high grade with a fine full blooded bull at the head of the herd. He is an excellent judge of stock and is thus very careful in his selection of his cattle. He has become widely known as a stock-dealer and the volume of his business has annually increased until it has now reached extensive proportions.
Unto Mr. and Mrs. Huffaker have been born the following children: Abbie, the wife of A. G. Burr, of Jacksonville; Bertha, the wife of Harry Niblock, of Decatur, Illinois; George, at home; and James and Wellington, twins, also at home. Politically Mr. Huffaker is a stanch Republican, always supporting the men and measures of the party since casting his first presidential ballot for Rutherford B. Hayes in 1876. He has, however, sought public office as a reward for party fealty. He and his wife are members of the Christian church, their membership being in Jacksonville. They are widely known throughout the country for their benevolence and kind deeds, the poor and needy finding in them warm friends, and no deserving one was ever turned from their door empty-handed. They are constantly giving freely, generously and unostentatiously and Mrs. Huffaker spends much of her time in assisting the deserving poor. At Christmas time she sees that the needy ones of the neighborhood are supplied with turkey and other nice things for the day and throughout the entire year her kindly, loving spirit is manifested in such ways. Mr. Huffaker, too, shares in the good work. He is a man of superior business judgment and sagacity and his business makes heavy demands upon his time. He feeds and sells stock on a very extensive scale and is a shrewd business man and ever when the poor sell to him they find that they receive a higher price than the market calls for. Those, however, who are in comfortable circumstances must use their own judgment and business ability in trading with him. He has never been known, however, to overreach any man in a business transaction and would far rather err on the side of generosity. Their good deeds have made Mr. and Mrs. Huffaker people to whom the highest respect is given and because of their work they shed around them much of the sunshine of life, ameliorating many of the hard conditions which come to the poor and unfortunate. Their example might well be followed by many others and long after they have passed away their memory will be enshrined in the hearts of those who have benefitted by their kindness and benevolences.

---
Return to 1904 Biographies Index
Return to Sangamon County ILGenWeb
---